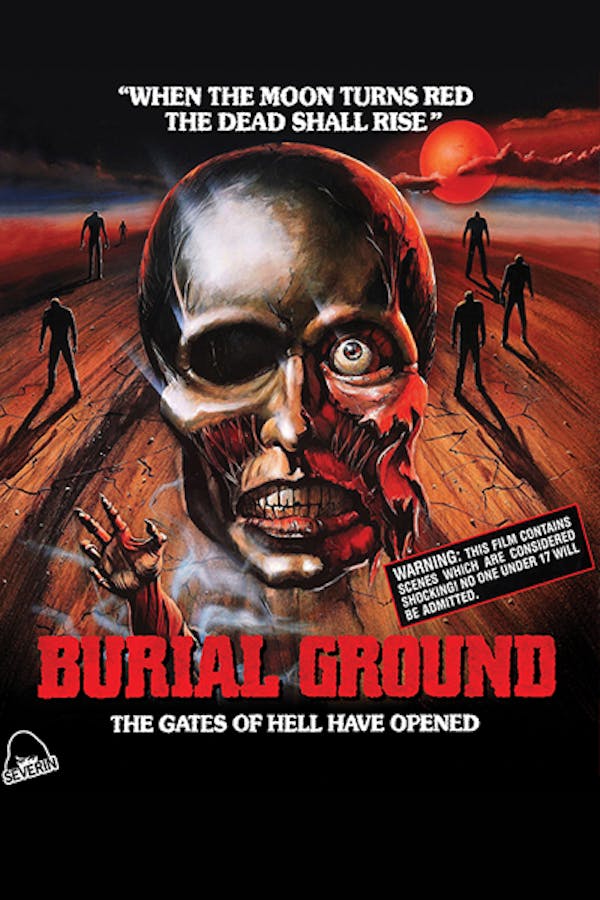 Burial Ground
Directed by Andrea Bianchi
For his only foray into the zombie genre, sleaze maestro Andrea Bianchi (MALABIMBA) unleashes enough flesh-ripping, gut-chomping and depraved oedipal mayhem to set insane new standards in Italian horror: Mariangela Giordano stars in the splatter classic about a cursed country estate besieged by horny houseguests, undead Etruscans and the unusual relationship between a mother (Giordano) and her mega-creepy young son (disturbingly portrayed by diminutive adult actor Peter Bark) that will trigger perhaps the most jaw-dropping scenes in grindhouse history.
The undead besiege a country estate in this Italian splatter classic.
Cast: Karin Well, Gianluigi Chirizzi, Simone Mattioli
Member Reviews
Man what a piece of shit. Even just playing in the background i can't finish it.
I laughed throughout the whole movie. So much screaming.
Crazy pyscodelic music with guts eating and lots of screwing and then the big turn with micheal the nutty man child at the end...nipple bitting craziness with a classic 70s ending in still frame with a quote.
Why is every zombie wearing a dress? What's with the shitty Uwe Boll style cutaway shots with just the zombie heads right before they get shot? Why are there so many of said shots? Why does so much totally unbelievable bullshit go on? Why do the zombies look like the rummage bin from Spirit of Halloween on November 1st? Why do they suddenly start using tools and a deli slicer at the end? Which zombie is the writer of this film, cuz he clearly died before doing any work? Why is the title different in the movie? Ex. Creepy kid and mom trapped in storage shed. Zombie closes in. Creepy kid: "Look mom, we can burn them." Points to a bucket of green sludge. Wtf is it? No idea, but there's two identical ones side by side, so I guess there's going to be two zombies. Mom: Tosses green sludge and lights up zombie-INSIDE the house. Does it again (see above). My personal favorite was where the one guy hears his buddy screaming for help in the monastery and drags one injured woman and one basket case along with him to go check it out. I was rooting for the zombies from the first kill. F* these people.
Plaster of paris and some old newspapers and you got a horde of Italian zombies. I've seen better home movies. And the son? Now he was creepy.