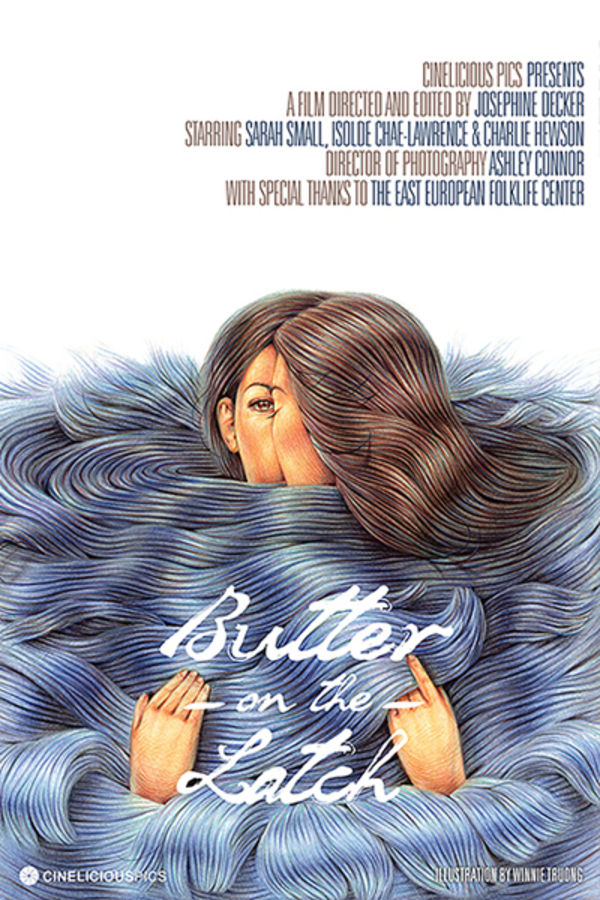 Butter on the Latch
Directed by Josephine Decker
Former performance artist Josephine Decker's stunning debut feature is a deeply subjective, mysterious and erotic portrait of a frantic young woman who leaves the city for the apparent safety of a Balkan music camp, hidden deep in the California woods. Once there, she reconnects with a former friend and does some hilariously foul-mouthed female bonding – until she finds herself growing attracted to a hunky male camper. Gradually her already-frayed grip on reality starts to unravel.
A frantic young woman's grip on reality unravels at a music camp in the California woods.
Cast: Isolde Chae-Lawrence, Stephan Goldbach, Charlie Hewson
Member Reviews
I found this to be beautiful and disorienting. It's a very slow burn but necessary to witness the breakdown of one of the characters. Strangely, for me, it had this weird kind of Woody Allen feel to it that became distracting....
Interesting...in a good way. It's not typical genre horror, so skip it if you don't want a challenge. If you like a slow, suggestive, dreamlike nightmare beautifully filmed this film is for you.
Really enjoyed this! It was atmospheric and psychologically interesting (and often quite funny) without being esoteric or pretentious. If viewers temper expectations and don't approach this film expecting a typical horror thriller, but rather a more subdued psychological exploration, I think they'll enjoy this for what it is.
infuriatingly boring and self righteous
This is a difficult film to review for a horror streaming site. While I'd argue that it treats its subject matter as true horror with visceral potency, it certainly doesn't follow many of the generic conventions of horror. Without doubt, this film is made by someone who is used to addressing a "high-art" crowd with her artistic output: almost entirely non-linear, the film is fragmentary and disorienting to the point of narrative and semantic collapse; the cinematography conceals as much as it reveals (although beautifully so, in my opinion), visually capturing the subjective mindset of a young woman sent to the fringes of her psyche by terrible trauma; the film relies on heavy symbolism that it doesn't divulge to the viewer easily; and the main theme of the film is approached poignantly but obliquely, as much "high art" does today. At times, it reaches too far with its narrative and visual fragmentation, and often leaves to one side clear exposition of the protagonist's personality in favor of its disjointed formal style, which can leave the viewer feeling as detached and distant from her character as the protagonist apparently feels from herself; such an approach can be quite effective to capture her disintegrating affect, but more often than not risks disengaging the viewer by alienating us from her personhood. Bottom line: if you aren't a stickler for generic conventions in your horror viewing, are willing to engage a treatment of trauma and psychic dissolution AS horror (not THROUGH horror-as-genre), and have the patience and willingness to experience and interrogate somewhat stuffy "high art," I'd wager you'll really appreciate this. If you're looking for a horror film that follows and plays with horror's generic conventions, maybe bending only a few here and there, this probably isn't the film to watch as it fundamentally ignores these conventions almost entirely.