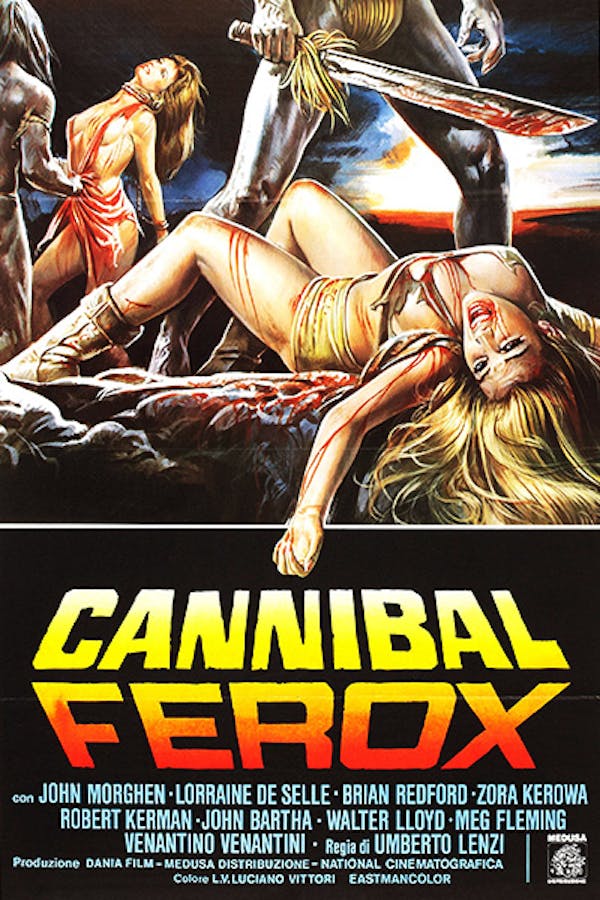 Cannibal Ferox
Directed by Umberto Lenzi
A drug dealer's attempts to exploit a cannibal tribe go very wrong in this notorious cannibal classic. After Mike rips off mobsters, he flees to the jungle, where his cocaine binges cause him to kill members of a local tribe. When Mike meets three students researching cannibals, he leads them into the jungle, where the angry tribe is waiting for revenge. Sleazoid Express' Bill Landis called the "ultraviolent and unrelenting" shocker, "an epochal event in horror movies. Much like BLOOD FEAST... it challenged the audience's expectations and surpassed them."
A drug dealer's attempts to exploit a cannibal tribe go very, very wrong.
Cast: John Morghen, Lorraine De Selle
Member Reviews
If you want to watch a politically incorrect horror film, then this is it. It appears that animals were harmed in making this film. Plot is simple and there's a few repulsive scenes. I find it puzzling why the main character completed her doctoral thesis which contradicts her jungle experience. Does it mean that she, a modern person, is an intellectual cannibal? The horror seems to comes from the clash of modern and primitive peoples.
Not even slightly as good as Cannibal Holocaust.
I appreciate Cannibal Holocaust as a movie, but this one I just didn't like as much. It's not a bad one, but it's not a good one either. It just sort of is. It does have some really nice kills though, but in the end I feel like I could have seen it on a gore reel and got more out of it than watching the movie. That iguana was a boss, though.
I don"t know why everyone's so shitty. It's obvious that this movie was made to be disturbing on purpose. If your not into these kinda films you don't have to watch them.
Never made the pivot into so-bad-its-good territory, sadly. The soundtrack kicked ass and the gore sfx were respectable, but the movie didn't deserve them at all. Rendered completely unnecessary by better-made and better-known movies before.