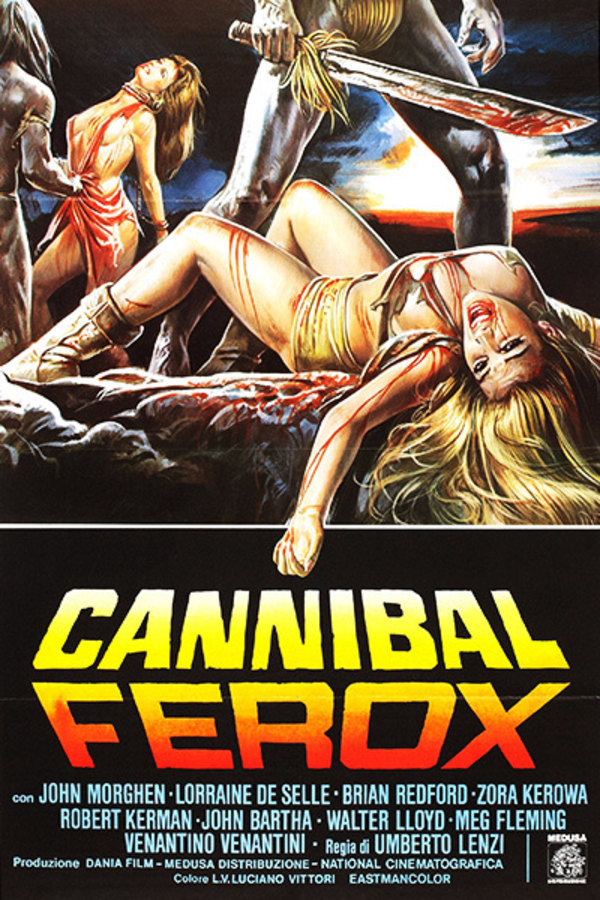 Cannibal Ferox
Directed by Umberto Lenzi
A drug dealer's attempts to exploit a cannibal tribe go very wrong in this notorious cannibal classic. After Mike rips off mobsters, he flees to the jungle, where his cocaine binges cause him to kill members of a local tribe. When Mike meets three students researching cannibals, he leads them into the jungle, where the angry tribe is waiting for revenge. Sleazoid Express' Bill Landis called the "ultraviolent and unrelenting" shocker, "an epochal event in horror movies. Much like BLOOD FEAST... it challenged the audience's expectations and surpassed them."
A drug dealer's attempts to exploit a cannibal tribe go very, very wrong.
Cast: John Morghen, Lorraine De Selle
Member Reviews
A bland, trite, exploitative rip-off of Cannibal Holocaust, with a plot so ludicrous (and a sub-plot that's completely empty-headed and red-herring) that it isn't even worth mentioning. Gorehounds might enjoy this- but anyone half a nugget of common sense should avoid this like a plague. It's not ultra-violent or unrelenting, unless you count the boredom factor of three people traipsing around the jungle bitching at each other for 70 minutes of run time, and a character so brainless and pointlessly slutty she deserves her fate, as derivative of A Man Called Horse as it was. Best left in the trash.
There are actual animal killings in this movie
Wish I could give this piece of crap movie no skulls. The animal cruelty was unnecessary. Shame on Shudder for allowing this crap film and CH on the app. People who like to watch animal torture have no souls.
There's a trailer on YouTube for this movie. It was for its American release under the title "Make Them Die Slowly." It practically shows you the ENTIRE MOVIE in just over three minutes- kills included. The only things that trailer does not show you are the several animal killings that happen intermittently for seemingly no reason other than shock and the police procedural scenes which could have just been cut out of the movie entirely since they go absolutely nowhere. Do yourselves a favor and save yourself ninety minutes by seeking out that trailer. Trust me- it's better this way. The only reason I'm giving this two skulls instead of one is because the gore effects are pretty good. Besides that, it was pretty boring after the main characters get caught by the cannibals. Just watch the trailer.