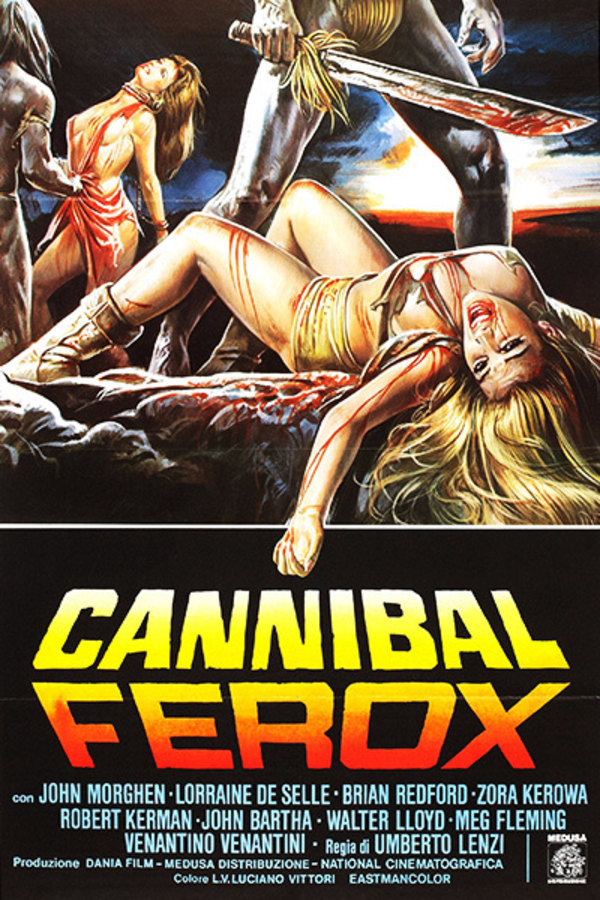 Cannibal Ferox
Directed by Umberto Lenzi
A drug dealer's attempts to exploit a cannibal tribe go very wrong in this notorious cannibal classic. After Mike rips off mobsters, he flees to the jungle, where his cocaine binges cause him to kill members of a local tribe. When Mike meets three students researching cannibals, he leads them into the jungle, where the angry tribe is waiting for revenge. Sleazoid Express' Bill Landis called the "ultraviolent and unrelenting" shocker, "an epochal event in horror movies. Much like BLOOD FEAST... it challenged the audience's expectations and surpassed them."
A drug dealer's attempts to exploit a cannibal tribe go very, very wrong.
Cast: John Morghen, Lorraine De Selle
Member Reviews
Boring. Lacked any sort of depth and the characters were bland. It felt like a rehash of better films.
A little more tamer than other cannibal films, but certainly has its' moments of grisly horror. Another film that pushes the envelope in film history. I certainly enjoyed it.
They kill an animal every five minutes. Only made it halfway. Im good. I don't need to watch that shit.
this and Holoaust are pretty much the same to me if im being honest. meh...
Better than Cannibal Holocaust but that's not saying much. Maybe a bit less of the sexual violence but just as much animal cruelty. Not sure we should ever let Italians loose in the Amazon again.