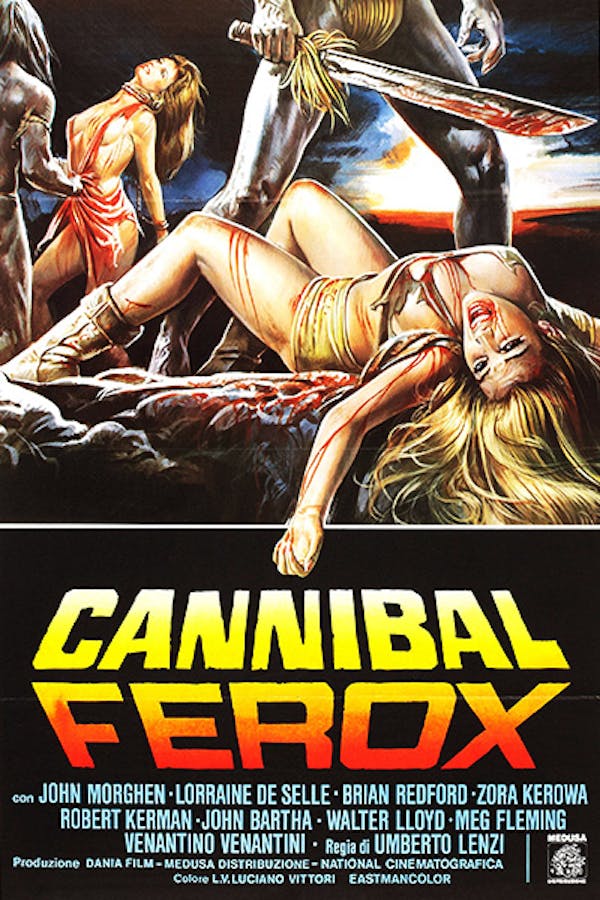 Cannibal Ferox
Directed by Umberto Lenzi
A drug dealer's attempts to exploit a cannibal tribe go very wrong in this notorious cannibal classic. After Mike rips off mobsters, he flees to the jungle, where his cocaine binges cause him to kill members of a local tribe. When Mike meets three students researching cannibals, he leads them into the jungle, where the angry tribe is waiting for revenge. Sleazoid Express' Bill Landis called the "ultraviolent and unrelenting" shocker, "an epochal event in horror movies. Much like BLOOD FEAST... it challenged the audience's expectations and surpassed them."
A drug dealer's attempts to exploit a cannibal tribe go very, very wrong.
Cast: John Morghen, Lorraine De Selle
Member Reviews
Almost absurd and campy enough to be funny but gross enough to be disturbing and that it still tries to make some high-minded commentary on the hypocrisy of the "civilized" world and its relationship to native cultures while blatantly exploiting them as caricatures of primitive evil is the little turd on top of a crap Sunday. I seldom say this, but this movie wasn't even worth watching in my opinion and I would have rather have suffered through an equal amount of time watching episodes of Friends instead.
Help me! Get me out of here! It's an ok movie, the dumb slutty blonde, the dope addict and his stupid friend, the manly photographer and his cannibals don't exist sister, I could deal without. But would rather deal with them, then seeing the footage of animals killing one another, and not just for a few seconds, but for a few minutes. Didn't need to deal with that much torture. Yeah, it happens, and yeah it's a movie from the 70s, but jeez. Enough already!
Previous review was for cannibal Holocaust. Damn app keeps putting my reviews on the next movie.
The animal kills turned my stomach . More for the fact that it was done inhumanely and I'm not sure if it was even used for food. I was prepared for the rest because of warnings but..... wow, prepared or not, I was not ready. The fact that I could not tell what was real shows the eye of the director. I'll leave it there.