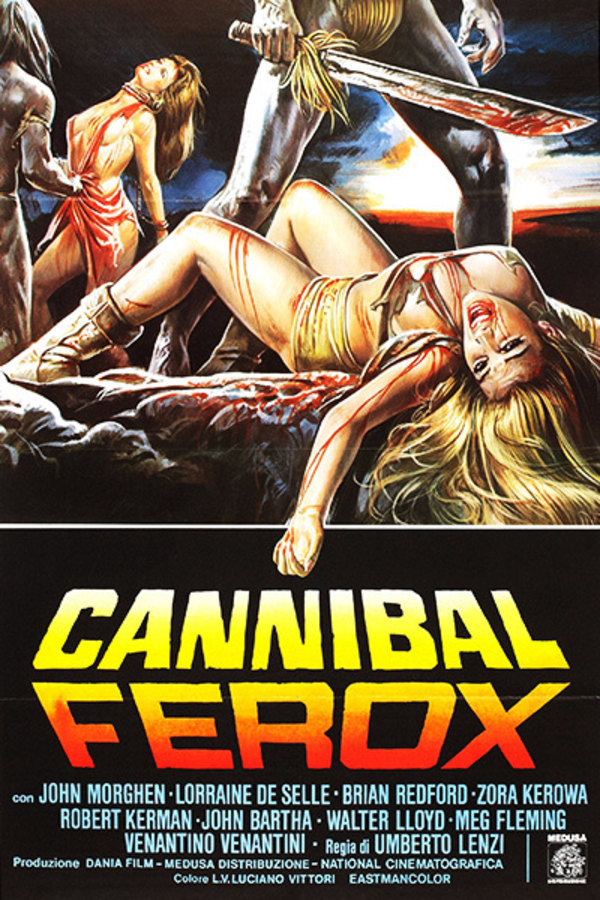 Cannibal Ferox
Directed by Umberto Lenzi
A drug dealer's attempts to exploit a cannibal tribe go very wrong in this notorious cannibal classic. After Mike rips off mobsters, he flees to the jungle, where his cocaine binges cause him to kill members of a local tribe. When Mike meets three students researching cannibals, he leads them into the jungle, where the angry tribe is waiting for revenge. Sleazoid Express' Bill Landis called the "ultraviolent and unrelenting" shocker, "an epochal event in horror movies. Much like BLOOD FEAST... it challenged the audience's expectations and surpassed them."
A drug dealer's attempts to exploit a cannibal tribe go very, very wrong.
Cast: John Morghen, Lorraine De Selle
Member Reviews
umberto lenzi started the cannibal films with man from deep river! so how he could be the rip off makes no sense to me.
such crying pansys. this is for fans of horror for fans of the extreme dont like it thsn dont wstch it. go back to netflix bitches this moviebid a vlassiv!
Haha! These ratings blow my mind. Newbies will never understand the pure grit and backstory to this film. The man was arrested and almost charged with murder until all the cast members were found and proven alive because all of the deaths looked so real. He was charged for the misuse of film for the animal deaths and the movie was banned in like 14 countries because it was so brutal. This man had more balls than any of today's filmmakers could even dream of.
Killed real animals, just to make a bad movie, 1/10 rating for sure.
A bland, trite, exploitative rip-off of Cannibal Holocaust, with a plot so ludicrous (and a sub-plot that's completely empty-headed and red-herring) that it isn't even worth mentioning. Gorehounds might enjoy this- but anyone half a nugget of common sense should avoid this like a plague. It's not ultra-violent or unrelenting, unless you count the boredom factor of three people traipsing around the jungle bitching at each other for 70 minutes of run time, and a character so brainless and pointlessly slutty she deserves her fate, as derivative of A Man Called Horse as it was. Best left in the trash.