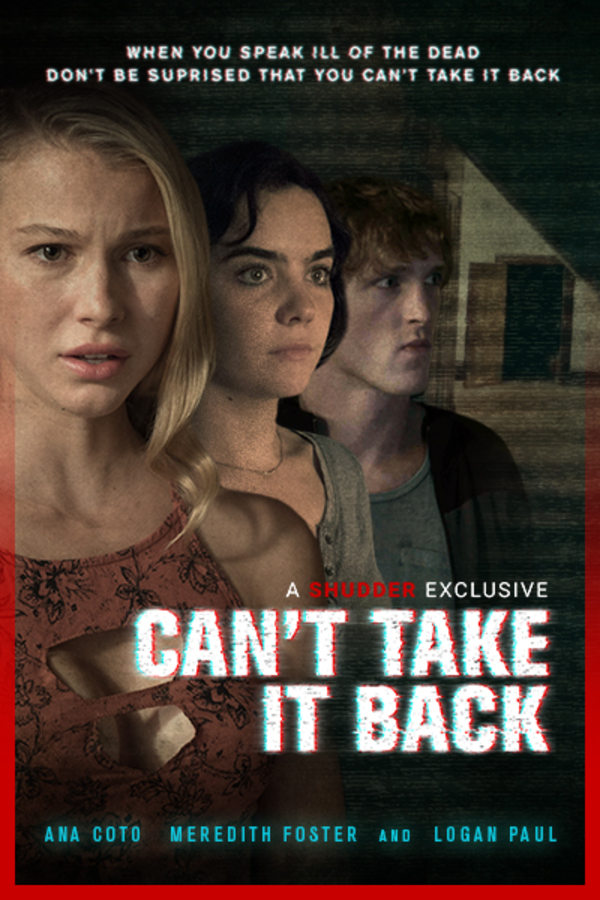 Can't Take It Back
Directed by Tim Shechmeister
When two drunk teen girls jokingly post mean comments on a dead classmate's Facebook page, they receive a chilling clapback from beyond the grave. Morgan's spirit is mad, and if Kristen can't figure out how to fight back, she'll soon be joining her in the afterlife. Like UNFRIENDED and IT FOLLOWS, CAN'T TAKE IT BACK is a wicked modern twist on the teen supernatural terror genre. Featuring a breakout performance by OUIJA's Ana Coto and co-starring YouTube star Logan Paul, CAN'T TAKE IT BACK will make you think twice about the unkind things you post online…. A SHUDDER EXCLUSIVE Contains strong language, violence and gore.
A vengeful spirit goes after two girls who posted mean comments on her Facebook page.
Cast: Noah Centineo, Ivanna Sakhno, Logan Paul
Member Reviews
I have no idea how, but these guys have made something even worse than Smiley
Description is misleading, imo. Won't say how because of spoilers but I definitely had a moment where I was like "what?" General standard supernatural teen fare, neither good or bad, just meh. I did enjoy the very end of the movie, though. I've seen it done a couple times before but it's still rare enough that it feels refreshing and I felt like it fit what little characterization we were given of the main character.
Just really bad. Too many plot holes, bad makeup design, and it was drawn out more than it should have been. The lead girl wasn't a bad actor, but damn near everyone else was.
Terrible all around; script, story, and especially Logan Paul. Fairly insulting it was greenlit. I suppose the only positive is the other actors gained some experience under their belt.