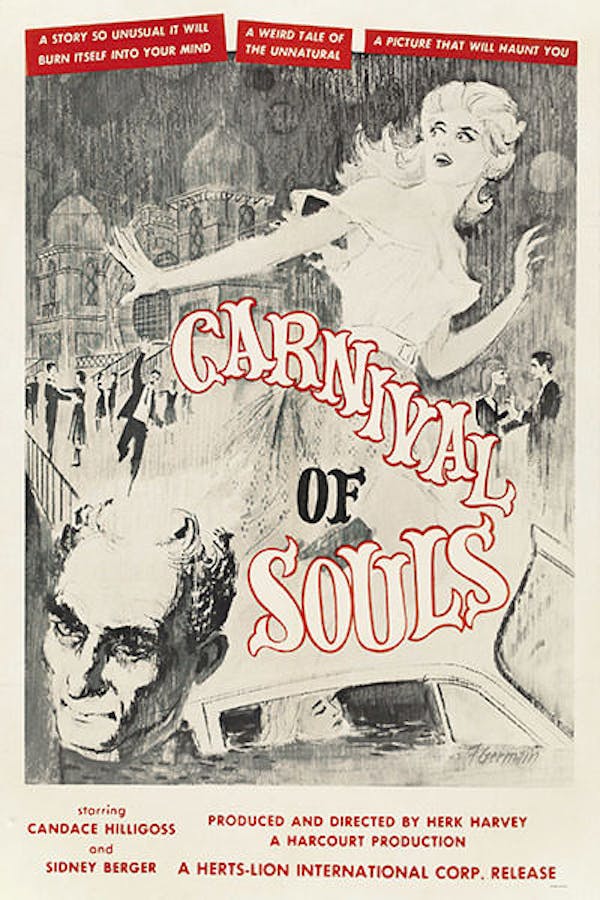 Carnival of Souls
Directed by Herk Harvey
A woman begins seeing mysterious ghostly figures following her after a car crash in this creepy cult classic from 1962 which anticipates the films of George Romero and David Lynch. After specializing in industrial films, director Herk Harvey (who plays one of the ghouls) poured his heart and soul into what would be his only narrative feature. But after an initial box office failure, CARNIVAL became a cult classic to future generations, who connected with the film's atmospheric TWILIGHT ZONE-meets-Ingmar Bergman style. A must-see film for any horror fan.
A woman begins seeing mysterious ghostly figures following her after a car crash.
Cast: Candace Hilligoss, Frances Feist, Sidney Berger
Member Reviews
So good! Great dreamt, eerie music score. Very influential. another reviewer noted that this movie heavily influenced David Lynch in some of his movies, and I can totally see it. A must-watch!
Yeah, this film was so ahead of its time...The cinematography was gripping. The score just beautifully woven throughout the pic. The story and directing were fabulous. The acting was also perfect for this movie. The protagonist (very yummy btw) had a lot to do here and succeeded brilliantly. All through the film there's this foreboding sense of doom, which is gorgeous! And the ending is dreadfully unsettling...and perfect. I cannot tell you the amount of good films I've seen that are ultimately , and sadly, painfully ruined by awful endings. A word of warning though, the nimrods who think horror films are only classified as blood, gore, and guts, won't get anything out of this film. It's a thinking man's movie... A big ole 5 immense skulls for this classic gem!
The greatest cult film of them all.
Very cool little film, a direct ancestor of Lynch's Lost Highway and Mulholland Drive. Obviously made on the cheap and without the resources it deserved. But a strong central performance, some very cool sequences and an air of menace and mystery. Lovely piece of horror history. The early sixties produced this film, City of the Dead and Psycho - all with quirky narrative derailment and focused (at least initially) on strong independent female characters (also, all of whom drive to obscure places and check into sleazy lodgings!). Interesting. What was going on?