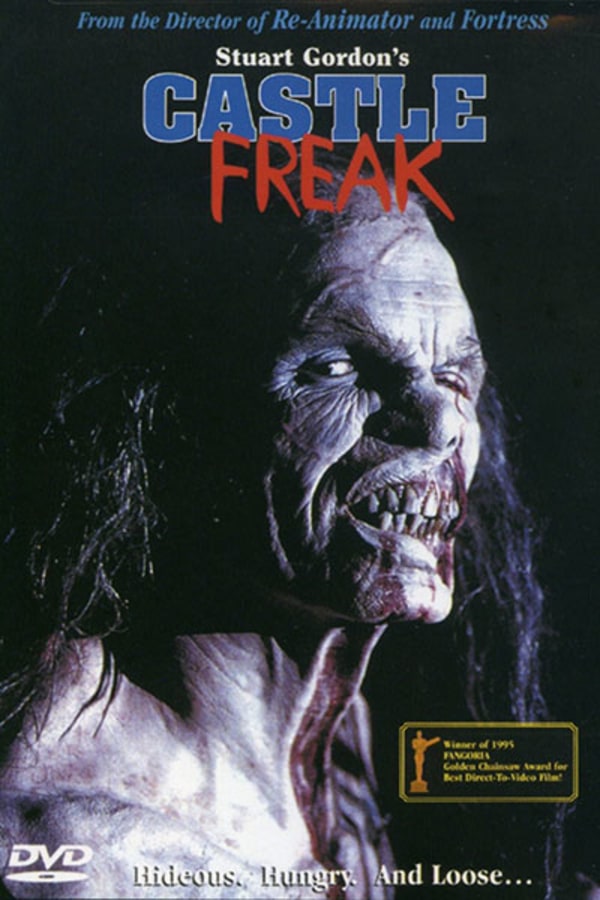 Castle Freak
Directed by Stuart Gordon
An American family inherits an Italian castle which houses a bloodthirsty monster in Stuart Gordon's 1995 creature feature loosely based - of course - on an H.P. Lovecraft story. Gordon's favorite lead actor Jeffrey Combs (RE-ANIMATOR) stars as John, a man involved in an accident that claimed his son's life. Grieving and troubled, the family's unprepared for another blast of horror when the deformed beast starts prowling the halls. Gordon's underrated film is anchored by a dark, serious tone that's unlike his more tongue-in-cheek efforts, but still just as scary.
An American family inherits an Italian castle which houses a bloodthirsty monster.
Cast: Jeffrey Combs, Barbara Crampton, Jonathan Fuller
Member Reviews
Never EVER in my right mind did I EVER expect to see Commisario Montalbano himself acting alongside Jeffrey Combs. Is Castle Rock silly? Yes. But one thing it has that impresses me is that the Italian folks are largely portrayed by ACTUAL Italians, something I feel Hollywood tries to get out a lot. It gave it more authenticity by having people who spoke the language actually interacting in a realistic way......for an extremely unrealistic movie. Good job Stuart Gordon!
Gotta enjoy good ole Castle Freak. A part of Stuart Gordon's holy trinity (along with Re-Animator & From Beyond). It's a bit more low budget than the other two but it makes up for it with a ridiculous yet interesting story, a weird dickless monster man with a taste for titty, and the amazing Jeffrey Combs and Barbara Crampton. This movie was primarily carried by Combs and Crampton and of course they're perfectly over the top.
I enjoyed the story but it's not the least bit scary. Probably would be to an 8 year old I suppose. Always enjoy Lovecraft stories though they're always well put together.
Another great Stuart Gordon flick full of violence, nudity, and crazy practical effects. Castle Freak is a hidden gem among 90s horror films and a great watch. If you loved movies like The Re-Animator and From Beyond you'll definitely like this one too.
Watch it to see why 5 skulls was granted.