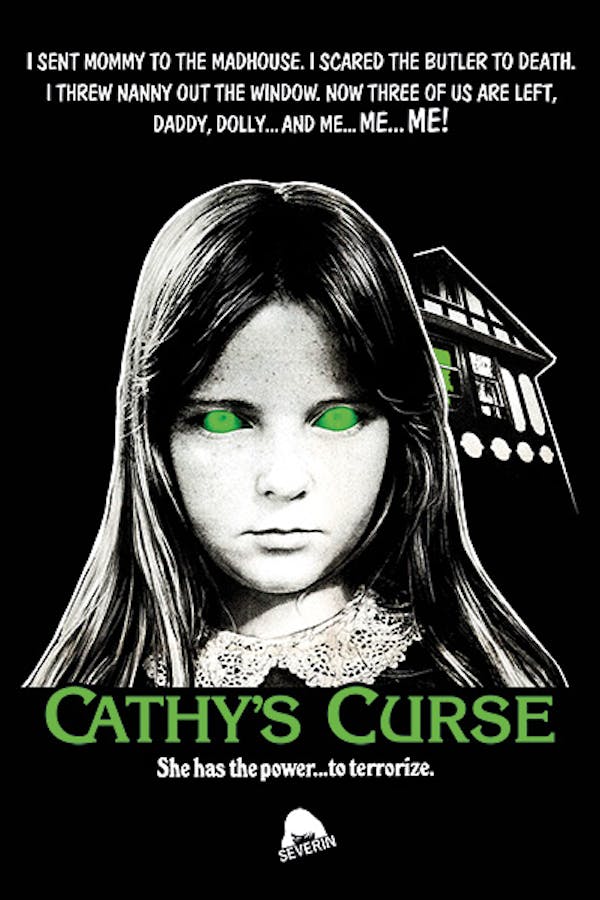 Cathy's Curse
Directed by Eddy Matalon
A young girl is possessed by her dead aunt's spirit in this Canadian "Canuxploitation" classic. Young Cathy's aunt died in a car crash when she was eight-years-old. When Cathy reaches the same age, a deadly dolly seems to give the child terrible powers, and she goes from lovable tyke to hellspawn in a matter of days. Cathy's aunt's ghost is out for revenge, and anyone who tries to take the terrifying toy away winds up paying a price! Plot holes be damned, CATHY'S CURSE is a wild, over-the-top ride, beautifully restored for the first time by Severin Films.
A young girl is possessed by the spirit of her dead aunt in this Canadian cult horror flick.
Cast: Alan Scarfe, Beverly Murray, Randi Allen, Dorothy Davis
Member Reviews
Oh, y'all. This movie has more cheese than the world's dairy producers combined. But it's so ridiculous it's worth watching!
Horrible movie. Possessed Cathy is a brat and she hates women.
An absurd so-bad-it's-good Exorcist/Omen knockoff. The tone is completely serious but you'll likely be laughing throughout.
Inept in almost every area. Hard to believe it was written by actual humans. Add four skulls, if you really enjoy pointing and laughing at movies for their ineptitude.
Hilariously awful. This film is packed with awful acting, super questionable stylistic choices, inexplicable non sequitur scenes, and an ending that makes no sense. Definitely "fun bad" and paced well. You won't lose interest, but don't expect the Exorcist. Or even Exorcist 2.