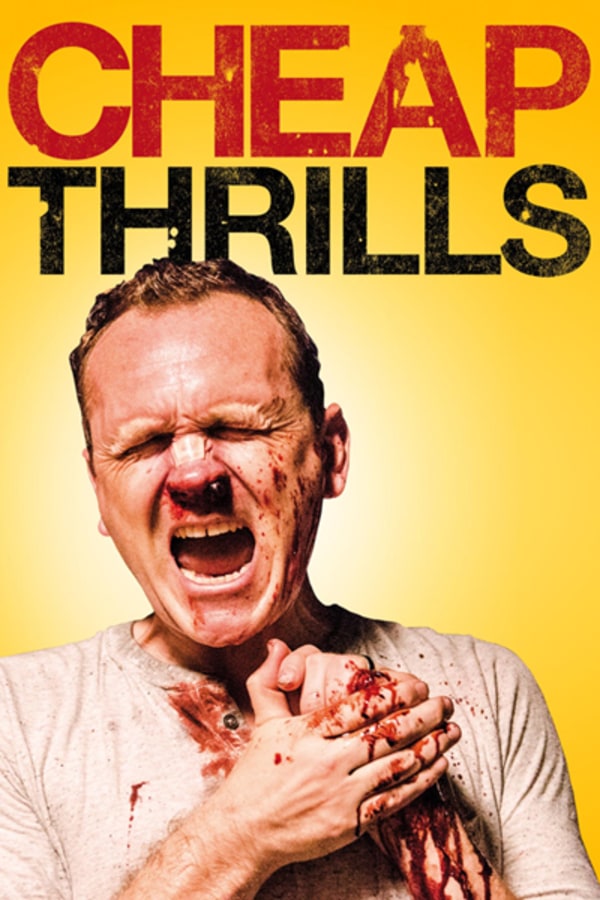 Cheap Thrills
Directed by E.L. Katz
After down-and-out family man Craig (Pat Healy, COMPLIANCE) simultaneously loses his job and is served an eviction notice, he runs into his long-lost deadbeat pal Vince (Ethan Embry, EMPIRE RECORDS) at a local dive bar. As the two drink their troubles away, they are lured by a couple celebrating a birthday (ANCHORMAN's David Koechner and THE INNKEEPER's Sara Paxton), who shell out obscene wads of cash to Craig and Vince in exchange for taking on harmless bets.The party continues to a strip club and eventually to the couple's home, where the cash payoffs increase wildly as the challenges become more outrageous, hilarious, illegal and even downright inhuman.
A darkly comic thriller, CHEAP THRILLS follows the one-night descent of two friends participating in a series of escalating paid dares to entertain a wealthy couple with a twisted sense of humor.
Cast: Pat Healy, Ethan Embry, Sara Paxton, David Koechner
Member Reviews
I didn't have high expectations going in, but this was a surprisingly good watch.
When my father passed away. Even if I was in a hard place for money ? Never would I degrade myself as a human being for millions of dollars !! Self respect and self worth is priceless !! And theses 2 men had absolutely no self respect or self worth as 2 human beings !! I have would never take away my very own personal dignity as a man !! For money !! But for love ; that's a very different situation. For true love ?? I would degrade myself as a human being. I have already done that to have the person my heart desires more than anything materialistic in the world. For money and wealth ? Never !! For true love ? At the speed of light !! How long before the police shows up at his hotel room and takes him to prison for life ?? After Violet has everything on film ?? That is why his friend said let's get out golf here Graig !! He knew exactly what the real game was going to be !! And spared the life of his old friend !! Because he saw the projector !! And knowing that they were both being set up for murder !! And would go to prison for life. A good little movie !! But sadistic as all fuck !!
Although I have been blessed with a huge inheritance at 22 years old. Back in 1990