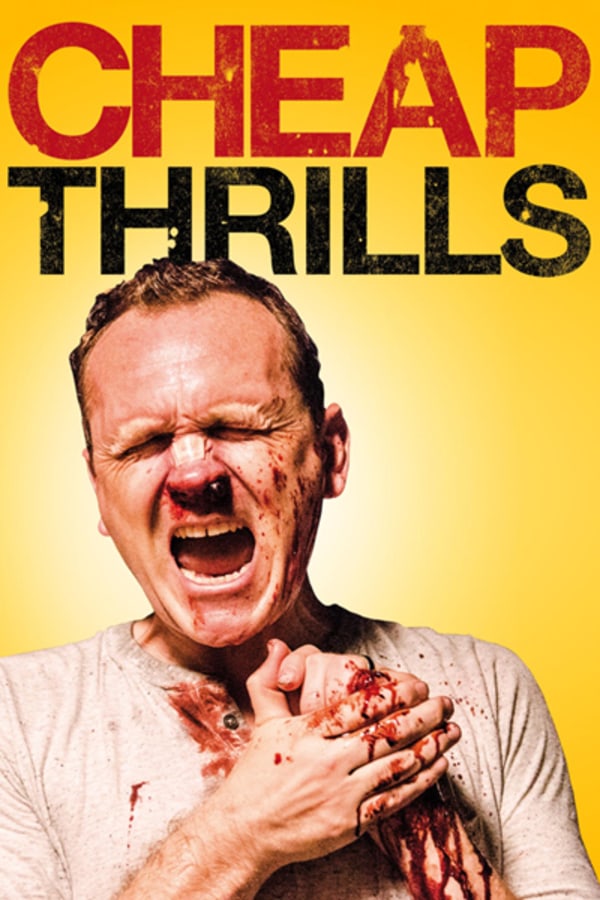 Cheap Thrills
Directed by E.L. Katz
After down-and-out family man Craig (Pat Healy, COMPLIANCE) simultaneously loses his job and is served an eviction notice, he runs into his long-lost deadbeat pal Vince (Ethan Embry, EMPIRE RECORDS) at a local dive bar. As the two drink their troubles away, they are lured by a couple celebrating a birthday (ANCHORMAN's David Koechner and THE INNKEEPER's Sara Paxton), who shell out obscene wads of cash to Craig and Vince in exchange for taking on harmless bets.The party continues to a strip club and eventually to the couple's home, where the cash payoffs increase wildly as the challenges become more outrageous, hilarious, illegal and even downright inhuman.
A darkly comic thriller, CHEAP THRILLS follows the one-night descent of two friends participating in a series of escalating paid dares to entertain a wealthy couple with a twisted sense of humor.
Cast: Pat Healy, Ethan Embry, Sara Paxton, David Koechner
Member Reviews
How far would you go for money? This movie depicts what length two high school friends would go. The only horror experienced actor in this film is Sara Paxton. Her performance is mysterious from beginning to end (outside one surprise event) I did not find this film scary in any way. I wouldn't even consider it a thriller. In my opinion, this would be best categorized as a suspense film. The story arc starts to build early, and continues to rise as the movie progresses. It has a nice pace and is very suspenseful with a couple of twists thrown in for good measure. I was pleased with the entertainment value, as I was engaged the entire film waiting on the next "bet" to be made and what the challenge would be. The thing that didn't work for me and it seems for others, is the fact that there wasn't enough character building to make you actually "feel" connected to anyone or emotionally attached when something happened. It did provide a rare look into what some people would do when motivated by money. For that reason alone, I think it's worth a watch. There is no score, no jump scares, no fancy cinematography. This film focuses on delivering a thought provoking "How far would you go" premise. On this, it delivers. Not worth a second watch in my opinion, but I'm glad the movie was created and appreciate what it has to offer.
Tasteless, sadistic trash. This film is not making some smart commentary about capitalism or morality or the human spirit. This film is about sadists taking advantage of emotionally damaged people for entertainment. It reminds me of those videos where soulless people pay homeless people $20 to fight each other or do other humiliating tasks so we can laugh at them. This film is not funny, and it's not scary. Oh, and a small dog is killed and eaten, and it's supposed to be funny.
A brilliant fable about how capitalism dehumanizes and brutalizes.
A delirious mix of comedy, horror and thriller .
A delirious mix of comedy, horror and thriller.