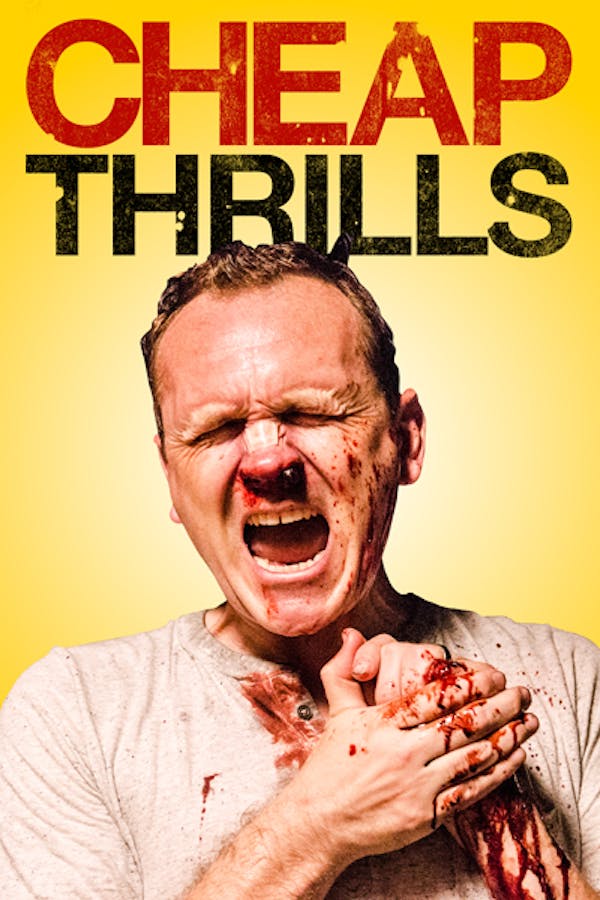 Cheap Thrills
Directed by E.L. Katz
After down-and-out family man Craig (Pat Healy, COMPLIANCE) simultaneously loses his job and is served an eviction notice, he runs into his long-lost deadbeat pal Vince (Ethan Embry, EMPIRE RECORDS) at a local dive bar. As the two drink their troubles away, they are lured by a couple celebrating a birthday (ANCHORMAN's David Koechner and THE INNKEEPER's Sara Paxton), who shell out obscene wads of cash to Craig and Vince in exchange for taking on harmless bets.The party continues to a strip club and eventually to the couple's home, where the cash payoffs increase wildly as the challenges become more outrageous, hilarious, illegal and even downright inhuman.
A darkly comic thriller, CHEAP THRILLS follows the one-night descent of two friends participating in a series of escalating paid dares to entertain a wealthy couple with a twisted sense of humor.
Cast: Pat Healy, Ethan Embry, Sara Paxton, David Koechner
Member Reviews
why does it have the option to PLAY MOVIE but when you play it says "Germlins at work" ??
Really enjoyed this one. I went in with no expectations and I loved how uncomfortable it got. Can see myself rewatching again and again.
Good dark horror. a bit slowish but good concept. Kept me wondering how far more they would take it.
While not necessarily a horror movie in the traditional sense, this is a wildly creative and darkly funny flick. On the surface, it's two guys trying to outdick each other in rather disgusting ways. Deep inside, it's a social commentary on how fucking bad American classism can be. Great performances from Ethan Embry and David Koechner. It's not the greatest black comedy ever, nor is it the worst. Nash gives is Three Skulls.
This is basically Would You Rather but with two people. Ending is what i expected. And that's it, wasn't a boring watch.