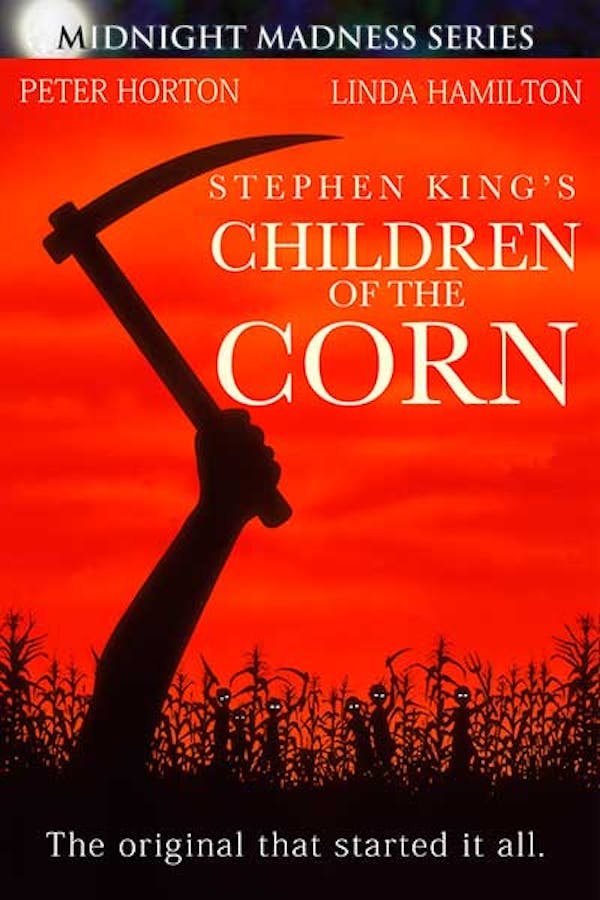 Children of the Corn
Directed by Fritz Kiersch
A couple must escape from a town of evil kids in this Stephen King short-story adaptation that spawned seven sequels. Burt and Vicky (Linda Hamilton) are traveling through Nebraska until an accident leads them to a town where twisted tykes obey a kiddie preacher (John Franklin, THE ADDAMS FAMILY's Cousin Itt) who demands all adults must be sacrificed to an evil entity who lives in the cornfield. Mixing elements of the '70s horror classic WHO CAN KILL A CHILD? and Shirley Jackson's "The Lottery", COTC is a must-see for any fan of King's tale and '80s horror.
A couple must escape from a town of evil kids in this scary Stephen King adaptation.
Cast: Peter Horton, Linda Hamilton, R.G. Armstrong
Member Reviews
The movie is entertaining throughout don't let pseudo movie art enthusiast tell you any different. If you are a fan of Steven King movies, then this will definitely be added to the favorites list. The movie has suspense throughout and will keep you hooked until the very end.
Whenever I rewatch this movie I always think that I'm spoiled by seeing better made/written horror movies from today, then I realize that this movie was made in '84 and better movies were made before and after. Honestly everything from the acting, to the premise, to the writing is just not good. I understand there's a stereotype where "King's books just can't be captured on screen" but they can and are all the time. I think people are jaded to how awful of a writer King really is and the only reason he's famous is because of how prolific he is in his writing. Maybe it's just not my style, maybe I'm a snob, but King's movies have never been good, won't ever be good. And just like his books, will always be a let down when you actually experience it.
Classic and amazing watch
Meh, I never understood why people like this so much. It's only vaguely entertaining. It's almost always the case with Stephen King films that you get a much better experience from reading his books.