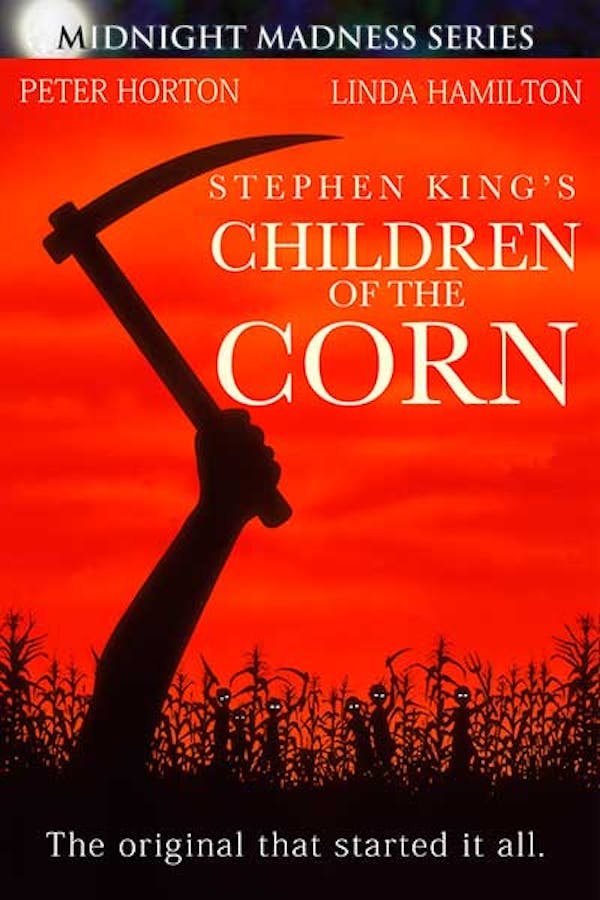 Children of the Corn
Directed by Fritz Kiersch
A couple must escape from a town of evil kids in this Stephen King short-story adaptation that spawned seven sequels. Burt and Vicky (Linda Hamilton) are traveling through Nebraska until an accident leads them to a town where twisted tykes obey a kiddie preacher (John Franklin, THE ADDAMS FAMILY's Cousin Itt) who demands all adults must be sacrificed to an evil entity who lives in the cornfield. Mixing elements of the '70s horror classic WHO CAN KILL A CHILD? and Shirley Jackson's "The Lottery", COTC is a must-see for any fan of King's tale and '80s horror.
A couple must escape from a town of evil kids in this scary Stephen King adaptation.
Cast: Peter Horton, Linda Hamilton, R.G. Armstrong
Member Reviews
the actor for Malachai was doing his best Tommy Wiseau impersonation
I just watched this for the first time. Stephen King is either a big hit or a big miss. Compare this film to "The Mist", and you'll get my point. Isaac was so ridiculously over the top that I laughed every time he used that over-the-top voice to chastise and preach in broken King James English. In fact, I kept saying to myself, "That voice is so familiar", and then I realized where I'd heard it before. Watch Season 4, Episode 10 of South Park (where Cartman becomes a fundamentalist preacher). It's especially noticeable when Isaac has his temper tantrum during his mock crucifixion -- 100% Eric Cartman. I dunno -- there are massive plot holes requiring huge suspension of disbelief, and while I don't mind some of that, this film was off the charts. For those invested in nostalgia, it would be a five skull. Taken at face value, however, it would be a two skull. I'll settle for three skulls.
The main actor was so dumb and annoying
Even the wonky credits are creepy. Quite like this one. Creepy kids are usually a winner and we have two really creepy ones here (especially John Franklin who wasn't actually a kid at all but you know what I mean). The cheap ending is a real disappointment, some things are better left hidden, but the performances are decent and, for a King adaptation, this is one of the better 80s entries.