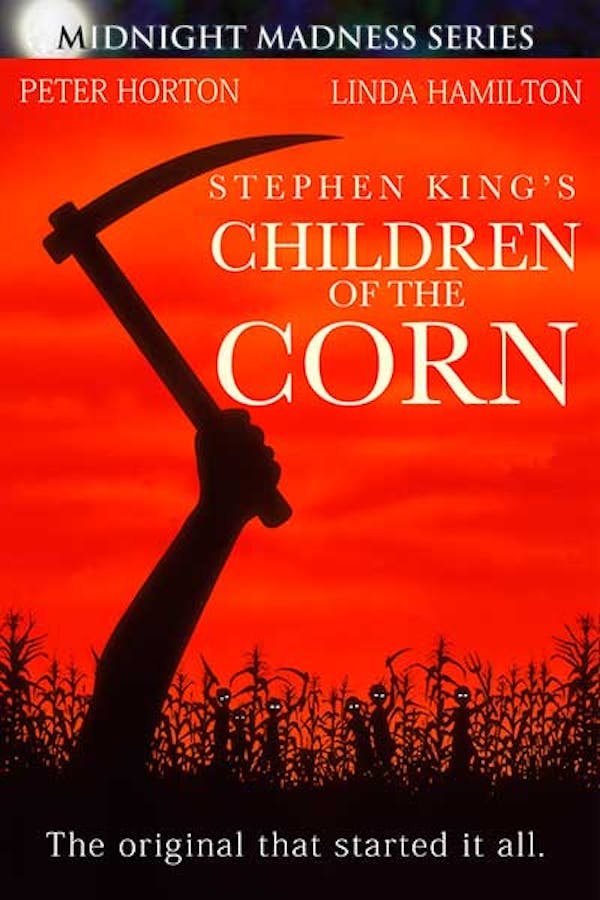 Children of the Corn
Directed by Fritz Kiersch
A couple must escape from a town of evil kids in this Stephen King short-story adaptation that spawned seven sequels. Burt and Vicky (Linda Hamilton) are traveling through Nebraska until an accident leads them to a town where twisted tykes obey a kiddie preacher (John Franklin, THE ADDAMS FAMILY's Cousin Itt) who demands all adults must be sacrificed to an evil entity who lives in the cornfield. Mixing elements of the '70s horror classic WHO CAN KILL A CHILD? and Shirley Jackson's "The Lottery", COTC is a must-see for any fan of King's tale and '80s horror.
A couple must escape from a town of evil kids in this scary Stephen King adaptation.
Cast: Peter Horton, Linda Hamilton, R.G. Armstrong
Member Reviews
I feel like once the nostalgia factor is taken away, children of the corn ages incredibly poorly and its quickly revealed that it has added little to nothing to the horror genre. Children of the corn is not scary, or even creepy, it's suffers from bad child actors, its premise is so milk-toast that if it didn't have Stephen King as the stories originator it would be in the same tier as 'The Stuff'. Just a dull experience, and another edition to the increasingly growing pile of underwhelming to out right bad Stephen king adaptations.
This movie is a classic. I've watched this since I was a child. It will never get old. Stephen King is a master at what he does.
This is a very dated, very mediocre movie, but GD is it still kinda fun. I enjoy the performances of the two "kids" in charge of the cult, and I am a sucker for movies about a deserted town or area in the middle of nowhere.
Given how old it is, it doesn't hold up as well as you'd think. Still, a good adaptation of King's work