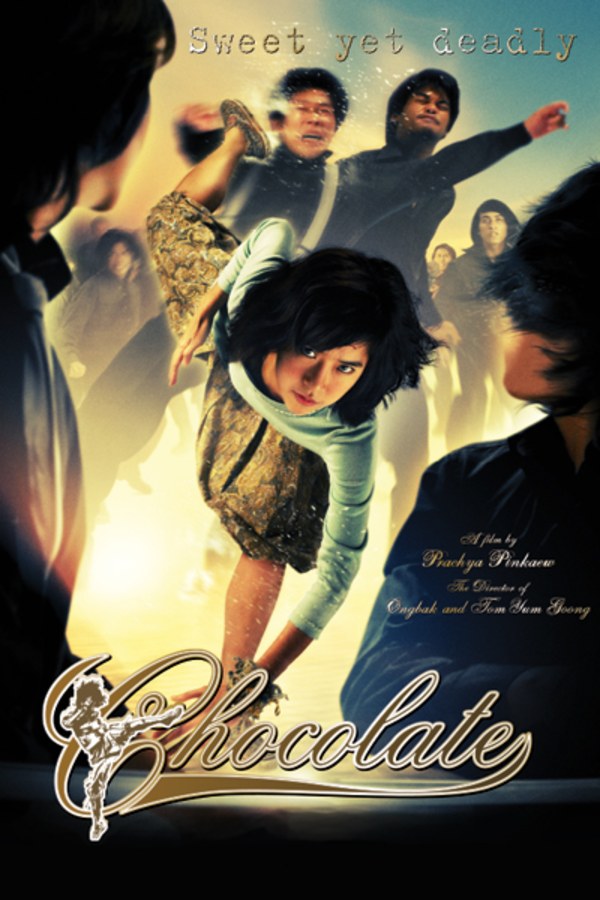 Chocolate
Directed by Prachya Pinkaew
An autistic girl with powerful martial art skills seeks out the ruthless gangs that owe her family money. Zen learns to fight from watching TV and the fighters at the boxing school next door. When her mother takes ill, she sets upon a violent quest to collect payment for the medical expenses, which ultimately leads her to her father, a member of the Yakuza.
An autistic girl with powerful martial art skills seeks out the ruthless gangs that owe her family money.
Cast: JeeJa Yanin, Hiroshi Abe, Ammara Siripong
Member Reviews
YES YES YES This movie is awesome and one of my husband and I's top favs.
I've never seen ONG-BAK before, but it looks like I'll need to remedy that IMMEDIATELY. I love that SHUDDER has a "Revenge" queue, and that this is part of it! I've been hearing a lot about CHOCOLATE on-and-off over the years, and so glad to finally catch up to it! If you are a martial arts movie fan from back-in-the-day, or just a lover of action movies in general, you can't go wrong with this! It has a different take on the usual martial arts tropes, and would've made a great anime feature if they'd chosen to go that way, instead of live-action. I will definitely want to see more from this director! And by the way, if you don't believe this is straight-up legit, stick around for the BTS footage behind the end credits! When the trailer said "NO WIRES", no padding, no safety nets of any kind...they weren't PLAYING!
I've seen a hell of a lot of martial arts films but this from the director of One-Bak sits near the top. Some jaw-dropping stunts and fight choreography accompany a story that manages to not feel exploitative despite its premise. Be sure to watch the injury reel during the closing credits
Awesome movie! I love the Tony Ja flix playing on the TV! Those are some of my Favorite martial arts movies. I recommend you watch if you haven't! Its also great they show the young girl preformed her own stunts during the credits and boy she took some real hits to the head. Most American male actors won't even stand on top of a chair cause they're afraid of falling and breaking a nail or get vertigo then faint Lol! Anyway not "The Raid" but its a cool movie worth 4 skulls from me! Note; If you do end up liking this movie! I do recommend you watch Tony Ja's movies and "The Raid" and especially "The Raid II" it out does 'em all for me! If you haven't!