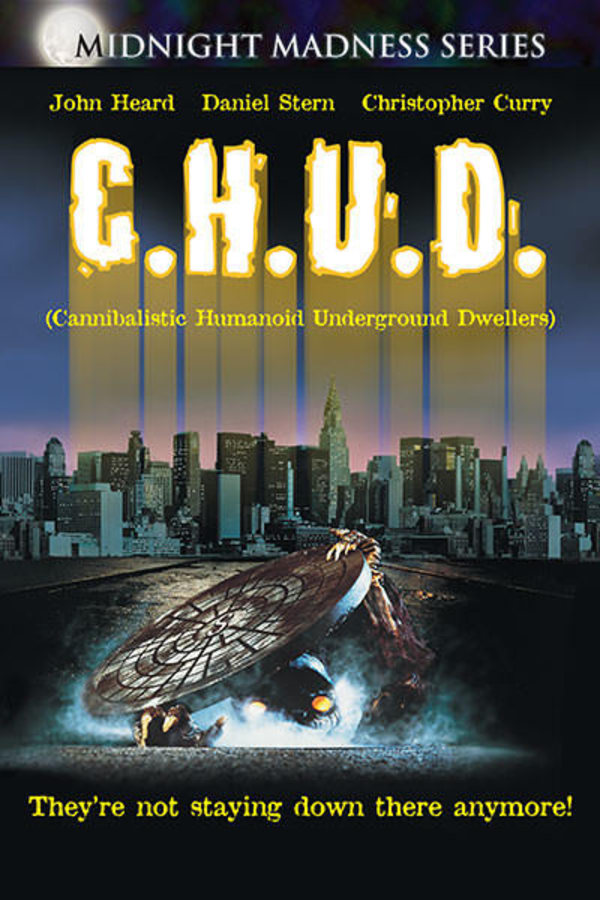 C.H.U.D.
Directed by Douglas Cheek
Beneath the streets of New York city, there are hundreds of miles of subterranean tunnels unfit for anything human, unauthorized for anything experimental and unlikely to come to the surface...until now. Something horrible is loose in the sewers of Manhattan, and the city's homeless population has begun to mutate into 'Cannibalistic Humanoid Underground Dwellers.' They are C.H.U.D. - hideous, hungry and headed for the streets! John Heard, Daniel Stern and Kim Greist star in this wildly original horror shocker, filmed on (and below) the streets of New York City where hundreds of tourists every year are still devoured by actual C.H.U.D.!
Manhattan's homeless population starts turning into savage, bloodthirsty mutants.
Cast: John Heard, Daniel Stern, Christopher Curry
Member Reviews
This movie terrified me when I was a child. After I first watched this film, I was always scared to walk near or by man hole covers. Haha..
loved it! somehow missed this growing up. but its 80s cheese at its best!
Great little campy monster flick! It hits all the notes that anyone familiar with 50s-era "Nuclear Waste Equals Monster Disaster" movies will recognize, with clever writing and really solid performances all around. I could have done with more of the titular CHUDs, but the filmmakers clearly decided to err on the side of not over-exposing the monsters, which I can respect, and the cast is more than capable of handling the heavy lifting here. Definitely worth the watch for any fan of 80s creature features.
One of my all-time favorites! Very clever.
Loved this as a kid and still love it now. It helped form me to be the man I am today.