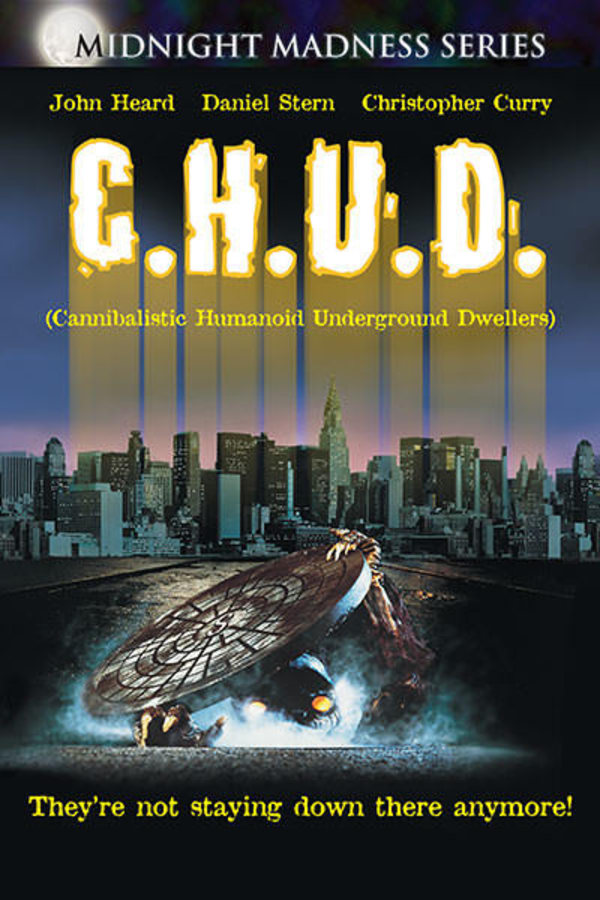 C.H.U.D.
Directed by Douglas Cheek
Beneath the streets of New York city, there are hundreds of miles of subterranean tunnels unfit for anything human, unauthorized for anything experimental and unlikely to come to the surface...until now. Something horrible is loose in the sewers of Manhattan, and the city's homeless population has begun to mutate into 'Cannibalistic Humanoid Underground Dwellers.' They are C.H.U.D. - hideous, hungry and headed for the streets! John Heard, Daniel Stern and Kim Greist star in this wildly original horror shocker, filmed on (and below) the streets of New York City where hundreds of tourists every year are still devoured by actual C.H.U.D.!
Manhattan's homeless population starts turning into savage, bloodthirsty mutants.
Cast: Peter Horton, Linda Hamilton, R.G. Armstrong
Member Reviews
love those movies with that late 70's early 80's gritty N. Y. feel to them. I was a kid then and there, kinda nostalgic for me.
Classic horror movie with a great feel of the 1980s. This is the kind of movie you rented from Blockbuster back in the day. Very enjoyable for a Saturday night. Just add popcorn.
Great classic horror movies from my childhood. Still holds up today.
To say this movie is in the vein of Street Trash or The Stuff strikes me as odd. While it is a B-monster movie by way of poisonous material turning you into something disgusting, it has very different strengths and weaknesses. Street Trash is gonzo glory to me, an endless smorgasbord of extremity and the ludicrous that easily matches the nuttiest and most fun filled Troma stuff. The Stuff is halfway there, crazy fun with some real scenery chewing, but not quite keeping the pace up throughout. This one I could have just about shown my granny (and she might have enjoyed it). C.H.U.D. on the other hand has very sharp acting (on par with any top notch monster movie like Alligator, Jurassic Park, , maybe not quite on the level of something with a truly extraordinary turn like Jaws), reasonably grounded and often witty dialogue, no actively gory moments (there are carcasses and injuries etc, but the actual monster attacks are straight up PG). From a character perspective it's standard mainstream Hollywood fare. In its plot and pace it's messier, as momentum builds up to payoffs that we rarely get, before being completely deflated by cutting away every time it's starting to get good and then never resolving things. And I'm referring to the 96 minute director's cut. When it gets to the monster attacks, all the professionalism of this movie and Fulci gets exactly reversed - he can't direct an actor or dialogue to save his life, but he can sure direct an effective schlocky monster attack. This movie operates exactly in reverse to that. Aside from the title, creature design, and well presented 80s new york setting, and a mere few seconds of mutilated bodies, this is much closer to a well acted but slackly paced 50s B-movie (with no action grammar utilised to speak of) than the kind of lurid 70s/80s exploitation fare that has interest in the violent or extravagant set piece.
I find this movie to have correlations to Jaws with it being focused on the people surrounding the problem of the monsters, rather than the monsters. I read other comments and I agree, that I wish there was more of the monster. However I understand why they didn't. They really tried to channel Alien when showing the monster. They would only show close-ups of the face or just the hands. It would have been awesome if it showed a transformation. If you like practical effects, this is a good film. Kim Griest is hot as well! Hit me up @Tormentedgmer on twitter and let me know your thoughts!