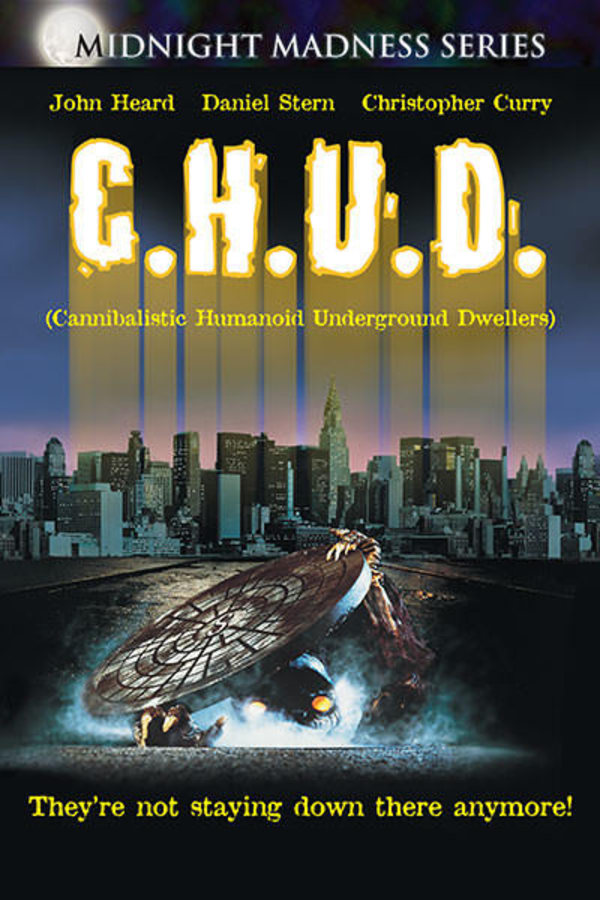 C.H.U.D.
Directed by Douglas Cheek
Beneath the streets of New York city, there are hundreds of miles of subterranean tunnels unfit for anything human, unauthorized for anything experimental and unlikely to come to the surface...until now. Something horrible is loose in the sewers of Manhattan, and the city's homeless population has begun to mutate into 'Cannibalistic Humanoid Underground Dwellers.' They are C.H.U.D. - hideous, hungry and headed for the streets! John Heard, Daniel Stern and Kim Greist star in this wildly original horror shocker, filmed on (and below) the streets of New York City where hundreds of tourists every year are still devoured by actual C.H.U.D.!
Manhattan's homeless population starts turning into savage, bloodthirsty mutants.
Cast: John Heard, Daniel Stern, Christopher Curry
Member Reviews
Typical 80's fun. Not scary, but good. A little slow, but picks up. Daniel Stern is awesome!
I adore my 80s horror movies, but this one, even though it had its moments, was a bit slow... I will give it another try, but it's pretty middle of the pack for me. Not enough campiness in this movie, and not enough cheese. ;)
CHUD is a pretty fun 80s movie. More CHUD!
Chud...what an 80s classic...keep more 80s horror coming Shudder! Awesome.
Didn't like this one so much not a lot going on and parts that are great are few and far between!