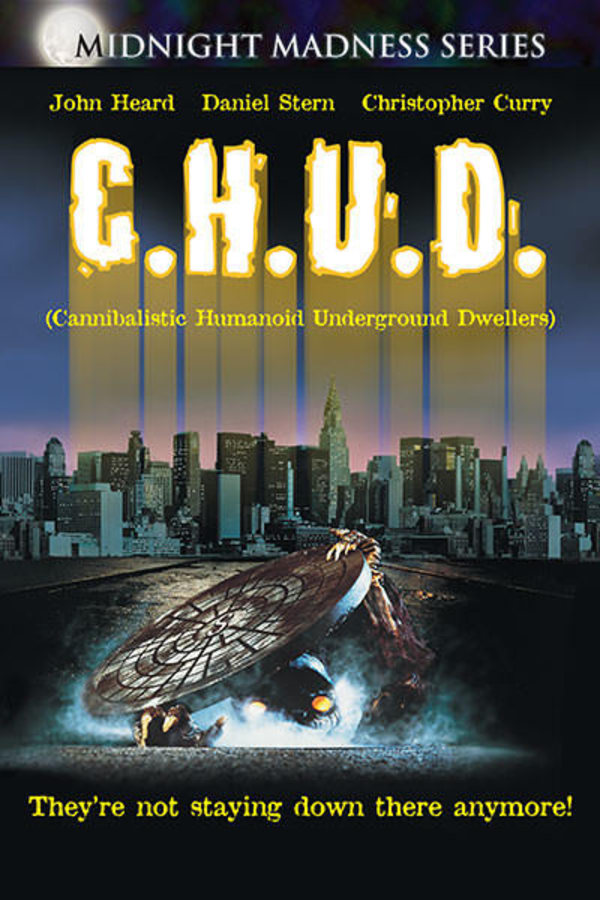 C.H.U.D.
Directed by Douglas Cheek
Beneath the streets of New York city, there are hundreds of miles of subterranean tunnels unfit for anything human, unauthorized for anything experimental and unlikely to come to the surface...until now. Something horrible is loose in the sewers of Manhattan, and the city's homeless population has begun to mutate into 'Cannibalistic Humanoid Underground Dwellers.' They are C.H.U.D. - hideous, hungry and headed for the streets! John Heard, Daniel Stern and Kim Greist star in this wildly original horror shocker, filmed on (and below) the streets of New York City where hundreds of tourists every year are still devoured by actual C.H.U.D.!
Manhattan's homeless population starts turning into savage, bloodthirsty mutants.
Cast: John Heard, Daniel Stern, Christopher Curry
Member Reviews
Daniel stern is a'ight.. but this movie is booooorrring.
This movie is really good, I actually loved watching this.
this movie is under rated and a must watch if you have not seen, trust me its goodin
Went in with low expectations and was blown away. Amazing practical effects and soundtrack, good atmosphere and tension with some campy but enjoyable performances.
C.H.U.D. (1984) Something weird is going on down in the sewers and the homeless people who live inside them are disappearing. A cop, a reporter, and a man who runs a soup kitchen want answers, but the city officials ain't talking. A classic 80's movie with practical creature effects and the underground dwellers still look cool with their yellow glowing eyes. It's also nice to see actors I had forgotten about (John Heard, Daniel Stern, Christopher Curry) in their heyday. Many 80's horror movies and plot lines seem innocent and unrealistic by today's standards and seeing the twin towers in some of the scenes brings that point home. It's a throwback to a time when movies were fun and a little goofy and not to be taken so seriously. I miss the 80's, but gems like this bring it all back. 7 out of 10 stars.