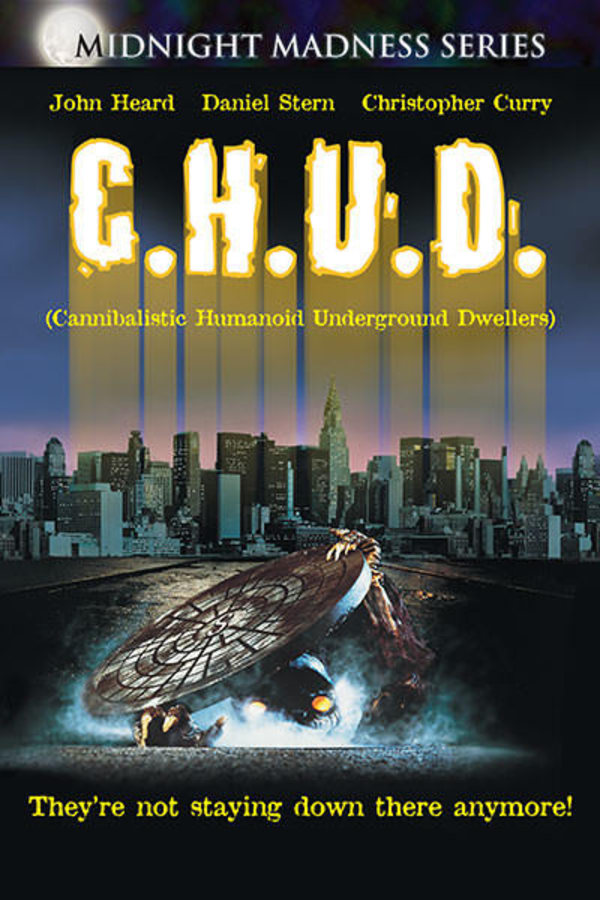 C.H.U.D.
Directed by Douglas Cheek
Beneath the streets of New York city, there are hundreds of miles of subterranean tunnels unfit for anything human, unauthorized for anything experimental and unlikely to come to the surface...until now. Something horrible is loose in the sewers of Manhattan, and the city's homeless population has begun to mutate into 'Cannibalistic Humanoid Underground Dwellers.' They are C.H.U.D. - hideous, hungry and headed for the streets! John Heard, Daniel Stern and Kim Greist star in this wildly original horror shocker, filmed on (and below) the streets of New York City where hundreds of tourists every year are still devoured by actual C.H.U.D.!
Manhattan's homeless population starts turning into savage, bloodthirsty mutants.
Cast: John Heard, Daniel Stern, Christopher Curry
Member Reviews
a whole lot of sitting around doing nothing. great cast though.
TBH I was surprised at how relatively dull this was - it had a good cast and was a relatively intelligent monster movie but the pacing was slack and there was far too little C.H.U.D. action overall. I'd been meaning to see this for a long time but would have to rank it as a disappointment.
Joe Bob is probably right, this is a pretty average to boring movie but I enjoy the complete weirdness and convoluted conspiracy story.
I always enjoy watching C.H.U.D..