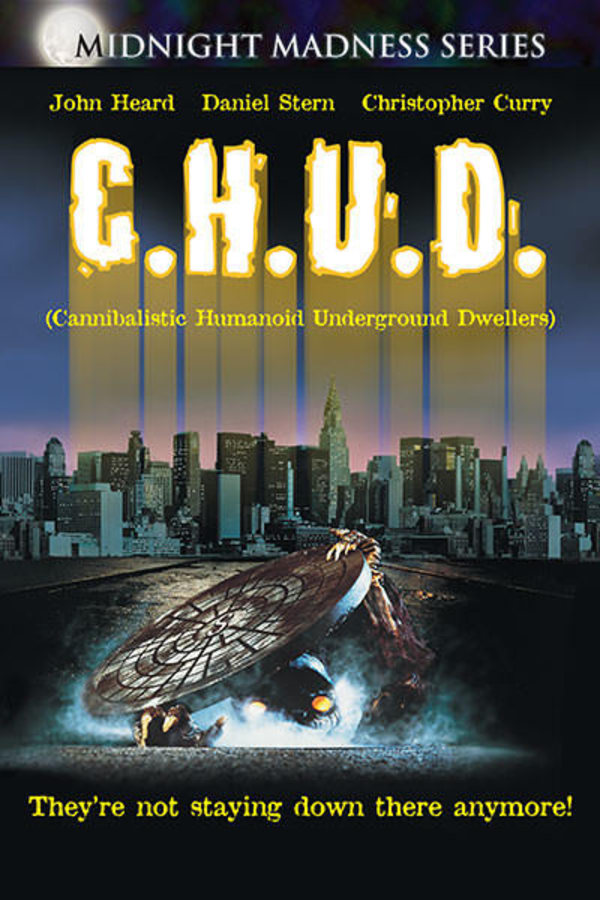 C.H.U.D.
Directed by Douglas Cheek
Beneath the streets of New York city, there are hundreds of miles of subterranean tunnels unfit for anything human, unauthorized for anything experimental and unlikely to come to the surface...until now. Something horrible is loose in the sewers of Manhattan, and the city's homeless population has begun to mutate into 'Cannibalistic Humanoid Underground Dwellers.' They are C.H.U.D. - hideous, hungry and headed for the streets! John Heard, Daniel Stern and Kim Greist star in this wildly original horror shocker, filmed on (and below) the streets of New York City where hundreds of tourists every year are still devoured by actual C.H.U.D.!
Manhattan's homeless population starts turning into savage, bloodthirsty mutants.
Cast: Peter Horton, Linda Hamilton, R.G. Armstrong
Member Reviews
Though I had somehow never seen C.H.U.D. before now, it has always held a sort of mythical status for me as one of the prevalent horror films in VHS rental stories during the 1980s. I can thank the ominous, attention-capturing poster/box art, and the title itself. Who doesn't want to see a film about Cannibalistic Humanoid Underground Dwellers? It really was the kind of 1980s horror film that really begged to be made, a perfect movie for the rise of VHS. Having finally seen it, I have to say that all my mythologizing it as a kid is a bit overwrought. That's not to say that the movie is bad. For its era, it's actually a pretty interesting movie. Parnell Hall and Shepard Abbott's script is infused with the kind of social commentary that genre filmmaking has always been interested in tackling, and the C.H.U.D.s themselves are a nice bit of nasty character design when they show up. The primary problem is that they aren't around enough. Director Douglas Cheek does a nice job griming up New York City, and the cast does their best with their roles here. But there's a bit too much build-up here to really lend itself to the inherent camp that the title and concept suggest. The film certainly has its moments, to be fair, and the attempts at character depth are admirable. When it works, it really works, and some of the gore moments are cringy in the good way. C.H.U.D. isn't anywhere near the top of the pack, even for its relatively narrow genre of 1980s radiation monster movies. But there are fare worse times to have than watching this.
I watch this movie when I was a little girl, This movie scared me so bad. And now watching it seems so funny. I can't believe how scared I was of this movie. Compared to The monsters that we have in the movies today make the monsters in this movie seem so fake. But there still is a good movie to watch.
This movie is so dumb that it's memorable. That's all i got.
Much better than I had expected going in. Good characters, Daniel Stearn is a highlight. Would've liked more sewer strike team action. I feel like James Cameron loves this movie, two actors in small roles here will work again in Cameron's The Abyss.
cheesy movie phony as monsters naw!!!