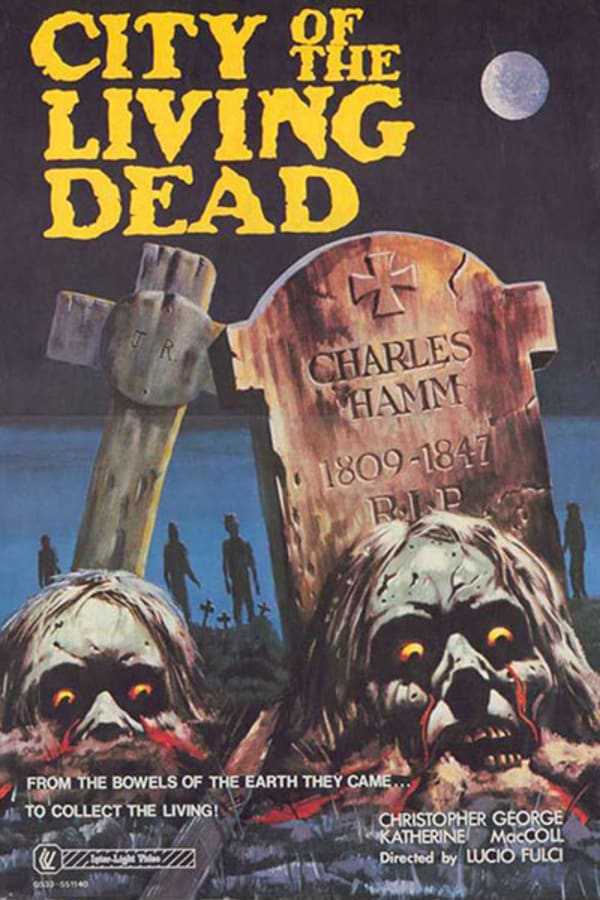 City of the Living Dead
Directed by Lucio Fulci
A reporter and a psychic try to close the gates of hell before zombies invade Earth in the first of Italian gore maestro Lucio Fulci's "Gates of Hell" trilogy. After a priest guarding the gates dies, Mary and Peter learn that his death created the opportunity for the dead to rise in only a few days. Soon enough, gruesome things start happening - including the film's most famous sequence where a female victim literally pukes her guts out. If George Romero's living dead films are too tame for you, Fulci's films should satisfy all your creepy cravings. Contains violence and gore.
A reporter and a psychic try to close the gates of hell before zombies invade Earth.
Cast: Christopher George, Catriona MacColl, Carlo De Mejo, Giovanni Lombardo Radice
Member Reviews
This was a good horror film for its time but i never could get the ending!!!
Decent fun with a series of gory images that form a loose narrative which ebbs and flows sporadically. I guess there is a bit of a story to why the film ends the way it does involving ruined negatives and spilled coffee, so that is fun as well.
It was ok. I think I had the bar set higher for this film than what it delivered for me, but that is just my opinion. I do like some of the gore in this film and that was pretty cool, especially when the girl's guts/organs spewed out of her mouth. It was an ok film, but a bit boring at times.
Was never a really big fan of this Fulci film but it's grown on me over the years as I now enjoy watching in conjunction with House by the cemetery and The Beyond. This version looks great compared to the many sub-par versions out there (including The Gates of Hell cut) and sounds amazing! Unfortunately, the film has dated tremendously over time by fans of Fulci will not be disappointed so I hope this is not your first Fulci film. It does hav Catriona MacColl in it so there is never a bad thing!
1st saw this when it was heavily edited back in 83 when it was called THE GATES OF HELL at the theaters. Still like it with its original title which I think matches its moodiness. I always thought ZOMBIE was overrated. CITY of the LIVING DEAD is more moodier & eerily claustrophobic & imaginative gore effects. Yes Fulci's original ending was destroyed so he just added that little animated crack to show an 'apocalyptic' ending. Its a minor quibble compared to this wonderful supernatural zombie story.