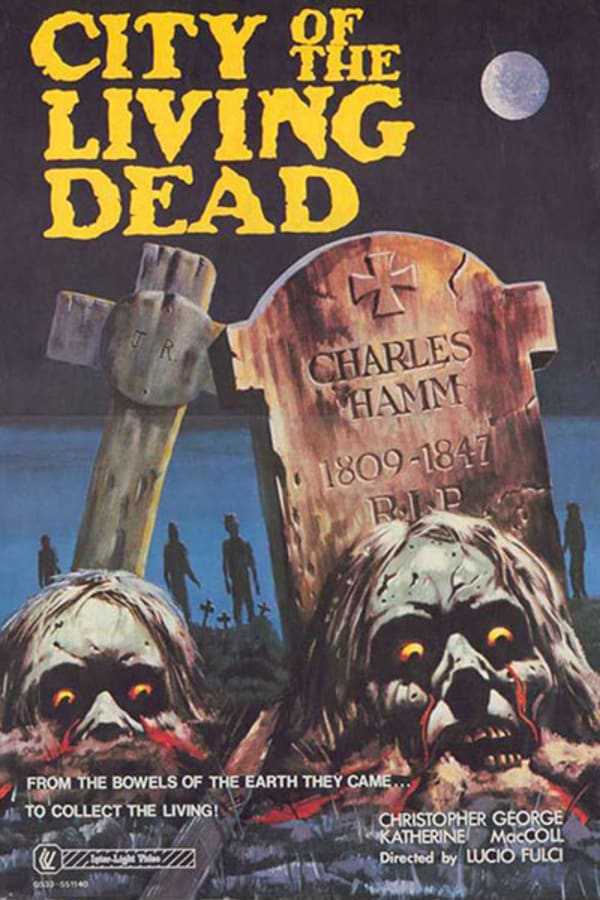 City of the Living Dead
Directed by Lucio Fulci
A reporter and a psychic try to close the gates of hell before zombies invade Earth in the first of Italian gore maestro Lucio Fulci's "Gates of Hell" trilogy. After a priest guarding the gates dies, Mary and Peter learn that his death created the opportunity for the dead to rise in only a few days. Soon enough, gruesome things start happening - including the film's most famous sequence where a female victim literally pukes her guts out. If George Romero's living dead films are too tame for you, Fulci's films should satisfy all your creepy cravings. Contains violence and gore.
A reporter and a psychic try to close the gates of hell before zombies invade Earth.
Cast: Christopher George, Catriona MacColl, Carlo De Mejo, Giovanni Lombardo Radice
Member Reviews
I've watched 3 Fulci films on Shudder now and this might be one of the weaker ones for me personally. I love Zombie for the fact that it's a more intimate, low stakes Zombie film than what we usually get. I enjoyed The Beyond for it's creepy atmosphere. However with City of the Living Dead I'm starting to see a pattern with his films. A lot of style with very little substance. The plot in a Lucio Fulci film almost becomes irrelevant. It's merely window dressing to service his brand of blood, gore, and scares. I had no idea what was going on for much of this movie or more accurately I was confused because things were so simple. There's not much to say, a Priest kills himself and opens the gates to hell causing the dead to rise as supernatural zombies with a tendency towards ripping the back of people's heads off. Insert group of plucky protagonists that have to go to a place to do a thing to stop the proposed zombie-apocalypse. Again, I didn't hate it. There's some great gore in this movie, I'm not going to spoil it but, we all know what kill I'm talking about. This is just..a really weird movie in general. There's a lot I wish I could talk about without giving too much away. Out of the 3 Fulci films I've seen so far this one feels the most like he was throwing things at a wall to see what would stick. Overall I found it entertaining but, I think it's the weakest of his filmography I've seen so far.
Ignore the reviews that call the film or the Director awful - they don't understand the importance of Lucio Fulci. These early films and the works of Dario Argento (and a handful of others) are on the tongues of every modern horror Director - James Wan, Rob Zombie, etc. These earlier genre films are what paved the way for what we have today. There was no CGI and computers back when most of these were made - it was hard work and editing. A fun film for sure. Partially filmed in Savannah Georgia. One of the leads, Christopher George - was in several horror films before suffering a heart attack at 52.
Bloody awful. If you're a gore fan, by all means, but otherwise it's yawn inducing. The amazing psychic has to close the gates of Hell, but is deathly afraid of rats? WTF. And the score? Two themes with ten bars each, on a loop. Throw in a hypnotic female voice here and there, and then what sounds like ape or chimpanzee noises as a way to spook you out. Lol. Beyond laughable.
Good stuff. Some nasty FX that even some jaded gore hounds get grossed by. A weird roller coster of a movie and a major Fulci classic!
One of LFs more messy films as cohesive story lines goes. Otherwise special effects & music is the best!