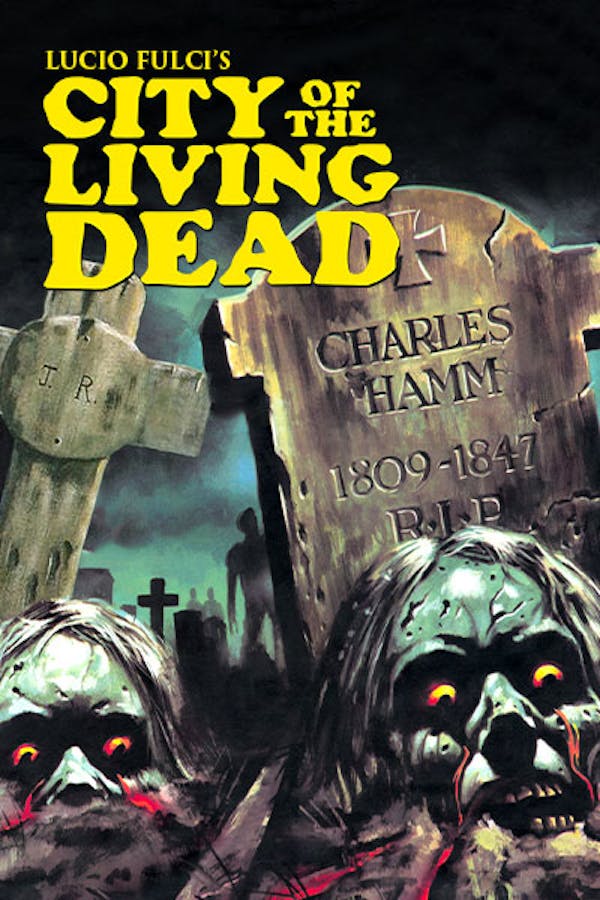 City of the Living Dead
Directed by Lucio Fulci
A reporter and a psychic try to close the gates of hell before zombies invade Earth in the first of Italian gore maestro Lucio Fulci's "Gates of Hell" trilogy. After a priest guarding the gates dies, Mary and Peter learn that his death created the opportunity for the dead to rise in only a few days. Soon enough, gruesome things start happening - including the film's most famous sequence where a female victim literally pukes her guts out. If George Romero's living dead films are too tame for you, Fulci's films should satisfy all your creepy cravings. Contains violence and gore.
A reporter and a psychic try to close the gates of hell before zombies invade Earth.
Cast: Christopher George, Catriona MacColl, Carlo De Mejo, Giovanni Lombardo Radice
Member Reviews
Gonna be honest - I can't watch this one. 3 skulls because it's old Italian horror (my fav. genre) - can't watch because I am emetophobic, and I'm fairly certain that came from my friend's older brother narrating the puking up entrail scene to me when I was a child in the 80's. (He'd spent a summer checking out all of the horror films, one-by-one). I never knew the title, but actually googled "Vomiting Intestines Movie" a few years ago so I wouldn't watch it by accident! Enjoyed The Beyond a lot.
You can never go wrong with the Classic 70s and 80s Horror, they may not have all the gory tricks with technology , but they still can give you a good Ewwww! that's gross face and a WOW! or two and the music, constant dread. I love it! Then loud piercing "SCREAMS" . AWESOME!
dreamy textural horror. surreal, wonderfully disjointed and full of occult energy. there are so many moments when they could have done things a normal way, and it would have been fine, but instead they made some magical leap (i.e. the priest could have stabbed or choked people, but instead kills by eye contact, causing victims' eyes to bleed). if you're someone who tends toward more plot oriented fare, this might feel unfamiliar or slow, but i would definitely recommend acclimatizing yourself! there's so much that's wonderful about this brand of horror. [additional content warnings: rats, worms, maggots, vomiting]
The whole trilogy is great, but this is my least favourite of the three.
This is my second favorite of the "Hells Gate" trilogy. Start with this move first, then "The beyond" then "the house by the cemetery"