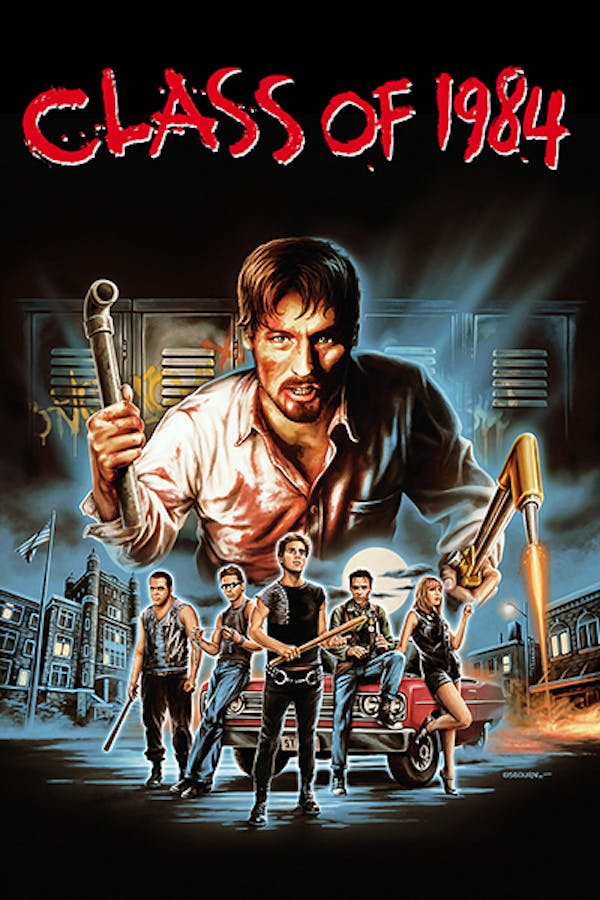 Class of 1984
Directed by Mark L. Lester
An idealistic and naive music teacher has moved into a new community with his pregnant wife, only to find his new job is an academic abyss. Appalled by the crime-infested school, Norris soon crosses paths with its teenage kingpin, the shrewd and sadistic Peter Stegman. With Norris setting his sights on reforming Stegman and the young punk declaring war on his teacher, the duo is on a collision course for a fateful showdown.
A new teacher at a troubled inner-city high school soon ends up clashing with the delinquent leader of a punk posse that runs the school.
Cast: Perry King, Merrie Lynn Ross, Timothy Van Patten
Member Reviews
I love all 70s and 80s horror movies, but this isn't exactly "horror", per sé… but as far as bloodshed and violence goes, it can stand up with any of the Friday the 13th and Elm Street flicks, for sure. And I have to say, it was definitely way better quality than I had expected. I guess I went into it expecting more of a Troma style flick, but there was more story to it and much better acting, much thanks to the always great Roddy McDowall. I have o say tho, I was a bit surprised when I read that he was in a movie like this, but now I see why. If you're a fan of the golden age of horror like me, check it out.
Classic 80s horror movie also Starring A very young Michael J. Fox
That kind of movie is why I'm on Shudder.
Timothy Van Patten's for those old enough... Is Dick Van Patten's half-brother of The tv series "Eight is Enough" 1977-1981.
This movie is awesome! It's just as good now as before