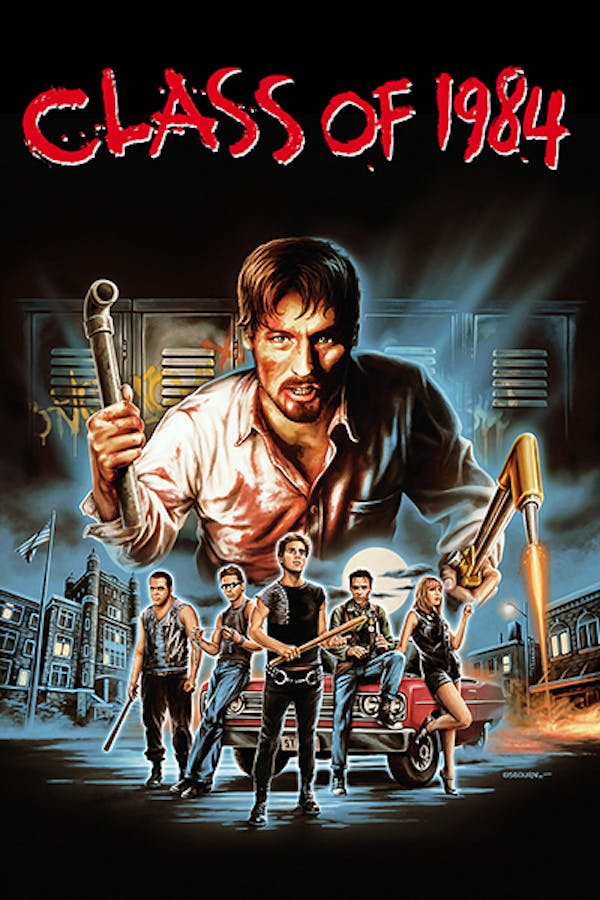 Class of 1984
Directed by Mark L. Lester
An idealistic and naive music teacher has moved into a new community with his pregnant wife, only to find his new job is an academic abyss. Appalled by the crime-infested school, Norris soon crosses paths with its teenage kingpin, the shrewd and sadistic Peter Stegman. With Norris setting his sights on reforming Stegman and the young punk declaring war on his teacher, the duo is on a collision course for a fateful showdown.
A new teacher at a troubled inner-city high school soon ends up clashing with the delinquent leader of a punk posse that runs the school.
Cast: Perry King, Merrie Lynn Ross, Timothy Van Patten
Member Reviews
80s classic, not horror but classic nonetheless. Boobs, bush, violence, and a chubby teen Michael j Fox.
Should have been titled Class of 25 year old high school students. Few of the students look the right age. Chest hair guy needed to wear a shirt more often or shave. Very campy. Too goofy to be taken seriously. Filmed in Canada for those that see a connection to the U.S.
So good! I don't know why more people don't know about this movie. I saw it years ago, and was glad to see it available here.
VERY UNDERRATED movie here. this is indeed a cult classic, and needs to be praised more. never a dull moment for me!
An exploitative cult classic that would predict the future of the educational system where educators have no power over their students. Yet even though the students can be amoral sadistic brats as depicted here there is a level of sympathy for them especially for gang leader Stegman where you see a glimmer of hope in his piano solo. In the end however, in his effort to get justice, Norris becomes the very thing he was fighting to lock up.