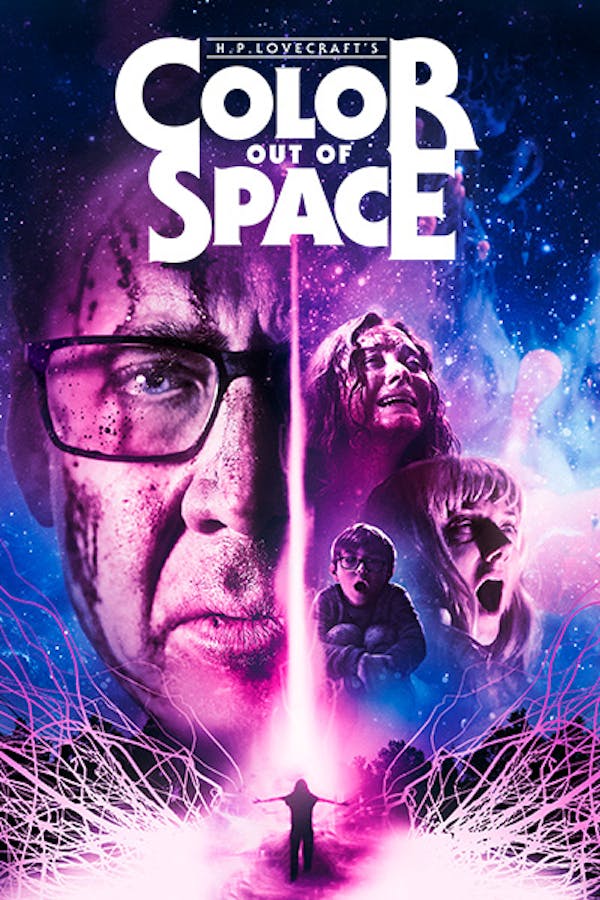 Color Out of Space
Directed by Richard Stanley
After a meteorite lands in their front yard, Nathan Gardner and his family find themselves battling an extraterrestrial organism as it infects their minds and bodies, and turns their lives into a living nightmare. Director Richard Stanley triumphantly returns with Nicolas Cage and mind expanding cosmic horror in tow. A SHUDDER EXCLUSIVE.
After a meteorite lands on their farm, Nathan Gardner and his family must battle an extraterrestrial organism as it infects their minds and bodies.
Cast: Nicolas Cage, Joely Richardson, Madeleine Arthur, Brendan Meyer, Julian Hilliard, Elliot Knight
Member Reviews
H.P. Lovecraft's books + Elder realm Stories Are beyond time and will never die. Like the Old Gods that live there. Did he study them from some old Arcane Book hidden away from prying eyes? Or just make it all up? And having a cute witch girl always helps, good movie.
Horrifying and amazing. Deliberately crafted and beautiful beautiful beautifully done.
I didn't realize how much Nic Cage's other recent movie sucks compared to this masterpiece. I don't go out of my way to find body-horror films, but every one I've seen recently, (Annihilation, The Void, Bite), has stayed with me for one reason or another. This isn't even presented as a body-horror film, but those types of scenes in this film f * c k e d me up! It's an HP Lovecraft adaptation, so... it's already going to be batsh*t, but the acting of the cast supporting Nic Cage's over-the-top interpretation of "Dad's-not-quite-feeling-himself-since-that-meteor-crashed-into-our-back-yard." Lot's of gory, sticky, gyrating, pulsing, oozing practical effects, and alpacas! It's not a terrible way to spend almost two hours.
Bizarre, sad, and amazing.
Really good visuals and the story was quite breath taking