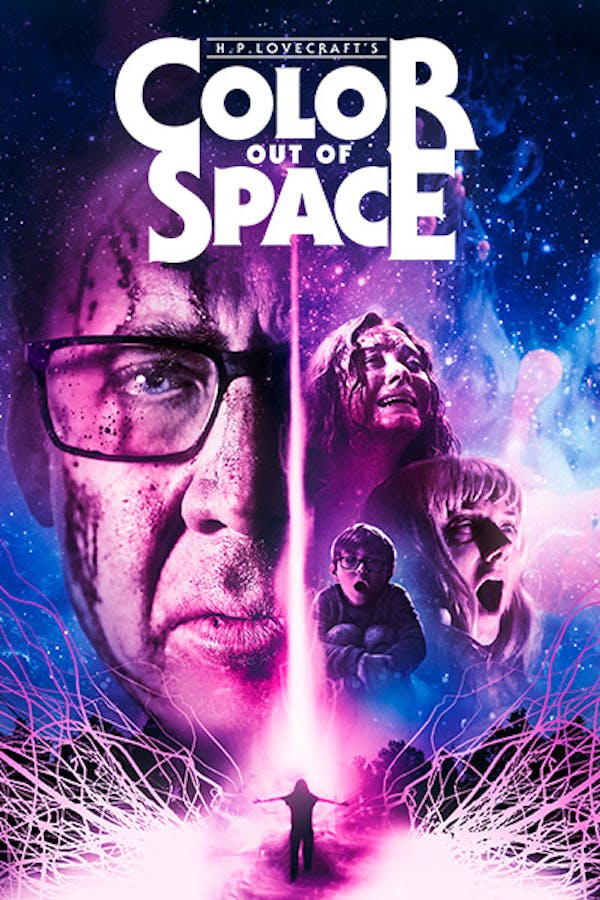 Color Out of Space
Directed by Richard Stanley
After a meteorite lands in their front yard, Nathan Gardner and his family find themselves battling an extraterrestrial organism as it infects their minds and bodies, and turns their lives into a living nightmare. Nicolas Cage stars in this mind expanding cosmic horror. A SHUDDER EXCLUSIVE.
After a meteorite lands on their farm, Nathan Gardner and his family must battle an extraterrestrial organism as it infects their minds and bodies.
Cast: Nicolas Cage, Joely Richardson, Madeleine Arthur, Brendan Meyer, Julian Hilliard, Elliot Knight
Member Reviews
Very cool flick. Was wild shit.
i was a big fan of this movie. cool HP Lovecraft adaptation, though certainly not the best.
Amazing score that really drew me in. Wish there were more cosmic horror elements but all round a great, trippy watch.
While this film isn't quite a success (s'why only 3 stars), it has a surprising amount of deft qualities to the script, the photography, & the acting. Unlike Lovecraft ever wrote himself (I always thought him an overrated writer), the characters actually have depth. There's at least some suspense, & the grotesque transformations were obviously an homage to Carpenter's The Thing. I love what was done w/ all the psychedelic visuals. The movie starts to fall apart because the writer/director didn't seem to know what direction he was going in. There were too many elements, & it kept losing focus. Of course it was intended just to be weird, but that shouldn't alienate us (pun intended). It's worth a watch, even if it doesn't *quite* work on the whole. I'll take decent writing & directing whenever I can get them, even if it's in bits & pieces. Color Out of Space is better than 95% of the movies on Shudder, even though that isn't saying much.
Surprisingly good reimagining of a Lovecraft work. Nic Cage gives it his all as always. Ending was slightly heavy handed with the point of the story, but that wasn't worth docking points, imo.