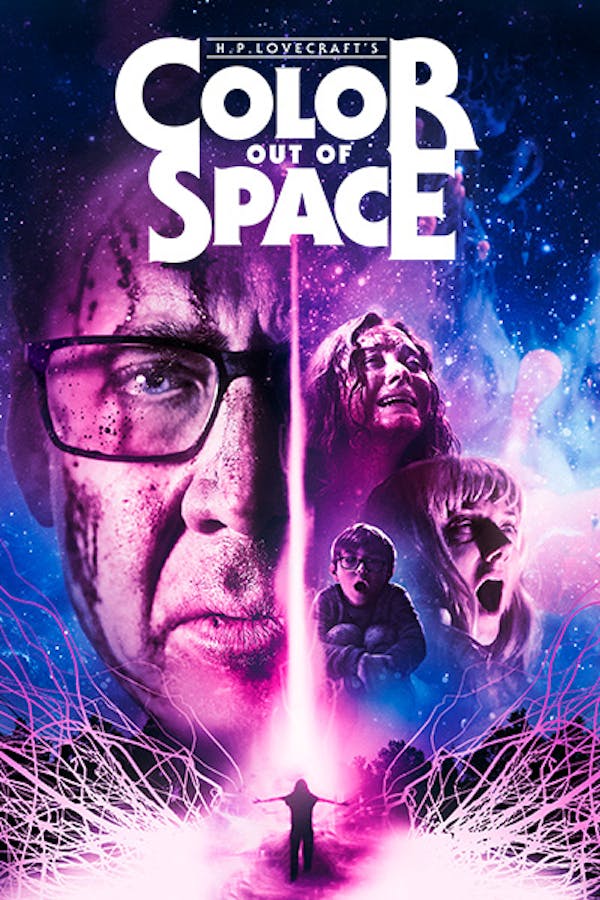 Color Out of Space
Directed by Richard Stanley
After a meteorite lands in their front yard, Nathan Gardner and his family find themselves battling an extraterrestrial organism as it infects their minds and bodies, and turns their lives into a living nightmare. Nicolas Cage stars in this mind expanding cosmic horror. A SHUDDER EXCLUSIVE.
After a meteorite lands on their farm, Nathan Gardner and his family must battle an extraterrestrial organism as it infects their minds and bodies.
Cast: Nicolas Cage, Joely Richardson, Madeleine Arthur, Brendan Meyer, Julian Hilliard, Elliot Knight
Member Reviews
I had given up on Nicolas Cage after the gawdawful atrocious Wicker Man remake (original is a classic fave of mine), but I'm glad I gave this one a chance, because he really kills it this time. One of the best Lovecraft films I've seen yet, on par with Dagon and The Resurrected at least, and possibly the best one of the bunch. Should please Lovecraft and Cage fans alike. His best performance since Lord of War!
Another amazing and wild cage adventure
I know 5/5 for some means a perfect movie. That's definitely not this one, BUT this movie takes an HP Lovecraft story and translates something seemingly indescribable like cosmic horror and makes a thoroughly enjoyable experience! You can tell that the director really likes what he's making and Nick Cages performance is really fun to watch.
Once again, just a solid performance from Cage. I can't get over horror movies where you never get to see what is affecting the cast, but this one delivers somehow. Wether it be the transe of the awkward nature of being seperated from human interaction, or the unforgiving landscape that can be nature, dropping a color out of space rock into the mix made such a blast of a movie!