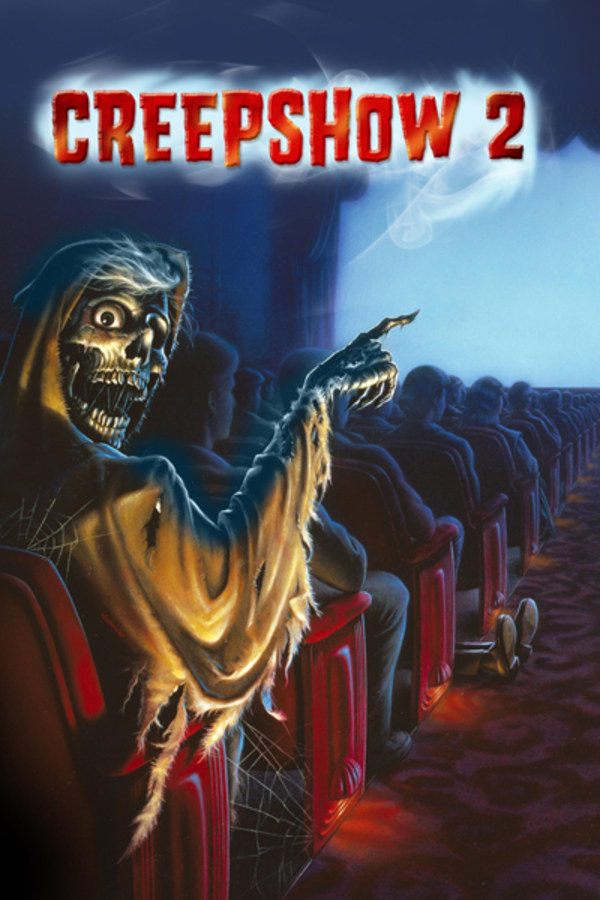 Creepshow 2
Directed by Michael Gornick
The rotting Creep himself is back with three new gruesome tales of horror that will make your skin crawl: a cigar store wooden Indian comes to life to avenge the store owner's brutal murder at the hands of three punks in "Ol' Chief Woodenhead." Then four teenagers become the target of a terrifying, man-eating oil slick in "The Raft." The chills continue with "The Hitchhiker," the chilling tale of a woman who keeps running into, and over, the same mutilated man on a lonely road. Prepare for a terrifying roller coaster ride from the masters of horror!
The rotting creep returns to spin three scary stories.
Cast: Tom Savini, Domenick John
Member Reviews
Watched it in theaters when it originally came out and still enjoy it to this day!!!
While the first Creepshow movie is one of my favorite horror films of all time, Creepshow 2 is still an absolute blast to watch! This is such a fun movie that to watch. The music is phenomenal, the stories are overall really good(my personal favorite is "The Hitchhiker") and it has enough scares sprinkled throughout to keep you on edge. The Raft actually gave me nightmares when I first saw this film when I was about 10. Great sequel! I seriously can't wait until the Creepshow series comes out on Shudder here soon.
Not as quite as good as the original, but still a worthy sequel. The only real let down was the lack of stories. There were only 3; Creepshow had 5. The Raft is the best one of the bunch. Think Jaws ( No shark or boats )with a twist in the middle of a lake. Check it out.
A good effort from Romero's Director of Photography. This guy knows Romero's style, and does it well in Creepshow 2. Somehow I saw this one first, and it's why I think of when I think of Creepshow. If you've seen Creepshow 1, Creepshow 2 isn't a bad way to kill some time.
You can tell the budget is not quite as big as the original Creepshow with only three stories instead of five and very few familiar faces in the cast but its still an enjoyable anthology horror movie with the first two stories - Old Chief Wooden Head and The Raft - being the best of the three. Starring George Kennedy, Don Harvey, Holt McCallany, Lois Chiles and a cameo by Stephen King.