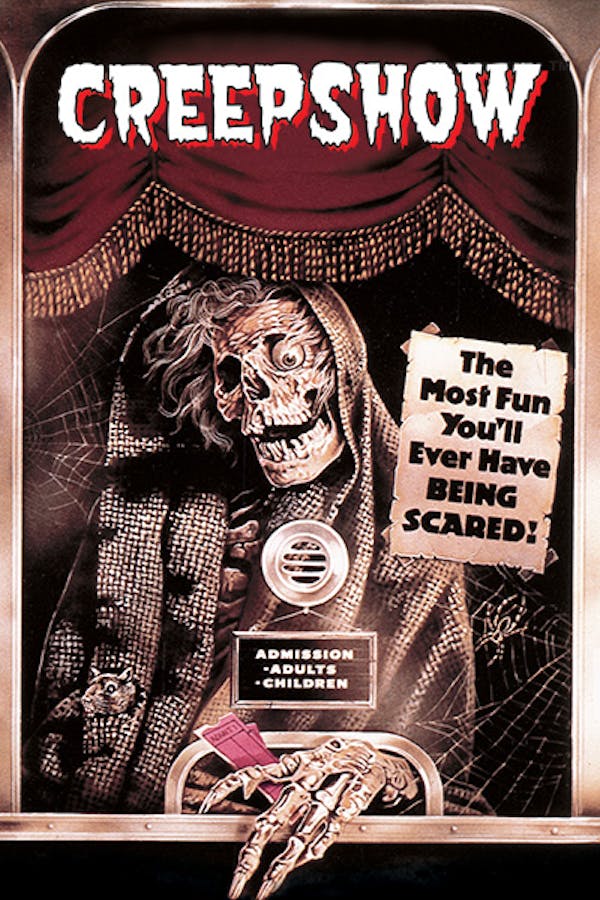 Creepshow
Directed by George Romero
A young boy's horror comic book comes to life in a series of five terrifying tales: A dead father comes back for the piece of Father's Day cake that his murderous daughter never served him. A meteorite turns a hapless yokel into a form of plant life. A cuckolded husband plots a seagoing revenge. Something in a crate under the stairs is eating people. And an obsessively clean billionaire suffers an uncontrollable infestation of cockroaches.
Two masters of horror--novelist Stephen King and director George Romero--team up to terrorize with a spine tingling Creepshow.
Cast: Hal Holbrook, Leslie Nielsen, Adrienne Barbeau
Member Reviews
Has solid character development, paired with good casting and performances. Good homage to 50's comics, and some startling scares, and imaginative monsters\scenarios. The comedy throughout falls almost entirely flat. Much of the film is dull. Some of it is frustrating because it's boring, but with a single tweak to certain scenes they could have been excellent. Overall kind of scary, not great on a technical level, comedy is poor, writing is imaginative but usually serviceable and sometimes bad. Had a good time, but not a great movie.
I saw Creepshow in the theaters in its original run. I had missed seeing it again. Thank you Shudder for bringing it back! I loved it even more this time out. Now I fully appreciate how good it was at adapting Tales From The Crypt and Truly Weird Tales comics! And I never realized that Billy was played by Stepen King's son Joe! All the stars are great especially Ted Danson and Leslie Neilsen; Hal Holbrook and Adreinne Barbeau. E.G.Marshall is perfection as Mr. Pratt. Best shocker to end this amazing anthology.
People have such narrow tastes. Total classic!
This film is much more entertaining if you've ever read any EC Comics horror comics from the 1950s or any other pre-Comics-Code horror titles. And that's because it's a deadpan tribute/parody of those kinds of comic books with a lot of the same genre tropes: the walking dead out for revenge, a monster under the stairs, an alien horror from space, and a greedy miser who gets his comeuppance. There's plenty of irony and lots of gruesome jokes. The cast, except for Stephen King, is very good in their campy roles. Hal Holbrook and Adrienne Barbeau are particularly good and funny as a feuding husband and wife in the "Crate" segment.