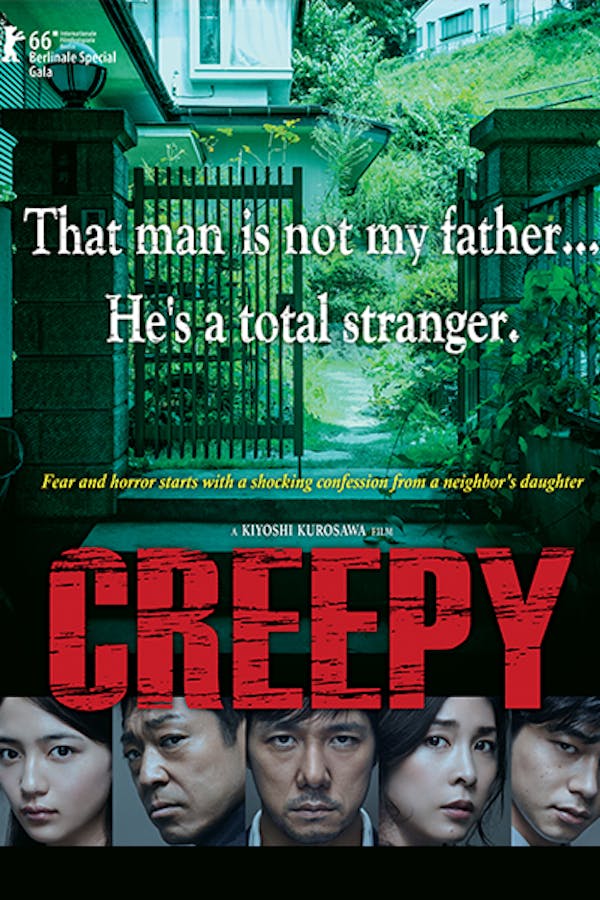 Creepy
Directed by Kiyoshi Kurosawa
In Japanese horror master Kiyoshi Kurosawa's brilliantly terrifying return to form, an ex-detective named Koichi and his wife Yasuko move into a new house with a deeply strange new neighbor. While Yasuko tries to make friends with the "creepy" Mr. Noshino, Koichi begins investigating an odd missing persons case. But when Noshino's daughter reveals something shocking to Koichi, he realizes the strange goings-on next door may have something to do with his cold case. Like Sion Sono's COLD FISH, CREEPY is an insidious study of the evil lurking under the surface in "polite" society.
An ex-detective and his wife move into a new house with a deeply strange new neighbor.
Cast: Hidetoshi Nishijima, Yuuko Takeuchi, Masahiro Higashide, Teruyuki Kagawa
Member Reviews
Great film, great acting, enjoyed it, 5 skulls.
Loved this film. Great story and decent use of an evening. The characters were a bit lame and lacked in emotion which made some things hard to read but I liked the story overall. I'm having a bit of movie burnout these days but this kept me on the edge of my seat all the way through 👍
Decent. Some of it made no sense whatsoever.
It's because of movies like this that I don't want to give up shudder, I'll even put up with the gay ass comments and user names. But movies are poor lately. You should add the fly and the first Texas chainsaw massacre or the amityville horror movies or you can add 1408 by John cusack.
You'll be writing comments until I die, you're persistent, you never give up. I admire your admiration for me. It's like you're obsessed. You'll be doing your bullying campaign until I die. You're like blood sucking leeches stuck to me suffocating me. You're pathetic. You're just upset because I don't love you. Not my fault you're ugly. Get a life and leave mine alone.