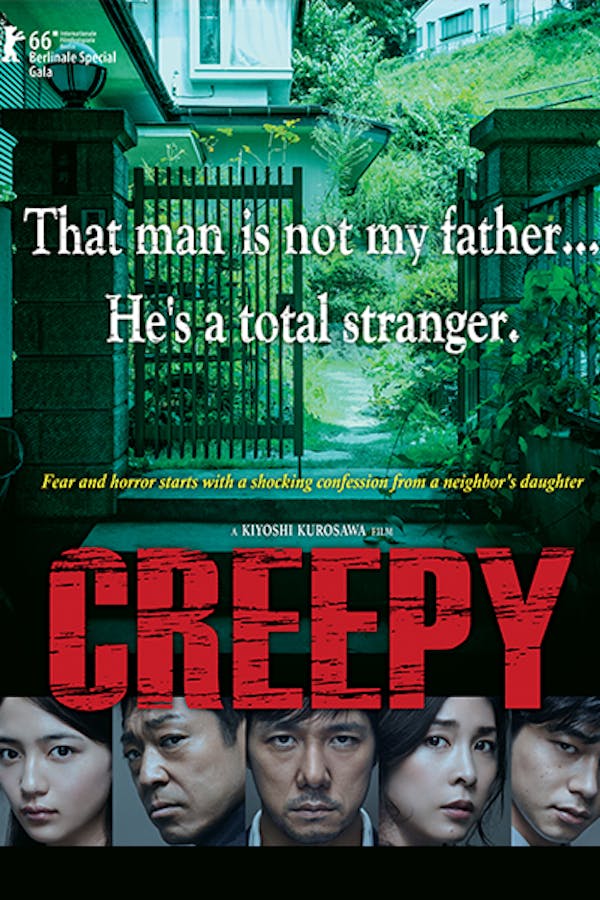 Creepy
Directed by Kiyoshi Kurosawa
In Japanese horror master Kiyoshi Kurosawa's brilliantly terrifying return to form, an ex-detective named Koichi and his wife Yasuko move into a new house with a deeply strange new neighbor. While Yasuko tries to make friends with the "creepy" Mr. Noshino, Koichi begins investigating an odd missing persons case. But when Noshino's daughter reveals something shocking to Koichi, he realizes the strange goings-on next door may have something to do with his cold case. Like Sion Sono's COLD FISH, CREEPY is an insidious study of the evil lurking under the surface in "polite" society.
An ex-detective and his wife move into a new house with a deeply strange new neighbor.
Cast: Hidetoshi Nishijima, Yuuko Takeuchi, Masahiro Higashide, Teruyuki Kagawa
Member Reviews
Really enjoyed the movie. Obvious from early on how the plot would unfold however the story was exquisitely told. My only negative would be that in my eyes it is not a horror. But a fantastic movie all the same.
I can't give this movie higher than a 3 because there were a lot of plot points that weren't realistic at all. Cool concept and story, poor execution in some sense
Wouldn't really classify this as Horror. Psychological crime thriller more so. Amazingly acted and hauntingly beautiful through-out.
I'm angry at how nonsensical some of the character's actions were, but like, very well done film.
Say it to my face you stalking bums, your mothers are the girl