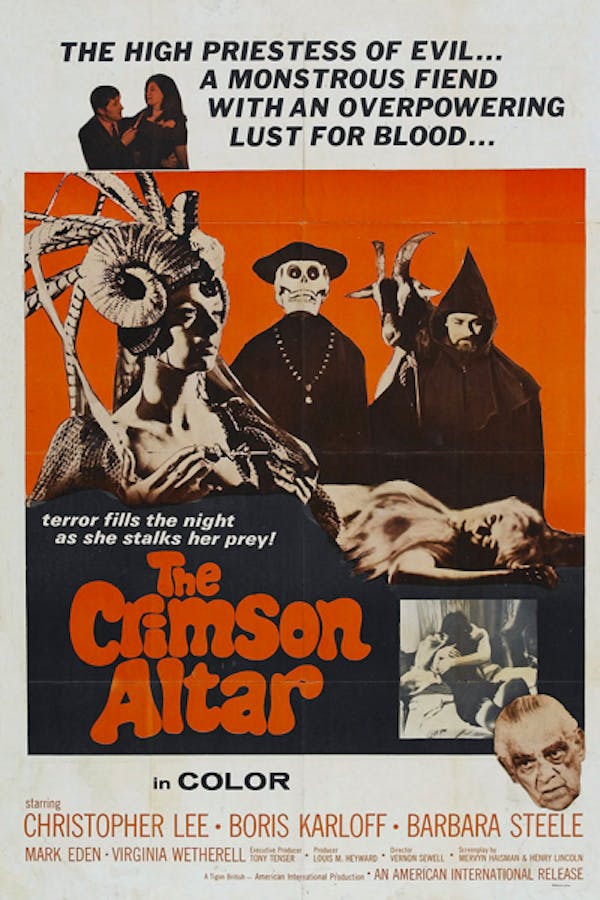 Curse of the Crimson Altar
Directed by Vernon Sewell
When his brother disappears, Robert Manning pays a visit to the remote country house he was last heard from. While his host is outwardly welcoming, and his niece more demonstrably so, Manning detects a feeling of menace in the air with the legend of Lavinia Morley, Black Witch of Greymarsh, hanging over everything.
A young man in search of his brother stumbles upon a coven led by a warlock who is plotting revenge for the death of his female ancestor burned to death in the 17th century.
Cast: Boris Karloff, Christopher Lee, Mark Eden
Member Reviews
Worth a watch just for some Christopher Lee, it's relatively creepy. The plot isn't amazing though. I a happy Shudder are adding these type of oldies on a regular basis.
Not quite fufilling its potential, but a really solid flick from lesser known studio Trigon. Lee shines, Eden is decent, Karloff does well considering his health. Loved the trippier elements of the film but becomes more conventional as the film goes on. Still worth a watch for Hammer and Amicus fans.
Really well acted and an enjoyable film.
I want whatever drugs these guys were on.