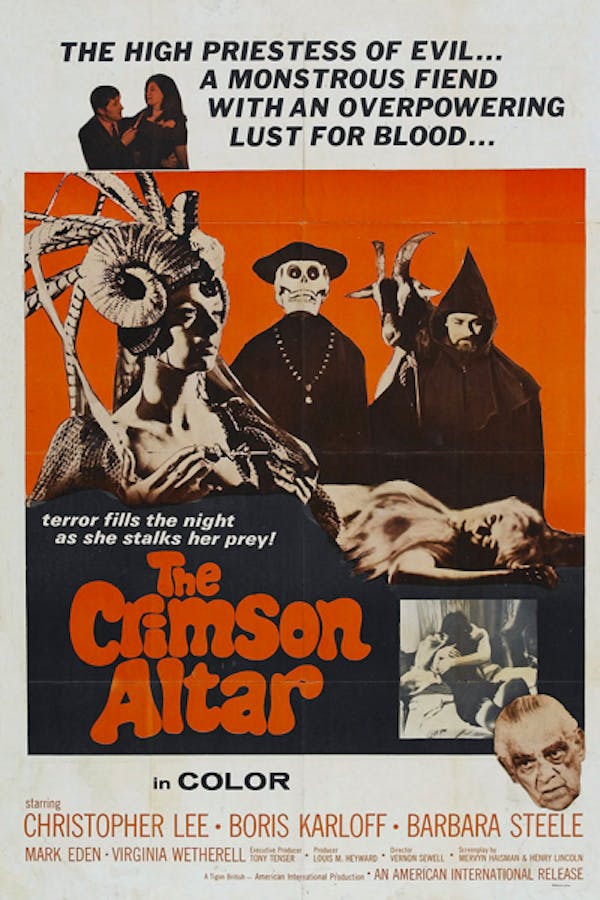 Curse of the Crimson Altar
Directed by Vernon Sewell
When his brother disappears, Robert Manning pays a visit to the remote country house he was last heard from. While his host is outwardly welcoming, and his niece more demonstrably so, Manning detects a feeling of menace in the air with the legend of Lavinia Morley, Black Witch of Greymarsh, hanging over everything.
A young man in search of his brother stumbles upon a coven led by a warlock who is plotting revenge for the death of his female ancestor burned to death in the 17th century.
Cast: Boris Karloff, Christopher Lee, Mark Eden
Member Reviews
Great acting, nostalgic feels, pretty ladies and Christopher Lee. Say no more.
What junk. If you like your 'horror' at about Scooby-Doo grade, British, brainless and slightly groovy, then this will hit your sweet spot. But if you want ANYTHING resembling a horror film, watch something else on Shudder! Surprisingly restrained Christopher Lee, still-dignified but clearly in bad shape Boris Karloff and a totally phoning-in Barbara Steele do nothing to redeem this.