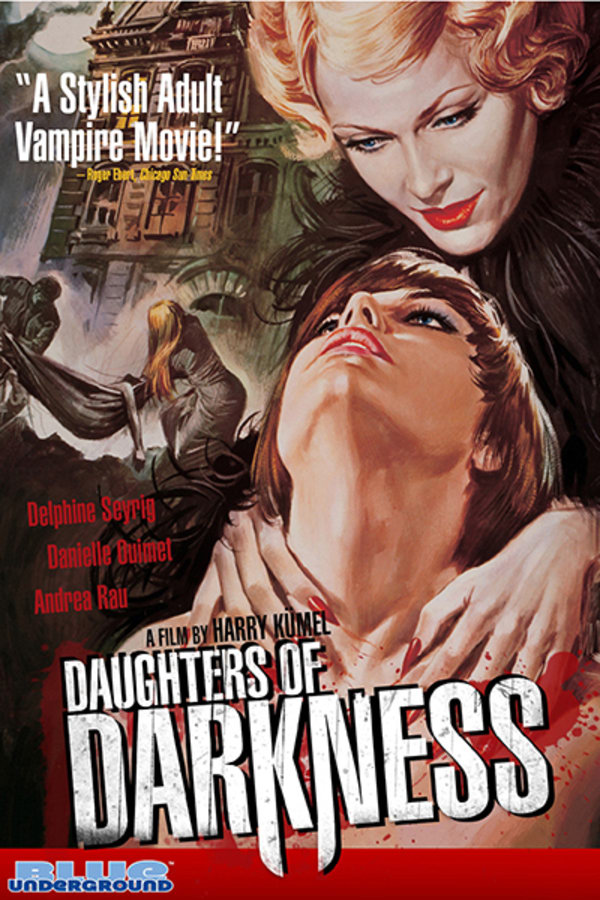 Daughters of Darkness
Directed by Harry Kümel
In this 1971 erotic Euro-horror classic, a pair of newlyweds become the targets of the vampire Countess Bathory and her female lover, who've been draining local vixens of their blood for centuries. But the Countess has bigger plans for the couple, and so she begins cleverly pitting them against each other until she can strike. Arthouse icon Delphine Seyrig's Dietrich-meets-DeSade-ian embodiment of the Countess and director Harry Kümel's chilling fusion of surreal and expressionist horror elements helped turn DOD into a critical success and a still-treasured cult hit.
A pair of newlyweds become the targets of a bloodthirsty vampire countess and her female lover.
Cast: Delphine Seyrig, John Karlen, Danielle Ouimet
Member Reviews
Such a snooze fest. Only reason I'd ever watch this again would be for Danielle Ouimet. I also get a huge laugh at everyone commenting on how beautiful the woman playing Batory was. I wouldn't have looked twice at her and she looked a lot older than 30. The crack she made to the director about everyone looking at her. Please, next to Danielle she is average at best.
Usually, I think Vamperotica is a bit of an eye roll, but this movie is so well made and the cinematography is so gorgeous (as are the actors), that it transcends the usual soft-core vamp-romps of that era. Highly recommended.
So glad they've added this film on here. Such an interesting film. Nice little twists in it, some great acting from the lead, Delphine Seyrig and thoroughly enjoyed watching this. Definitely worth a viewing
An older movie that is different than what I am used too! I enjoyed the movie and the twist at the end. I wish they would remake this movie and make it a little more gory, but with a similar storyline. I can see how some people think that this movie is lacking. They are right, it is! There is sex between the married couple, but no sex with Elizebeth and Valerie. I think it has somethibg to do with the age of the film.
Beautiful sets. Beautiful people. Interesting commentary on gender.