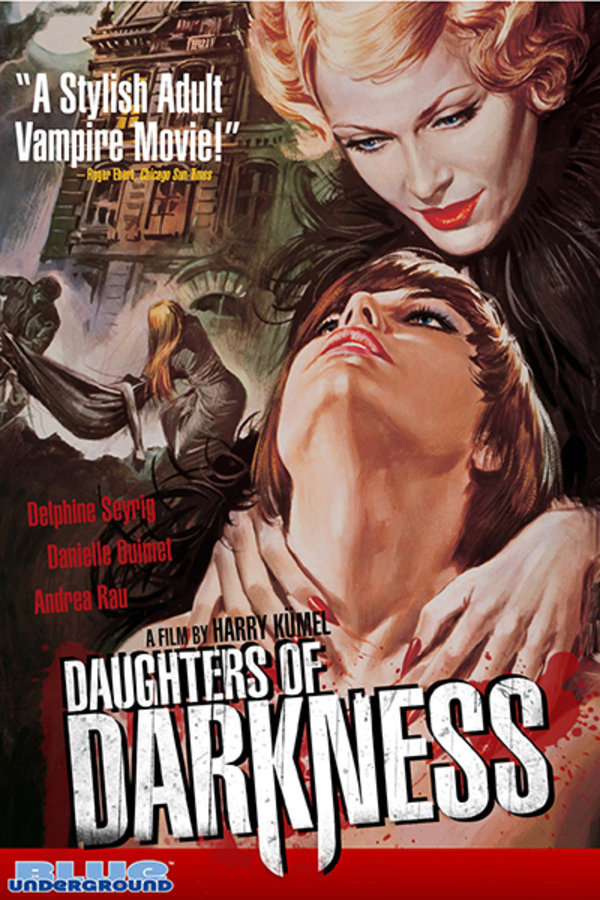 Daughters of Darkness
Directed by Harry Kümel
In this 1971 erotic Euro-horror classic, a pair of newlyweds become the targets of the vampire Countess Bathory and her female lover, who've been draining local vixens of their blood for centuries. But the Countess has bigger plans for the couple, and so she begins cleverly pitting them against each other until she can strike. Arthouse icon Delphine Seyrig's Dietrich-meets-DeSade-ian embodiment of the Countess and director Harry Kümel's chilling fusion of surreal and expressionist horror elements helped turn DOD into a critical success and a still-treasured cult hit.
A pair of newlyweds become the targets of a bloodthirsty vampire countess and her female lover.
Cast: Delphine Seyrig, John Karlen, Danielle Ouimet
Member Reviews
Loved it! Heard about it years ago and definitely a jewel!
Hands down this is the best of the 70's Euro "erotic vampire" films. I'd actually hesitate to call it "erotic" as it lumps it in with the standard Vampyros Lesbos/Jess Franco-knockoffs popular in the 70's. In this film sexuality works in service of the narrative and thematics - it is not the raison d'être here but rather part of the strange, dreamlike aesthetic. The cinematography is excellent and along with the grey, empty spaces of the off-season Belgian seaside town in wintertime (which brings to mind one of the key sequences of the excellent Bertrand Blier film Les Valseuses - released a few years later - where the main characters break into an off-season vacation home on the French coast). The film sometimes verges on formalism but the aesthetic actually ends up working to create a dreamlike atmosphere punctured by a creeping sense of impending dread. Highly recommended and deserving of it's near classic status.
Not enough sex to make it a typical 70s horror sexploitation and not enough anything else to make this actually good. I give it a 3 out of the sheer fact that it seems to have influenced a fair amount of vampire movies, cinematically and lore wise, in the next decade.
A very well done movie that doesn't stray to far from the Vampire mythology. Worth a watch.