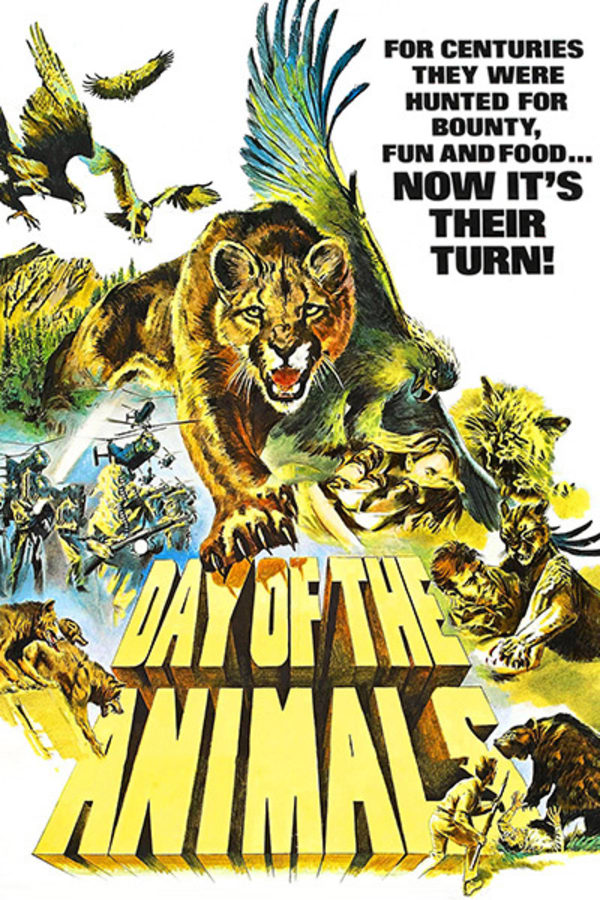 Day of the Animals
Directed by William Girdler
A group of animal lovers are hunted by killer critters during a camping trip in this over-the-top cult classic from B-movie maestro William Girdler (GRIZZLY). Leslie Nielsen (CREEPSHOW), Lynda Day George (PIECES) and Ruth Roman (THE BABY) are among the campers whose hike turns into a death march when bears, birds, bugs and more start attacking. Though the campy attempts at staging the kills often induce more laughter than fear, especially the scene in which Nielsen fights a bear rug, DOTA still offers jolting thrills for all fans of the animal attack genre.
A group of animal lovers are hunted by killer critters during a camping trip.
Cast: Christopher George, Leslie Nielsen, Lynda Day George
Member Reviews
I remember the first time I saw this as a kid back in the '70s. It was far more effective then, but still remains a watchable '70s eco-horror film. This is from the same director who did 3 On A Hook, then got into 'blaxploitation' films before hitting on the eco-horror genre. This film has more of a slow-burn start than say Girdler's other films, Grizzly before this, and The Manitou after. Christopher George was also in Grizzly. Leslie Nielsen also appeared (in another serious role for a Girdler film) in the uneven mind control thriller, Project: Kill. There's lot of '70s stalwarts in the cast. And the music is so very 'spooky 70s' as well, effective and ominous, by the always reliable Lalo Schifrin. As described, the ozone layer is the problem, and it affects all the animals. And maybe some of the humans? No matter the species involved, they ALL attack humans, never each other and sometimes together. As was typical for the '70s disaster film there's a group of people that often don't get along and are forced to work together to survive, and in this case, it's a mountain hiking tour. The radio reception is affected so no one really knows what is going on. Some stay together and some part ways. Nielsen's character gets really unhinged at one point and the actor really chews the scenery. The animal attacks also are mostly still very effective, though the 'special effects' are extremely lacking compared to today's standards. But the absence of our modern CGI and the then complete reliance on real animals in the depiction of the animal attacks stands up, though with less bloodshed shown than would also be normal today. If you're a fan of 70s genre movies you just might enjoy this one.
Watching a young Leslie Nielsen act like a complete asshole the whole film then angrily rip his shirt off in the rain to fight a bear is all I needed to give this film 4 stars 😂
What if PETA had their fondest whish.
Love the 70s cheese. And educational as all of the commie envirotards can see that doomsday enviro issues have been around as long as man has shit in the woods. Leslie Nielsen is jebus.