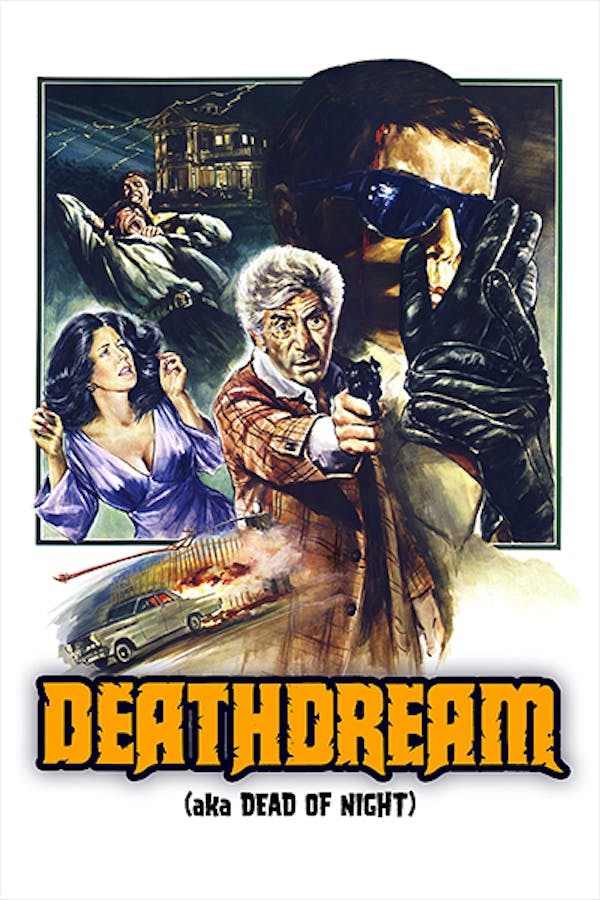 Deathdream
Directed by Bob Clark
When their son returns home after dying in war, a couple suspect he's not human. Soon enough, Andy is thirsty for blood to keep his body from rotting - which naturally causes problems for him and his parents. Before moving on to mainstream fare, Bob Clark (A CHRISTMAS STORY) directed three well-regarded horror films (including BLACK CHRISTMAS) of which DEATHDREAM is the most powerful, marrying W.W. Jacob's classic horror story "The Monkey's Paw" with an important social message about the violence of the Vietnam war - and how veterans bring it home with them.
When their son returns home after dying in war, his parents suspect he's not human.
Cast: John Marley, Lynn Carlin, Richard Backus
Member Reviews
Loved it. Really weird, haunting and tragic
A post-Vietnam PTSD flashback with a blackly comic tinge. It's a bizarre, funny and often downright haunting tale of tragedy in a world of '70s suburbanoia. Watch for early maggots effects-shots by Tom Savini, stay for the witty and sardonic writing. A hidden gem, surely.
If you like long bouts of inaction peppered with melodramatic overacting and frustrating characters, this one's for you.
No two ways about it: I would never have watched this film without Clark's Black Christmas already in my viewing library. This is a very different sort of creature to that film, and perhaps even more effective for it. What Clark's pulled off this time is a largely unsubtle statement on the Vietnam War and the effect it had on the young men who were lucky enough to come back from it in any condition. The strange nature of what's happened and what happens next is never cleared up in any way, but that's just the nature of the metaphor, I suppose. A solid cast is led by John Marley and Lynn Carlin basically returning as the dysfunctional middle-class couple they portrayed to effectively in John Cassavetes' classic Faces. Richard Backus is marvellously creepy as the returning vet, to such an extent it's hard to imagine the man NOT being creepy (a la Anthony Perkins post-Bates). The whole thing happens in suburban Florida, which gives the effect of a Lynchian 50s-lifestyle daylight world (and for the record, never has a film made me miss screen doors and front porches so much). While hardcore horror fans might find this a bit weak an entry for their tastes, there is plenty here to appreciate on many levels for the openminded viewer.
really spooky and SOOOO sad