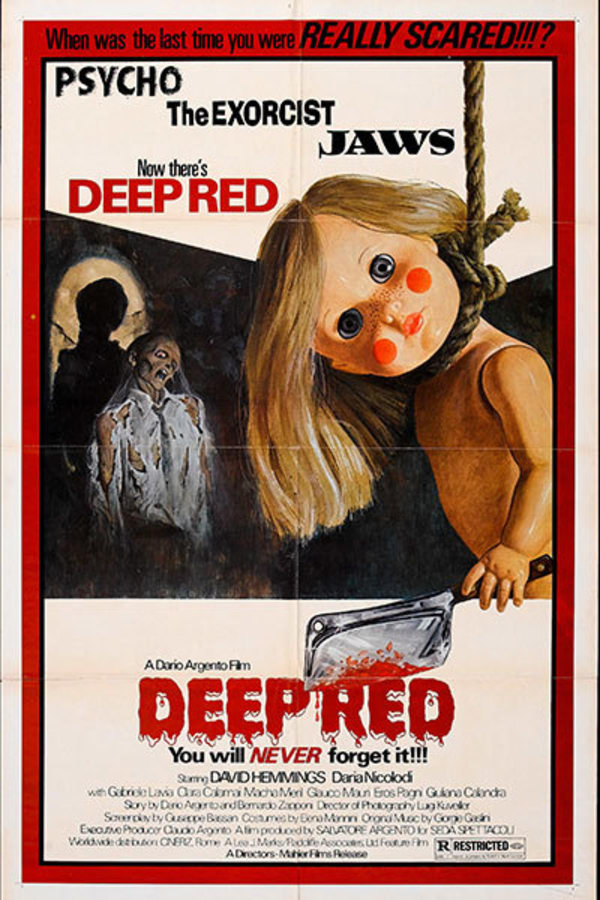 Deep Red
Directed by Dario Argento
A psychic who can read minds picks up the thoughts of a murderer in the audience and soon becomes a victim. An English pianist gets involved in solving the murders, but finds many of his avenues of inquiry cut off by new murders, and he begins to wonder how the murderer can track his movements so closely. Contains violence and gore.
A teacher gets drawn into a serial killer's web in Dario Argento's iconic giallo.
Cast: David Hemmings, Daria Nicolodi, Gabriele Lavia
Member Reviews
This is either Argento's best or second best, I can never decide. A classic. The soundtrack by Goblin is just amazing, I love it.
Some great stuff in here, especially the reveal. Probably Argento's second-best movie after SUSPIRIA, his inspired visuals less weighed down by the misogyny and pseudoscience of his other pure giallos.
I'm not use to Dario Argento's stuff. I saw Suspiria a LONNNNNNNNG time ago and was unimpressed but let's face it, that wasn't the horror I'm use to. I can't say that Deep Red was horrifying or scary but I enjoyed it for the camp aspect and I pretty much guffawed through the whole thing. The music was all OVER the place, the settings were fucking great, and I enjoyed those aspects. I might just dive in for another one. I hear Tenebre is fun.
well shot with a good soundtrack, but i didn't really enjoy the movie that much. plot was kind of predicable. i don't understand why the piano player turned into a detective all of a sudden. also, the "clue" i noticed the first time through, so that took away from the enjoyment some. worth watching for the goblin soundtrack and some interesting shots.