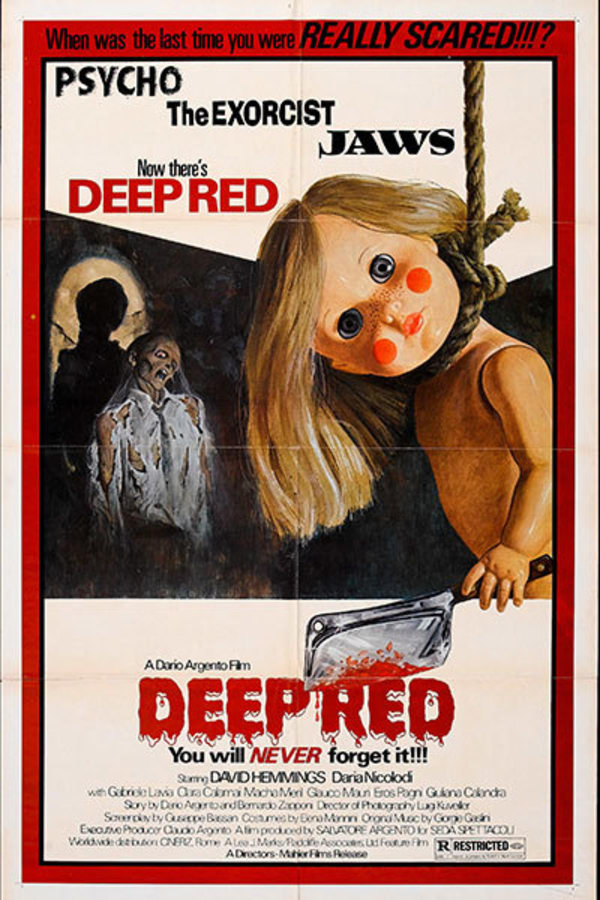 Deep Red
Directed by Dario Argento
A psychic who can read minds picks up the thoughts of a murderer in the audience and soon becomes a victim. An English pianist gets involved in solving the murders, but finds many of his avenues of inquiry cut off by new murders, and he begins to wonder how the murderer can track his movements so closely. Contains violence and gore.
A teacher gets drawn into a serial killer's web in Dario Argento's iconic giallo.
Cast: David Hemmings, Daria Nicolodi, Gabriele Lavia
Member Reviews
I've been watching a bunch of Giallo films on Shudder lately, and this is my first Argento film. Talk about a huge jump in quality. This is definitely the best one so far. A serious improvement from some of the other drivel made around the 1960s and 1970s by other directors. The characters and the dialogue are not the greatest or the most relatable, let's face it. This movie is all about the presentation, as is the entire genre. The close up shots of murder weapons and different objects that appear throughout the movie are just absolutely perfection. This is film as art, without a doubt. It's all about the lighting, the colors, the shadows, the zooms, the sets, and the objects. This is how a master uses a camera. And man, this movie is pretty ahead of its time in terms of portraying sexuality and gender. In strong contrast to the extremely sexist woman slapping going on in the 1960s Giallo films. The blood looks like thick, bright red paint that goops down onto whatever it's touching, but oh well. It's still so captivating to look at. As with all other movies in this genre: feels way too long. Definitely a slow burn. You can turn it on in the background while you work on something else like cooking or folding laundry. Don't need to give it your full attention plot-wise, but look at those shots. Beautiful.
Love it. The score is AMAZING. I've never seen a giallo film before this and now I want to check out more in the genre.
Giallos don't get much better than this. A Dario Argento masterpiece.
Pacing was very slow at the beginning, but I appreciate the mystery and the reveal at the end. The score was great
Horror movies don't get much more classic than this! Dario Argento rules!!