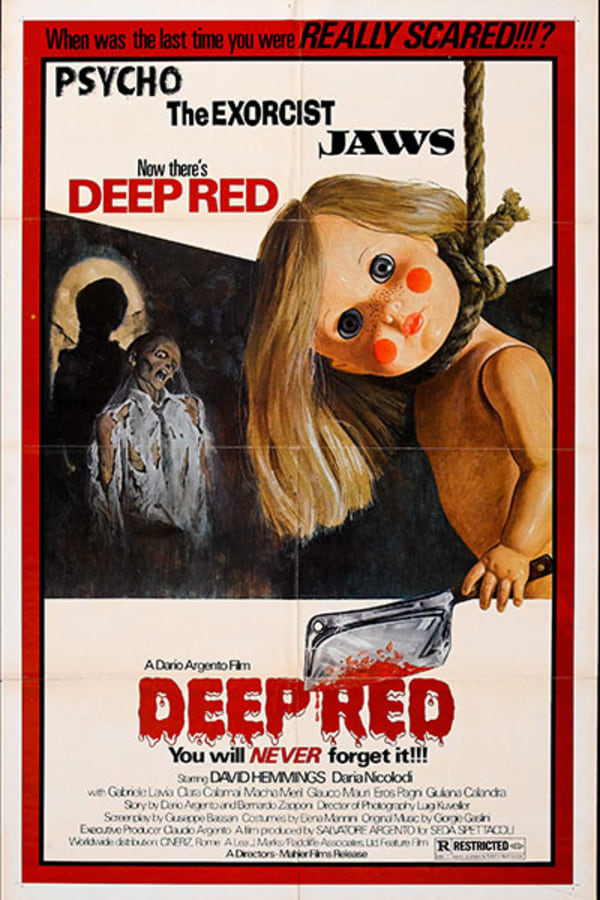 Deep Red
Directed by Dario Argento
A psychic who can read minds picks up the thoughts of a murderer in the audience and soon becomes a victim. An English pianist gets involved in solving the murders, but finds many of his avenues of inquiry cut off by new murders, and he begins to wonder how the murderer can track his movements so closely. Contains violence and gore.
A teacher gets drawn into a serial killer's web in Dario Argento's iconic giallo.
Cast: David Hemmings, Daria Nicolodi, Gabriele Lavia
Member Reviews
i haven't watched this yet but the trailer looks kick ass and i can already tell it's OG horror. *side note* and the lame ass comments that are negative have been written by millennials, stay off this sight or get some horror education.
High School film project - Grade F
Argento was innovative in his era but in my opinion none of his films have aged well. There are good ideas here but the acting isn't great and the typical Argento dubbing over of voices in post production is something that makes you think "how did they think that was ever even remotely acceptable back then?". The music is also not fitting at all and frequently kills any tension there is to be had. This director is overrated because of how influential he was in his time. I'd like to see a remake of this film by someone like Guillermo Del Toro.
Did they torture a lizard to make this crapfest? Hideous music and particularly bad dubbing.
Terrible sound track. Great movie.