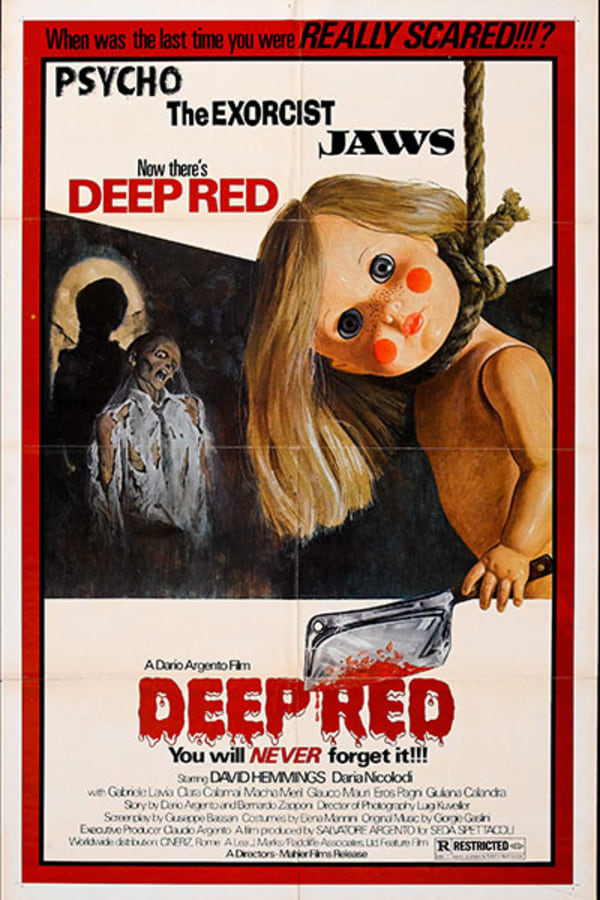 Deep Red
Directed by Dario Argento
A psychic who can read minds picks up the thoughts of a murderer in the audience and soon becomes a victim. An English pianist gets involved in solving the murders, but finds many of his avenues of inquiry cut off by new murders, and he begins to wonder how the murderer can track his movements so closely. Contains violence and gore.
A teacher gets drawn into a serial killer's web in Dario Argento's iconic giallo.
Cast: David Hemmings, Daria Nicolodi, Gabriele Lavia
Member Reviews
Wow...just wow! The first Giallo I've watched where I couldn't stop watching because of boredom or pacing issues. Nope! Just a fun film with a killer score and excellent craft and mastery of his artform! Sergio Argento is at his best in this enticing Giallo
killer soundtrack! wicked haircut. nice gloves
NOT THE FULL VERSION. Part of the reason Argento never broke into North America proper is because distributors kept cutting his movies and audiences were left unsatisfied. This is just another example of that. Argento films need to be UNCUT for them work.
Superlative, simply one of the best of its genre. An excellent example of giallo at its richest, most reverent and referential, but wholly modern, when cinema could make such cheeky homages without distracting a contemporary audience away from its fascinating, unpredictable subject. No hint of the more self-indulgent supernatural elements that would later characterize Argento's trilogy; this is all about an unsuspecting witness who knows too much but discerns too little, a natural progression from the Bava and Antonioni Hitchcock pastiche. Bit disappointing to find out the cut here has left out some of the score and mood-setting montages, but otherwise a serviceable version.