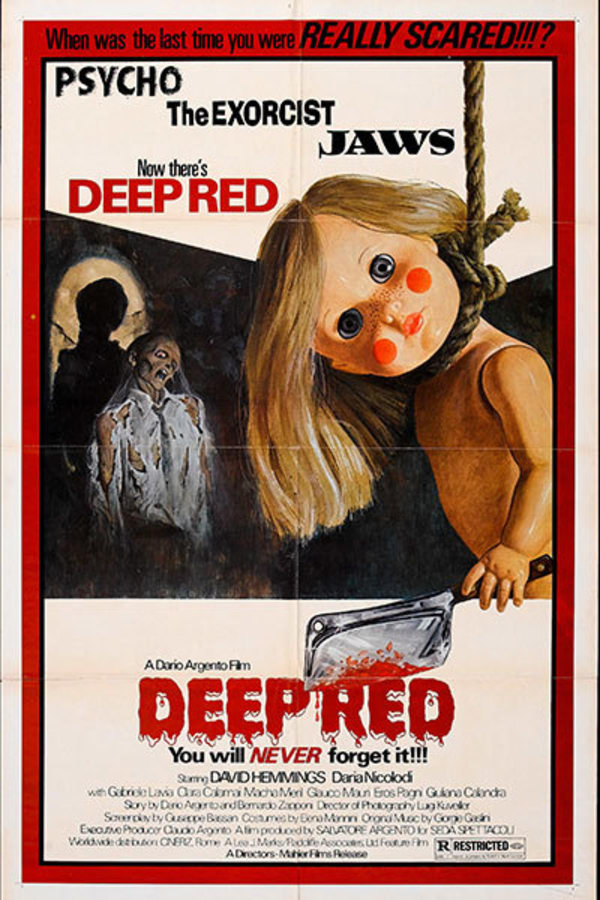 Deep Red
Directed by Dario Argento
A psychic who can read minds picks up the thoughts of a murderer in the audience and soon becomes a victim. An English pianist gets involved in solving the murders, but finds many of his avenues of inquiry cut off by new murders, and he begins to wonder how the murderer can track his movements so closely. Contains violence and gore.
A teacher gets drawn into a serial killer's web in Dario Argento's iconic giallo.
Cast: David Hemmings, Daria Nicolodi, Gabriele Lavia
Member Reviews
I dunno, it's real good. Imagery is striking, soundtrack is so good, cinematography is great, and the acting is good for the type of movie this is.
About the dubbing complaints, one of the most defining features of Argento's work is that his films contain multi-ethnic casts, all reading their lines in their own native language, often (mostly?) unintelligible to their castmates they'd be shooting a scene with. All the versions of the movie are dubbed like this, even the original Italian version :P Do your homework, people! As for this movie, it's sublime; perhaps Argento at his finest.
Pretty predictable storyline but it was a fun watch. What keot me watching was the cinematography.
One of Argento's classics. A stylish whodunnit with a kick-ass score by Goblin. This one keeps you guessing until the very end (I was sure I had figured it out about midway through but BOY was I wrong).
Awesome Giallo, great gore and story 🤘🤘.