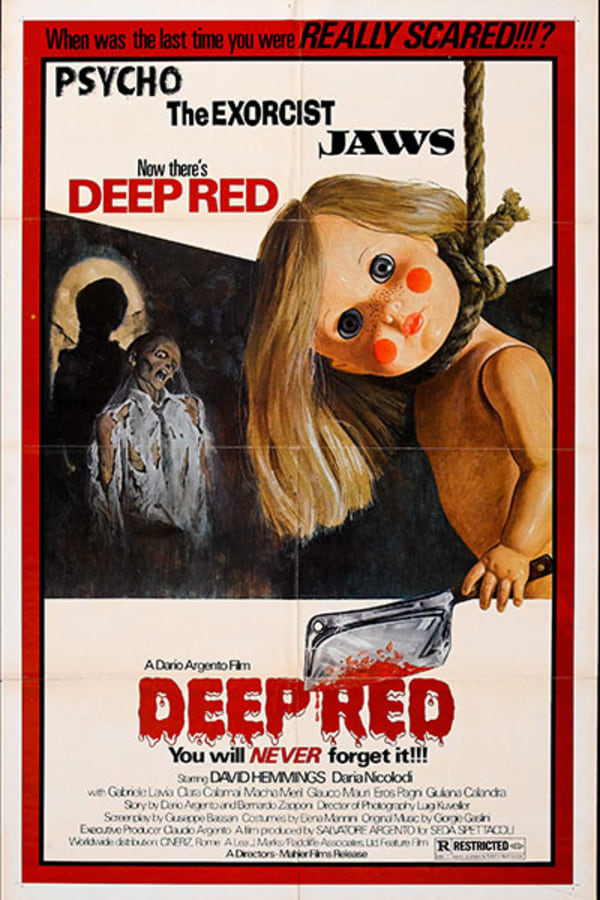 Deep Red
Directed by Dario Argento
A psychic who can read minds picks up the thoughts of a murderer in the audience and soon becomes a victim. An English pianist gets involved in solving the murders, but finds many of his avenues of inquiry cut off by new murders, and he begins to wonder how the murderer can track his movements so closely. Contains violence and gore.
A teacher gets drawn into a serial killer's web in Dario Argento's iconic giallo.
Cast: David Hemmings, Daria Nicolodi, Gabriele Lavia
Member Reviews
Typical weird Dargento. A fun watch.
A bit clunky, but classic giallo. Worth a watch if you liked Suspiria.
Its a cool story. Slow at parts. But strong enough to keep you interested. The disco style music makes the scary scenes not scary at all. And it also plays in weird random scenes. If it wasnt for that I would have given it 4 outta 5 skulls. Music is cool....just doesnt fit.
More of a murder mystery than a horror. Its ok but has not aged like a fine wine.
movie was not bad, but the music was horrible.