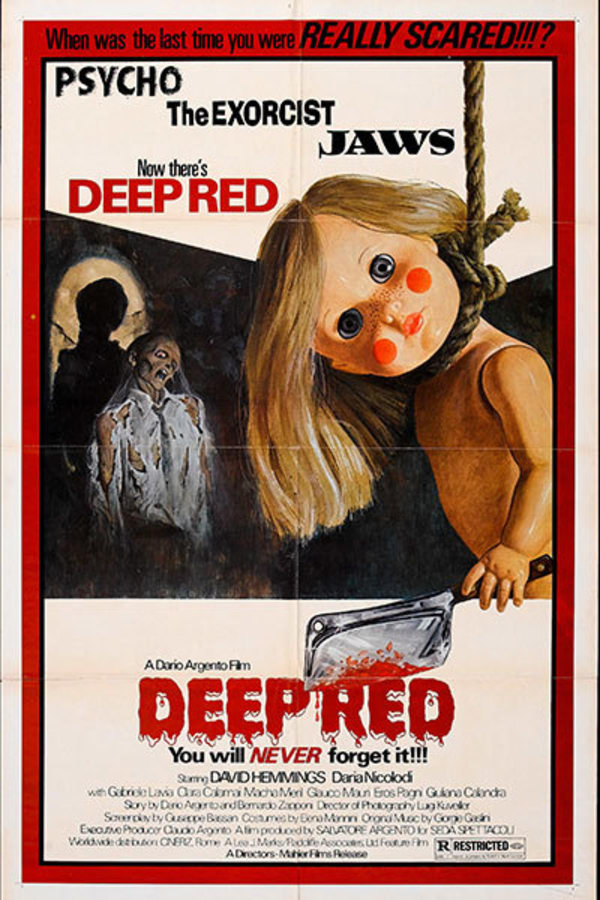 Deep Red
Directed by Dario Argento
A psychic who can read minds picks up the thoughts of a murderer in the audience and soon becomes a victim. An English pianist gets involved in solving the murders, but finds many of his avenues of inquiry cut off by new murders, and he begins to wonder how the murderer can track his movements so closely. Contains violence and gore.
A teacher gets drawn into a serial killer's web in Dario Argento's iconic giallo.
Cast: David Hemmings, Daria Nicolodi, Gabriele Lavia
Member Reviews
This is a classic and I don't mean that in a good way this movie actually could have been a great but it falls short due to the music alone and the story is good just feels really draw out and pointless at times some parts the supporting cast is duel the acting is there but the story is so damn slow and not really anything going on and you have this jazz fuse rock music blasting when ever the killer is about to do something it's fucken annoying as hell i honestly like the beginning it had a driving force and had some really funny acting the the groovy music came on and its like shit its just like demons, I honestly really wanted to like this one
i dont get why this is a cult classic. its so muhc filler with charaters you dont care about. and the death scenes are nonsense you cant understand whats happening at all. please tell my why this is beloved???
wasnt expecting the killer to be who it was
Oops hit send too soon. As I said slow and also had death scenes that were absolutely not possible. Other than that, Dario Argentines is one of my faves for the horror genre of its age.
A lot of unnecessary scenes. It moves at a slow pace.