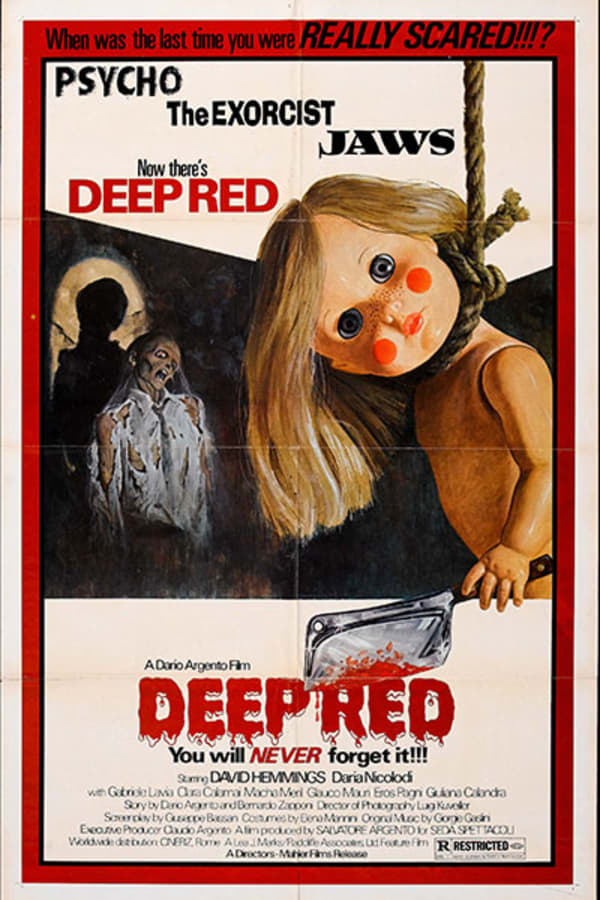 Deep Red
Directed by Dario Argento
A psychic who can read minds picks up the thoughts of a murderer in the audience and soon becomes a victim. An English pianist gets involved in solving the murders, but finds many of his avenues of inquiry cut off by new murders, and he begins to wonder how the murderer can track his movements so closely. Contains violence and gore.
A teacher gets drawn into a serial killer's web in Dario Argento's iconic giallo.
Cast: David Hemmings, Daria Nicolodi, Gabriele Lavia
Member Reviews
I thought I would hate Argento. For some reason I decided to give this one a watch, and...something happened. I'd call this movie a masterpiece. Even the missteps, the goofy parts, they're perfectly placed and timed to make this movie infinitely entertaining. As a veteran murder-mystery lover, I thought for sure I had the mystery solved, but I was wrong, and several scenes made me gasp. Words won't do this movie justice. Just give it a watch if you genuinely enjoy giallo-type movies (but, if you do, how have you not already seen this movie?)
Great movie for it's time.
Sadly this is the edited version. Over 20 minutes have been cut. Do not watch this version if you've never seen the uncut Italian print. My rating is for the uncut version. The one on offer here gets 2 skulls.