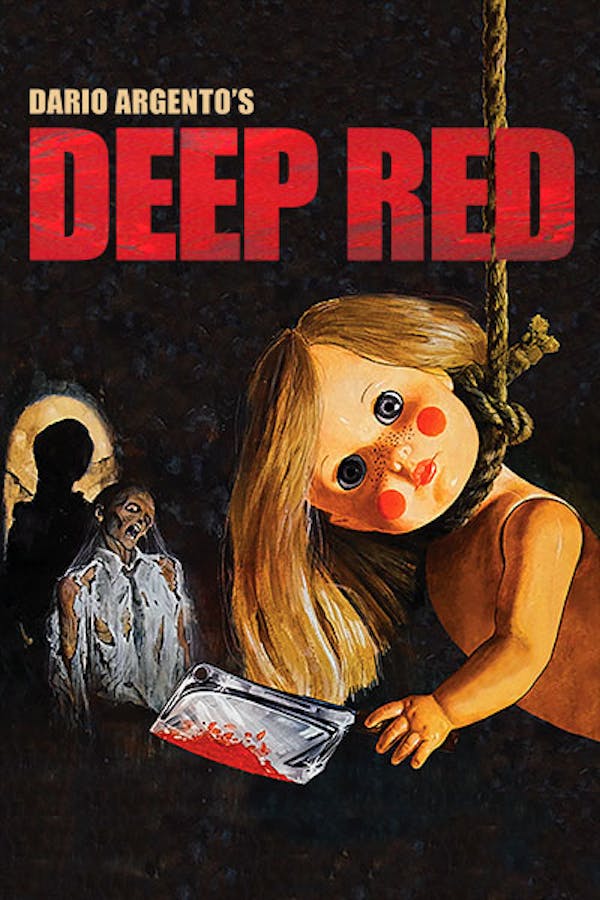 Deep Red
Directed by Dario Argento
A psychic who can read minds picks up the thoughts of a murderer in the audience and soon becomes a victim. An English pianist gets involved in solving the murders, but finds many of his avenues of inquiry cut off by new murders, and he begins to wonder how the murderer can track his movements so closely. Contains violence and gore.
A teacher gets drawn into a serial killer's web in Dario Argento's iconic giallo.
Cast: David Hemmings, Daria Nicolodi, Gabriele Lavia
Member Reviews
Love this movie to bits. Definitely not for everyone, but then again, good art never is.
Compared to most of Argento's movies this is a masterpiece. But stylish direction at times cannot overcome a meandering plot and abysmal use of music. Not as painful to sit through as some of his other work, but that's not really an endorsement.
What's with people saying it's amazing but only giving it 4 skulls? Dario's best work is right here alongside Goblin and Gaslini's sensational score. (By the way, if you know how it ends how about not revealing it in the review section?) 🙄
Absolutely worth the watch! The soundtrack is kick ass too.
I caught the clue to the killer's identity; it's revealed about 15/20 minutes into the movie, so keep your eyes open. This has to be one of my favorite Argento films, and I will definitely watch it again. I love the set designs, the in-your-face art pieces, the consistent use of saturated color, and the fact that the actors/actresses look like real people as opposed to the conveyor belt collection of surgically reconstructed and botoxed faces today's actors are wearing. In the scene that incorporated "Blue Bar" as the backdrop, I couldn't help but notice that the exterior view of the bar's well lit interior was reminiscent of the iconic "Boulevard of Broken Dreams" picture featuring Elvis, Monroe, Dean, etc. In fact, Argento's use of mannequins (I believe) instead of human customers, and the fact that the bar contained the only signs of life on an otherwise desolate street, made the scene even more evocative of "Boulevard...". Speaking of mannequins, the scene featuring that evil little robot in a tuxedo (who came barging through the front door of a victim's home), was so well done that I rewound it several times. The script was a little thin, at times; for example, how could a refined piano teacher suddenly become a crime investigator, with police cooperation, simply because he lived in the apartment above the victim? Yes, he saw the victim as her head went through a window, and he caught a fleeting glance of the killer, but that's hardly enough to deputize him. Does it matter? No... this is Argeno, after all. It was nice to see the beautiful Daria Nicolodi Argento in a lead role, but it's also a reminder that the lady passed away less than five months ago at the age of 70. The legacy of Dario and Daria is one we can still enjoy, and I do. Four skulls.