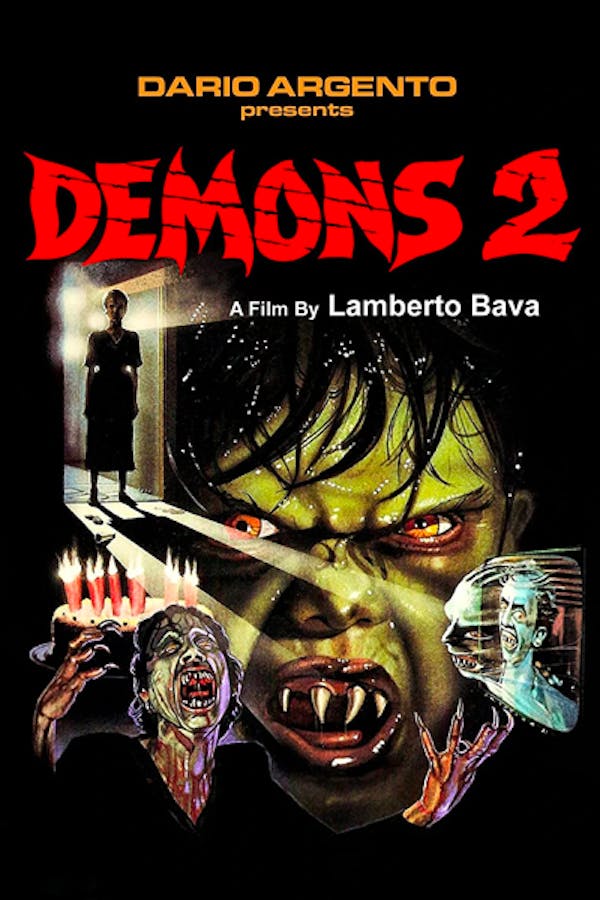 Demons 2
Directed by Lamberto Bava
A demonic invasion turns a high-rise apartment building into hell on Earth in this scary sequel from director Lamberto Bava and co-writer Dario Argento. At a party, a girl watches a film in which teens awaken a demon. Suddenly, the demon crawls through the TV, possessing her. Soon the building is filled with rabid monsters intent on spreading the demonic virus as far as possible. Though only a slight variation on the first film's story, DEMONS 2 ups the ante on the gory horror FX - including demonic dogs, terrifying toddlers and a bloodthirsty baby Beelzebub. Contains strong language, violence and gore.
A demonic invasion turns a high-rise apartment building into hell on Earth.
Cast: Asia Argento, David Edwin Knight, Nancy Brilli, Coralina Cataldi-Tassoni
Member Reviews
Kind of an oddball, but still very fun movie. It almost feels like it's re-making the original film, following a similar beat where there's a movie about the Demons that all our characters are watching, as their own tale of Demons showing up unfolds. It's very weird, but the apartment building setting helps change things up and this film is even more visually fun than the last. It's a wortwhile time for any fan of the original.
Such a lot of fun this is. It's as absurd as its predecessor, but just as gloriously excessive. Gory, melodramatic, sweaty and with a peak 80s trash soundtrack, there's not really a single unexpected moment in the film, but that's fine as it delivers just what it promises: demon dogs and toddlers, an ineffectual troop of lycra-clad gym bodies, hideous yuppies dispatched by the truckload and an army of yellow-eyed devils. It's also a kick to see Bobby Rhodes back from the first film, this time playing a bossy son-of-a-bitch gym coach. It's such a ballsy performance, but best of all is Sally demon, played with gusto by Coralina Cataldi Tassoni. Masterpiece it may not be, but Lamberto Bava is a true poet of schlock.
Not your classic "part 2" and has a few cameos from folks from Demons playing new roles. Some of the effects are just brutal because they are just sooooo bad. But that also lends some fun to it all. Pay attention to how sweaty people get, what they eat, how the dance, etc. Most of the appeal comes from how ridiculous that stuff is. Demons was better but this one is not far behind.
Fun, crazy ride, not the first one, but not a waste of time. Great effects.