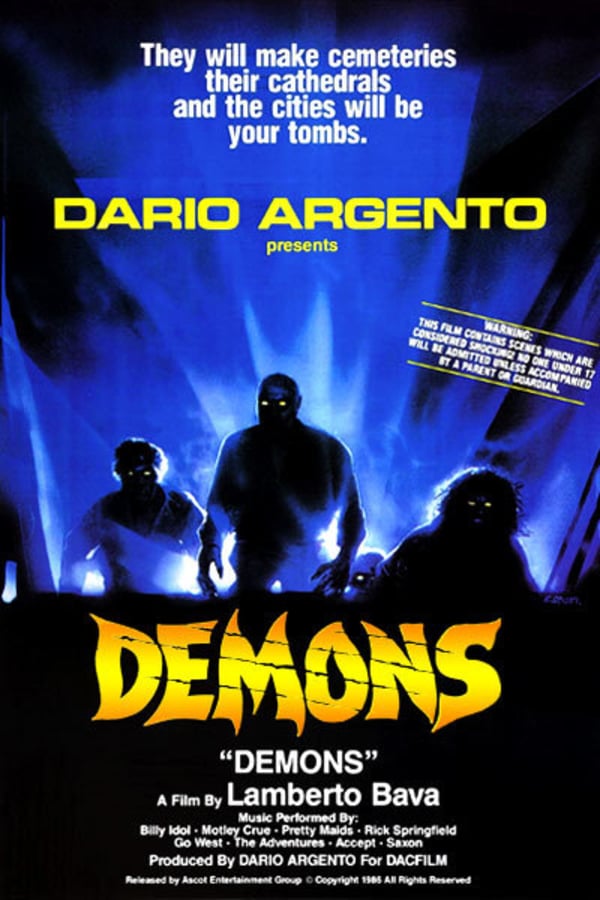 Demons
Directed by Lamberto Bava
Horror movie audience members turn into bloodthirsty demons in this essential Euro-horror entry from Lamberto Bava (Mario Bava's son) and co-writer Dario Argento (SUSPIRIA, OPERA). When a young woman begins to suffer the same symptoms as the possessed subjects of the film, she attacks other patrons, turning them into murderous monsters too. Gruesome gore, a killer 80s punk and heavy metal soundtrack and the film's vivid giallo-meets-new-wave look turned DEMONS into a cult classic, begatting several sequels including DEMONS 2 and THE CHURCH. Contains strong language, violence and gore.
A horror movie audience turns into bloodthirsty demons.
Cast: Urbano Barberini, Natasha Hovey, Karl Zinny
Member Reviews
Fun and gory cheese fest! The plot might not make sense half of the time, but it does enough to keep you interested. Bonus points are awarded for the wicked soundtrack!
Hahahaha what?? Wackiest nonsense I've seen since Army of Darkness. The visuals were decent, but the action was horrible and there was hardly a story. Piss poor movie.
This is schlock of the highest caliber. Fantastic practical effects, disturbing makeup, and a badass sound track help to make up for what this movie lacks to create something genuinely entertaining.
This movie is such cheesy gory 80s italian fun and I highly recommend it.
On paper this movie should be perfect for me. However I found this movie to be pretty boring and ending up not paying attention at times. Demons looks amazing. I love the colors and the look of the city. Everything is beautiful. I think that lack of character development is what killed this movie for me. It should have been a fun movie but just ended up being hard to watch. Just very bland and boring. The demons look cool but I cannot recommend this movie.