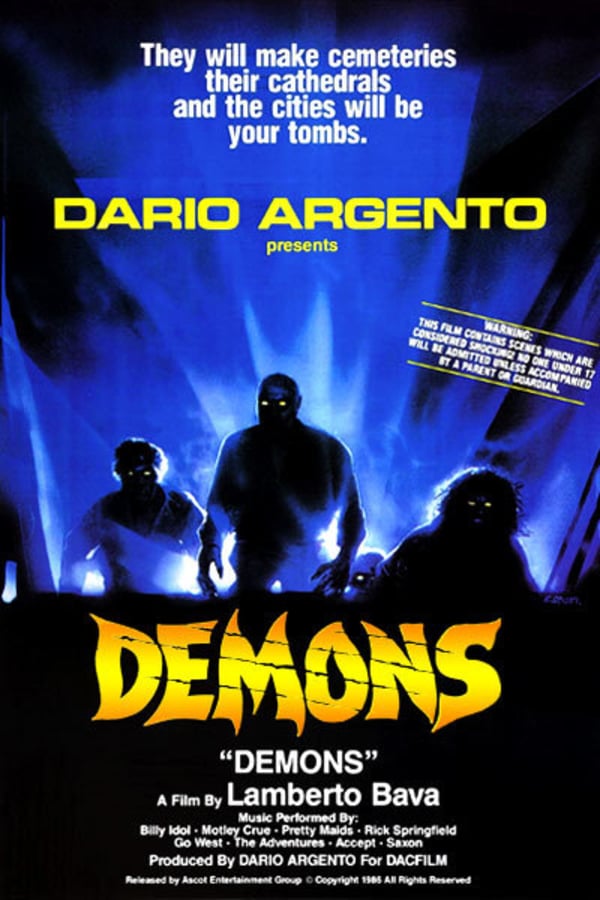 Demons
Directed by Lamberto Bava
Horror movie audience members turn into bloodthirsty demons in this essential Euro-horror entry from Lamberto Bava (Mario Bava's son) and co-writer Dario Argento (SUSPIRIA, OPERA). When a young woman begins to suffer the same symptoms as the possessed subjects of the film, she attacks other patrons, turning them into murderous monsters too. Gruesome gore, a killer 80s punk and heavy metal soundtrack and the film's vivid giallo-meets-new-wave look turned DEMONS into a cult classic, begatting several sequels including DEMONS 2 and THE CHURCH. Contains strong language, violence and gore.
A horror movie audience turns into bloodthirsty demons.
Cast: Urbano Barberini, Natasha Hovey, Karl Zinny
Member Reviews
I loved this movie. It's like a giallo version of Evil Dead, if I may make such a comparison. Sometimes it's easy to forget that this is coming from the same makers as some of the earlier cheesy giallo mystery movies. They definitely went with the horror movie aesthetics of the 1980s and ran with it. The music is awesome. Lots of GREAT 1980s heavy metal. The special effects, makeup, costumes, deaths, monsters, and blood are all spectacularly awesome and fun to look at. The acting and dialogue are pretty atrocious, but that doesn't bother me one bit. Looking forward to the second one now.
Brilliant film. terrible dubbing but look past that to see a gem.
I f***ing love this movie!!!
Trashy, exciting and silly in equal measure. Oozes atmosphere. Seems wrong trying to give it a mark out of five. It's definitely not for everyone.
Kind of a bad movie. Three skulls.