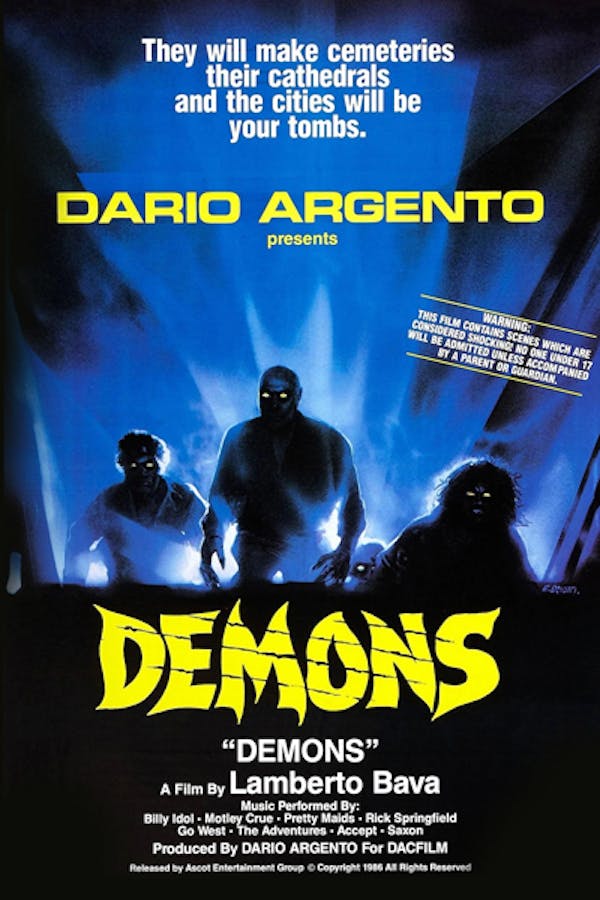 Demons
Directed by Lamberto Bava
Horror movie audience members turn into bloodthirsty demons in this essential Euro-horror entry from Lamberto Bava (Mario Bava's son) and co-writer Dario Argento (SUSPIRIA, OPERA). When a young woman begins to suffer the same symptoms as the possessed subjects of the film, she attacks other patrons, turning them into murderous monsters too. Gruesome gore, a killer 80s punk and heavy metal soundtrack and the film's vivid giallo-meets-new-wave look turned DEMONS into a cult classic, begatting several sequels including DEMONS 2 and THE CHURCH. Contains strong language, violence and gore.
A horror movie audience turns into bloodthirsty demons.
Cast: Urbano Barberini, Natasha Hovey, Karl Zinny
Member Reviews
errm. classic. watched this in 86 when i was 9. enjoyed it and got a taste for horror. love the music throuhout. even got the original poster. part 2 was a bit more scary though
visually appealing and constantly flowing out at you a stream of violence and disco music
Liked the idea for the plot but it did not feel fleshed out nor did the characters seem fully realized. Hard to tell who really was the main character. Some parts were random camera shots that seemed to drone on. That said, despite all those shortcomings in the movie were made up by the AMAZING sfx. The demons looked scary af! Also a couple of cute male actors too haha.
Favorite horror movie of all time. Wish they re-released this in the theaters.
The movie, the soundtrack, the gore is awesome! A must see.