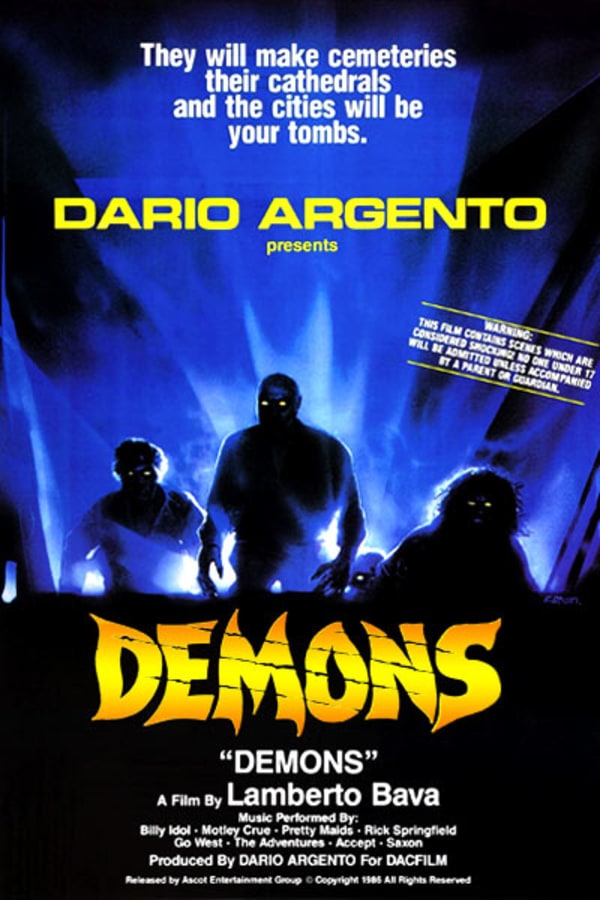 Demons
Directed by Lamberto Bava
Horror movie audience members turn into bloodthirsty demons in this essential Euro-horror entry from Lamberto Bava (Mario Bava's son) and co-writer Dario Argento (SUSPIRIA, OPERA). When a young woman begins to suffer the same symptoms as the possessed subjects of the film, she attacks other patrons, turning them into murderous monsters too. Gruesome gore, a killer 80s punk and heavy metal soundtrack and the film's vivid giallo-meets-new-wave look turned DEMONS into a cult classic, begatting several sequels including DEMONS 2 and THE CHURCH. Contains strong language, violence and gore.
A horror movie audience turns into bloodthirsty demons.
Cast: Urbano Barberini, Natasha Hovey, Karl Zinny
Member Reviews
This movie is pure awesome, from the soundtrack, to the cinematography. Demon's is nothing but pure fun. The story is just your typical zombie scenario with a mix of evil dead, but what Demon's does to set itself apart, it indulges. It revels in its effects and aside from maybe fifteen minutes as people look for a way out after building a barricade, the movie is pretty fluid in its pacing.
C'mon, it's DEMONS. It does exactly what it says it's gonna do. There's nothing to "get". Its Demons killing things. Awesome. 10/10 would watch another 75 times.
Bring up some good memmories. Movies were like that in my young time lol
Lots of fun, but it really sucks that the only black characters are a pimp and his two hoes and that one of the hoes is the reason everything goes to hell, no pun intended. Saved by badass fx and that amazing scene set to Billy Idol. Check out "Neo Tokyo" by Perturbator, it samples the score from this one and it goes hard af.
fun for the whole family.