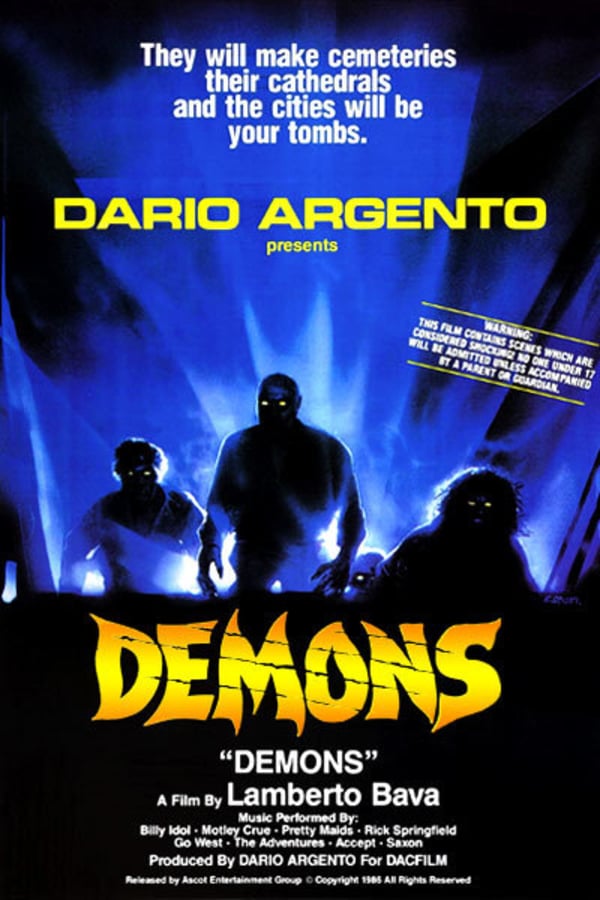 Demons
Directed by Lamberto Bava
Horror movie audience members turn into bloodthirsty demons in this essential Euro-horror entry from Lamberto Bava (Mario Bava's son) and co-writer Dario Argento (SUSPIRIA, OPERA). When a young woman begins to suffer the same symptoms as the possessed subjects of the film, she attacks other patrons, turning them into murderous monsters too. Gruesome gore, a killer 80s punk and heavy metal soundtrack and the film's vivid giallo-meets-new-wave look turned DEMONS into a cult classic, begatting several sequels including DEMONS 2 and THE CHURCH. Contains strong language, violence and gore.
A horror movie audience turns into bloodthirsty demons.
Cast: Urbano Barberini, Natasha Hovey, Karl Zinny
Member Reviews
Great Italian horror movie. Fun story, lots of gore and it moves right along. Sequel is the same. GREAT double header!
good movie good metal music fast as a shark by accept that was kick ass please post more of the other demons movies reminded me of evil dead a little
One of my favorite horror movies. Such a fun, gory, over the top 80s movie. Everything you expect. It delivers the goods.
If you love Italian horror this is a must see. great gore and horrible acting in incredible situations making it fun, fun,fun. Enjoy
The music is good in the movie is very good in one of the best movies I have ever seen loved it