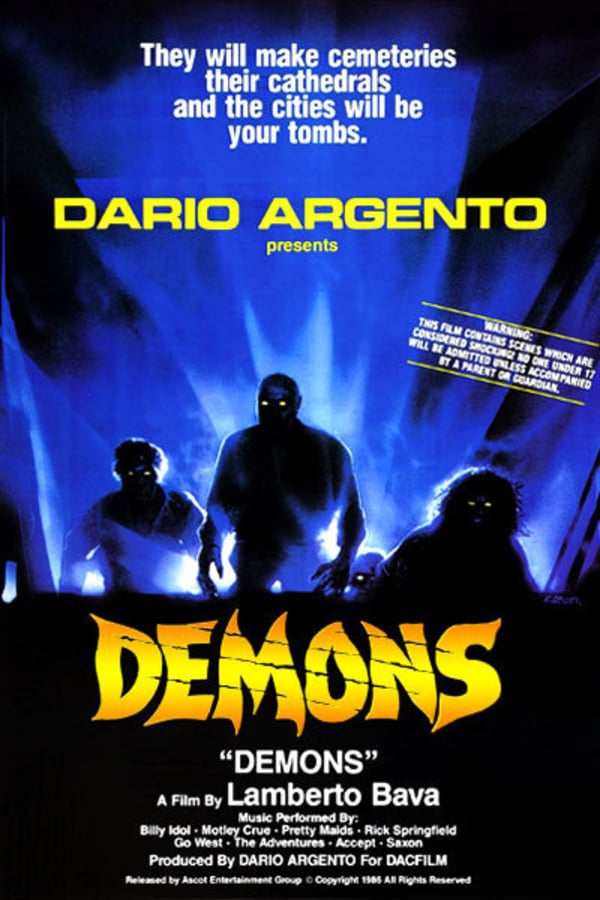 Demons
Directed by Lamberto Bava
Horror movie audience members turn into bloodthirsty demons in this essential Euro-horror entry from Lamberto Bava (Mario Bava's son) and co-writer Dario Argento (SUSPIRIA, OPERA). When a young woman begins to suffer the same symptoms as the possessed subjects of the film, she attacks other patrons, turning them into murderous monsters too. Gruesome gore, a killer 80s punk and heavy metal soundtrack and the film's vivid giallo-meets-new-wave look turned DEMONS into a cult classic, begatting several sequels including DEMONS 2 and THE CHURCH. Contains strong language, violence and gore.
A horror movie audience turns into bloodthirsty demons.
Cast: Urbano Barberini, Natasha Hovey, Karl Zinny
Member Reviews
Love , this was a great movie love
Whacky, campy Italian horror with lots of gore and goo. It's not a great film--the story is muddled--but it's a lot of fun. Great metal soundtrack too.
One of the Italian horrors that is such high momentum, preposterous good natured indulgent black hearted fun the campy dubbing arguably increases rather than detracts from the quality of the film. This is a very well made comedy horror and is still effectively disgusting and thrilling in ways that movies with similarly bad dubbing but also make themselves reliant on taking drama/exposition seriously for tension, can't be.
Okay, I don't get why this movie gets such high reviews. The best thing I can say about it is it's bad enough to be somewhat campy, but not even for a single moment is it scary. I will say that it is a great representation of why I believe that the 80s was the most culturally retarded decade in the history of mankind. Two stars because I laughed. Once.