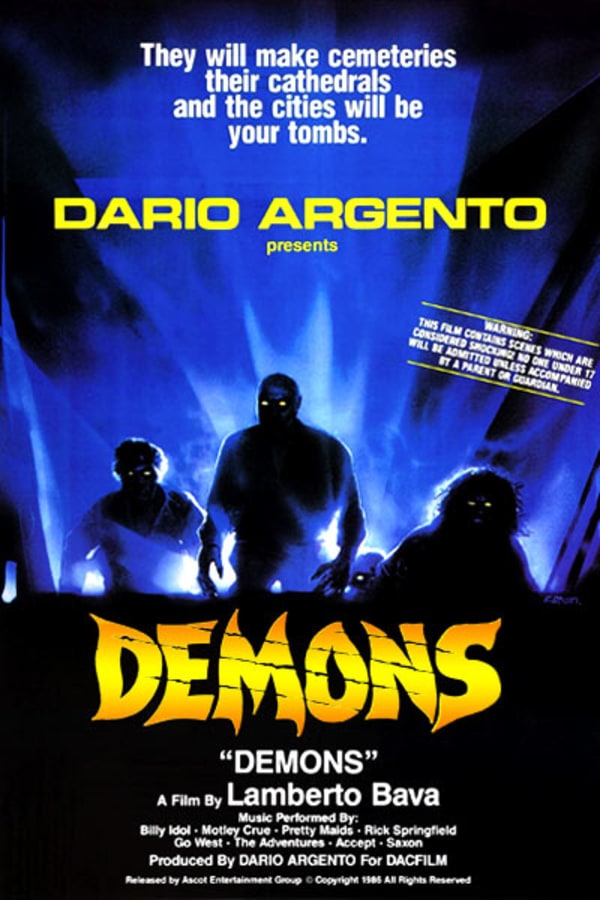 Demons
Directed by Lamberto Bava
Horror movie audience members turn into bloodthirsty demons in this essential Euro-horror entry from Lamberto Bava (Mario Bava's son) and co-writer Dario Argento (SUSPIRIA, OPERA). When a young woman begins to suffer the same symptoms as the possessed subjects of the film, she attacks other patrons, turning them into murderous monsters too. Gruesome gore, a killer 80s punk and heavy metal soundtrack and the film's vivid giallo-meets-new-wave look turned DEMONS into a cult classic, begatting several sequels including DEMONS 2 and THE CHURCH. Contains strong language, violence and gore.
A horror movie audience turns into bloodthirsty demons.
Cast: Urbano Barberini, Natasha Hovey, Karl Zinny
Member Reviews
Flashback to the 80's and the gore of slasher films couple led
An international cult classic. Awesome FX's, Kills, and all the joys of 80's B-Horror Movies. A great watch. Enjoy
I loved it. Demons has the perfect balance of gore, cheesy acting, and suspence that just keeps you hooked. A clasdic cult horror that you have got to see before you meet your maker.
I loved it. Demons has the perfect balance of gore, cheesy acting, and suspence that just keeps you hooked. A clasdic cult horror that you have got to see before you meet your maker. 💀💜
I loved it. Demons has the perfect balance of gore, cheesy acting, and suspence that just keeps you hooked. A clasdic cult horror that you have got to see before you meet your maker. 💀💜