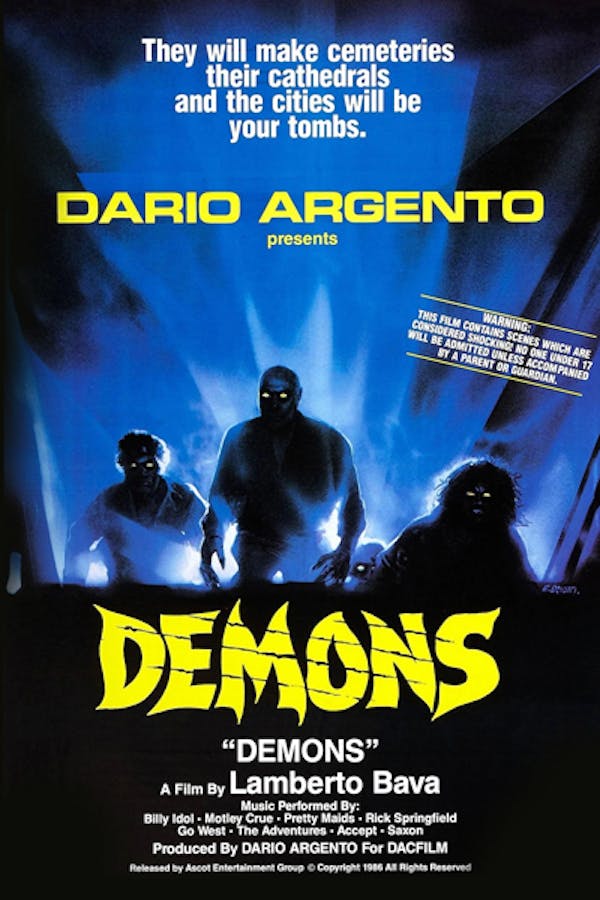 Demons
Directed by Lamberto Bava
Horror movie audience members turn into bloodthirsty demons in this essential Euro-horror entry from Lamberto Bava (Mario Bava's son) and co-writer Dario Argento (SUSPIRIA, OPERA). When a young woman begins to suffer the same symptoms as the possessed subjects of the film, she attacks other patrons, turning them into murderous monsters too. Gruesome gore, a killer 80s punk and heavy metal soundtrack and the film's vivid giallo-meets-new-wave look turned DEMONS into a cult classic, begatting several sequels including DEMONS 2 and THE CHURCH. Contains strong language, violence and gore.
A horror movie audience turns into bloodthirsty demons.
Cast: Urbano Barberini, Natasha Hovey, Karl Zinny
Member Reviews
One of my favorite horror films & one of the best giallo films but doesn't give off the Argento vibe & everything does make sense in this. Never thought I would love giallo but I gave it a chance & now I know why so many are obsessed. Demons 1 & 2 are phenomenal films, great story. great kills, great action, great gore... these are so much fun & satisfying to watch. When Italians do film they do it in style, the attention to details,,sets, clothing & gore is top notch. You won't be disappointed!
3.5 out of 5. "Demons" is very entertaining, with lots of creatures and action. A weird mix of Terminator, Evil Dead, and Lucio Fulci's "Zombie." The film is also really funny, whether intentionally or not. This is partially due to the stupendously bad acting and dialogue. Somehow every actor in this movie is terrible, so you don't really care when characters die or get turned into demons. The plot is also nonsensical. But who cares when it's so fun to watch?
Finally I watch first movie!!! I've seen second movie when I was kid. It's such 80's classic!!!
Nice gore. Good premise. Decent execution for the time with pretty awful but funny dialogue