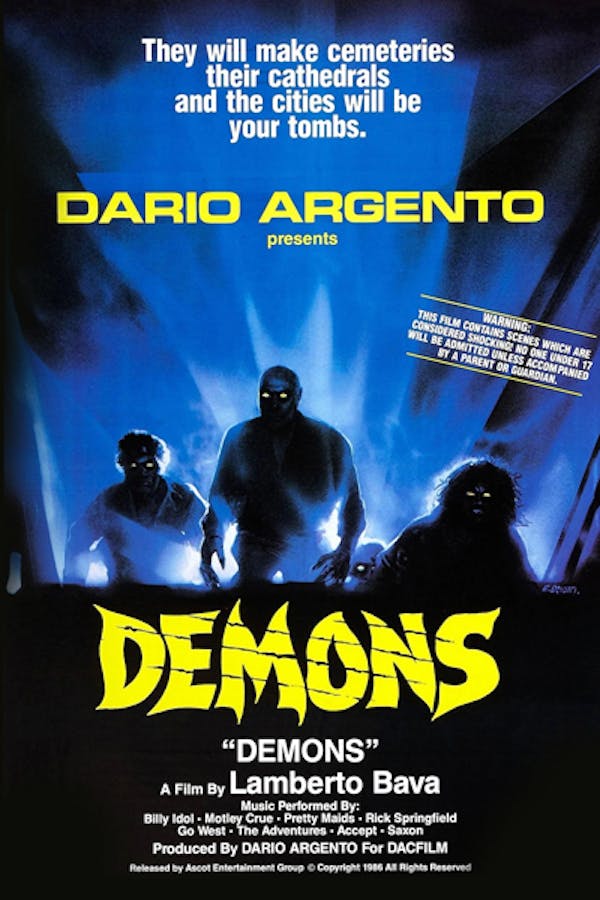 Demons
Directed by Lamberto Bava
Horror movie audience members turn into bloodthirsty demons in this essential Euro-horror entry from Lamberto Bava (Mario Bava's son) and co-writer Dario Argento (SUSPIRIA, OPERA). When a young woman begins to suffer the same symptoms as the possessed subjects of the film, she attacks other patrons, turning them into murderous monsters too. Gruesome gore, a killer 80s punk and heavy metal soundtrack and the film's vivid giallo-meets-new-wave look turned DEMONS into a cult classic, begatting several sequels including DEMONS 2 and THE CHURCH. Contains strong language, violence and gore.
A horror movie audience turns into bloodthirsty demons.
Cast: Urbano Barberini, Natasha Hovey, Karl Zinny
Member Reviews
I was surprised to see the glowing reviews on this one. Is there a nostalgia factor to this? The script was terrible and the fx pretty basic for '85 - I'll try Demons 2 on for size, but this one was definitely not one size fits all
One of my all time favorites. A total must watch!
Cult classic, unapologetic and gory.
Some plot holes but cool fun zombie (demon) movie 3.5