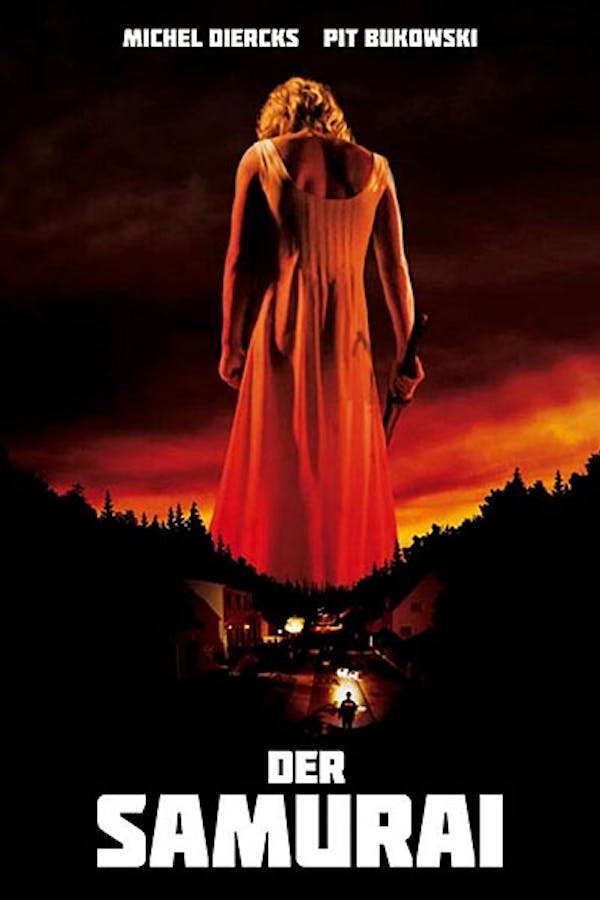 Der Samurai
Directed by Till Kleinert
A cop is drawn into the web of a mysterious, sword-wielding killer over the course of one very strange night. Jakob is mocked by locals over his timid approach to policing, which includes leaving meat for the wolf in the woods instead of hunting it. When he encounters a devious samurai who wears a dress, he gets drawn into a deadly game of cat-and-mouse with the not-quite-human killer. Till Kleinert's Lynchian horror fantasy takes viewers into a bizarre nightmare where traditional masculinity and queerness fight for dominance, leaving scores of severed heads in their wake. (In German with English subtitles.)
A cop is drawn into the web of a mysterious sword-wielding killer.
Cast: Michel Diercks, Pit Bukowski, Uwe Preuss
Member Reviews
Michael Rooker dons drag and gives the performance of a lifetime as the titular character in this German romcom. Although the movie reveals its hand early, it is still a fun watch because of the stylish violence and cute officer. Probably could have gone without the full frontal at the end though.
It had a promising start but then disappointment
cant read the reviews without posting...
The main character cop dude looks like Mark Zuckerberg which kept pulling me outta the film. other than that it was a fun, and entertaining film.
What makes Der Samurai sit most uncomfortably isn't its decapitations or "graphic" nudity (Why is that phrase always code for male genitalia?), but that it doesn't stay in any particular narrative gear long enough for us settle in. Are these just hallucinations? Is it all storybook-like metaphor for our repressed animal natures? Or, as it seems in its frequent, more lucidly rendered moments, an alternate reality that relates to but isn't quite a part of the "real world"? Best experienced by forgoing any such analysis and, like Jakob, accepting that you're in for a wild night.