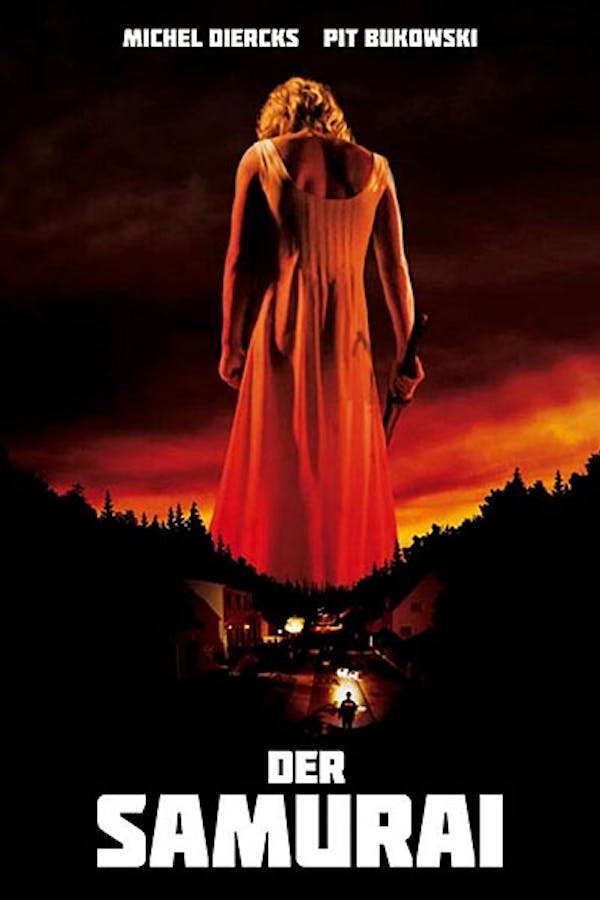 Der Samurai
Directed by Till Kleinert
A cop is drawn into the web of a mysterious, sword-wielding killer over the course of one very strange night. Jakob is mocked by locals over his timid approach to policing, which includes leaving meat for the wolf in the woods instead of hunting it. When he encounters a devious samurai who wears a dress, he gets drawn into a deadly game of cat-and-mouse with the not-quite-human killer. Till Kleinert's Lynchian horror fantasy takes viewers into a bizarre nightmare where traditional masculinity and queerness fight for dominance, leaving scores of severed heads in their wake. (In German with English subtitles.)
A cop is drawn into the web of a mysterious sword-wielding killer.
Cast: Michel Diercks, Pit Bukowski, Uwe Preuss
Member Reviews
great concept but it a little too slow and ended wanting more...the two actors though complemented each other with their unique characters.
A surreal mystical journey swirling with all sorts of symbolism fusing into a climatic whole.
Weird. A bit slow, but it kept me curious.
The film is more about momentum then any action. Though action does come up now and again and you keep waiting for it. Then when it finally happens it is over so quick that if you blink you will miss it. Though feel the aftermath and repercussions. As the action is more horror movie massacre mode action then choreographed evenly paced action. So that they are not impressive. Once they do come around. The reason you look forward to the action is that the film is so slow that you look forward to any type of excitement in this film. The film tries to stay mysterious, but seems a case study in Psychology 101. As the film tried to leave you with many questions that by the end there aren't many answers and you might find that you don't have any questions as you don't care anymore and just want the film to end. As it just seems to seek to be weird and believe that, that equals interesting. Though really it seems to hair be that way to intentionally become a cult film. As it has a main character who is a giant muscular man. Who walks around in a dress carrying a sword massacring people with at first it seems little rhyme or reason. The protagonist is a kind of simple wimpy deputy who is hot on his heels and at first usually cowers when confronted by him. Then gains bravery trying to hunt him down. As the killer seems to have a kind of crush on him. The film has graphic violence galore, but other than a shot of nudity. That is as close to controversial that the film truly gets. We are given a sort of explanation for everything. This film seems more on it's way to follow it's own mythology mindset. Like a student film it seems to have a lot of intended symbolism. We are supposed to interpret for ourselves, but believe we will find at a certain point you won't care. Even though the film isn't very long. The direction and tone of the film also tries to be mysterious and subtle, but I found it to be more obnoxious and overconfident. With an attitude if you as an audience member don't get it that's your problem and you just aren't smart enough. It's a shame as the film seems to have promise overall and in it's inception before it just seems to drag itself to the finish line. What comes from all this is Though the film leaves us to wonder did he will him into existence. Is he an evil animal spirit who has been watching and waiting to be invited into being. As he seems to kind of be the cops ID. I say skip this. Go out and fed better experimental features that are fun and goofy.
This film should have been a short youtube video rather than a full fledged film. I wasn't engrossed into this story and I didn't care for the characters at all. While I do find the relationship between Jakob and the Wolf intriguing, it fell flat. The Wolf carried the entire film on his back and was the most intriguing character. Overall, this film wasn't worth my 79 minutes. Pass.