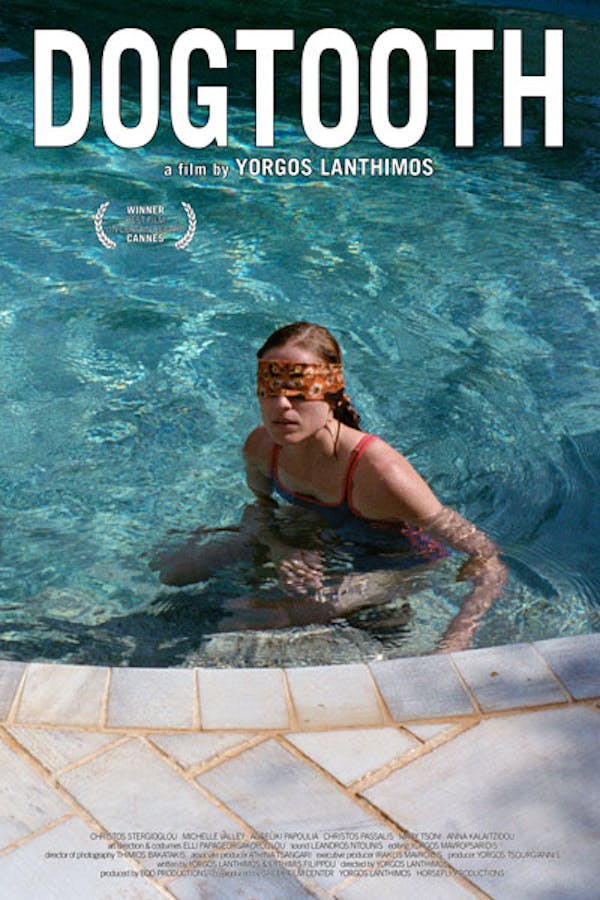 Dogtooth
Directed by Yorgos Lanthimos
In an effort to protect their three children from the corrupting influence of the outside world, a couple transforms their home into a gated compound of cultural deprivation and strict rules of behavior. But children cannot remain innocent forever. When the father brings home a young woman to satisfy his son's sexual urges, the family's engineered "reality" begins to crumble, with devastating consequences. Like the haunting, dystopic visions of Michael Haneke and Gaspar Noé, DOGTOOTH punctuates its compelling drama with moments of shocking violence, creating a biting social satire that is as profound as it is provocative.
Three teenagers live isolated. But children cannot remain innocent forever.
Cast: Christos Stergioglou, Michele Valley, Angeliki Papoulia, Hristos Passalis, Mary Tsoni
Member Reviews
terrible movie sicko family and all over the place ..... i got the jist of it but the whole incest stuff couldve been left out and the film wouldve still been terrible ..... 1 good bit in the whole movie just before the end but the actual ending sucked.... was gonna say wouldnt waste your time but if youve heard of it you will probably watch it any way ..... just remember curiosity killed the cat
An enjoyable atmospheric horror movie. Well paced with a few unnerving moments and impressive acting. Ending sequence lacked a finishing blow but the family dynamic and interactions perfectly portrayed the dark internal dynamics & subsequent warping of reality.
*to say the least.... Disturbing
Oh its a Horror Movie for sure. Oof. Icky, disfunctional family to day the
This movie is just as f-ed up as the reviews say it is.