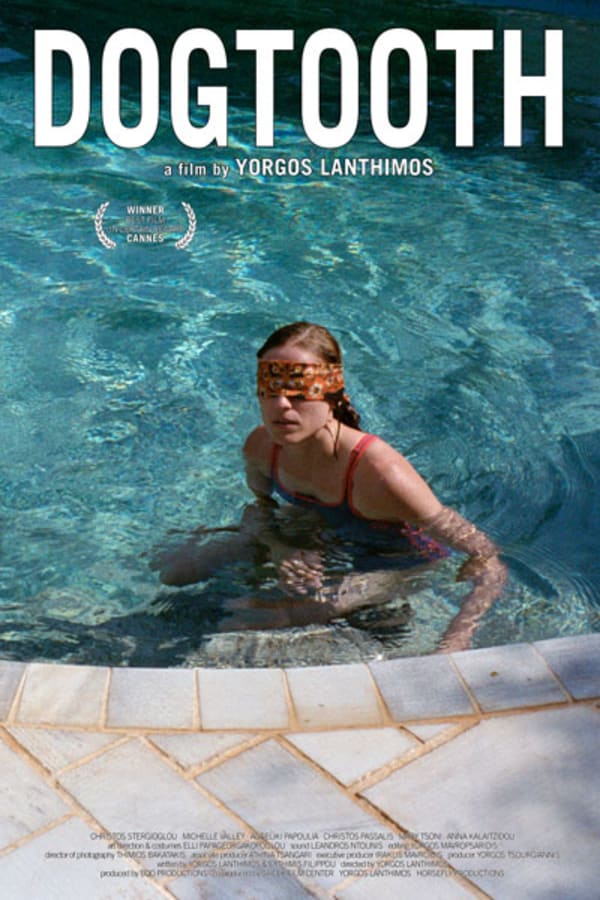 Dogtooth
Directed by Yorgos Lanthimos
In an effort to protect their three children from the corrupting influence of the outside world, a couple transforms their home into a gated compound of cultural deprivation and strict rules of behavior. But children cannot remain innocent forever. When the father brings home a young woman to satisfy his son's sexual urges, the family's engineered "reality" begins to crumble, with devastating consequences. Like the haunting, dystopic visions of Michael Haneke and Gaspar Noé, DOGTOOTH punctuates its compelling drama with moments of shocking violence, creating a biting social satire that is as profound as it is provocative.
Three teenagers live isolated. But children cannot remain innocent forever.
Cast: Christos Stergioglou, Michele Valley, Angeliki Papoulia, Hristos Passalis, Mary Tsoni
Member Reviews
I can see why a movie like this wouldn't be everyone's cup of tea but Yorgos is extremely good at this unique type of storytelling. The most outrageous stories that still play by the rules of reality enough to make them believable. You really need to just let yourself go with this movie, it's disturbingly enjoyable in its surreality.
strange is all i can say , but at the sametime couldn't look away. I was really hoping the ending would have been worth sitting through this whole 97 min. but it just wasn't the ending just made you scratch your head. definitely more confused then when i started.
Yorgos Lanthimos has an unusual talent for telling the most interesting and bizarre stories in the most boring way possible. A lot of people found this movie "disturbing," but personally I was too busy trying not to fall asleep to be disturbed.
This is probably one of the most disturbing movies I've ever seen, just so many moments where you feel like you shouldn't be watching (deciding on which sister, the dancing sisters, the father's visit to his employee's home after the video incident, etc. - without giving anything away). It's actually funny in the way you sometimes laugh at something you know you shouldn't and feel bad about yourself later. But there's something about it that makes you keep watching. I'm not sure what the film's creator was trying to say, if anything, maybe something about why it's sick if you try to control everything, especially other people? And how it can only end badly? There's plenty of "horror," but it's more like moral horror (i.e the cat in the yard, licking dad). Worth watching but you might want to take a shower afterwards.
If the word cringe were a film. Gives you the feeling of nails on a chalkboard for every moment of the movie. Amazing storytelling and incredibly artsy.