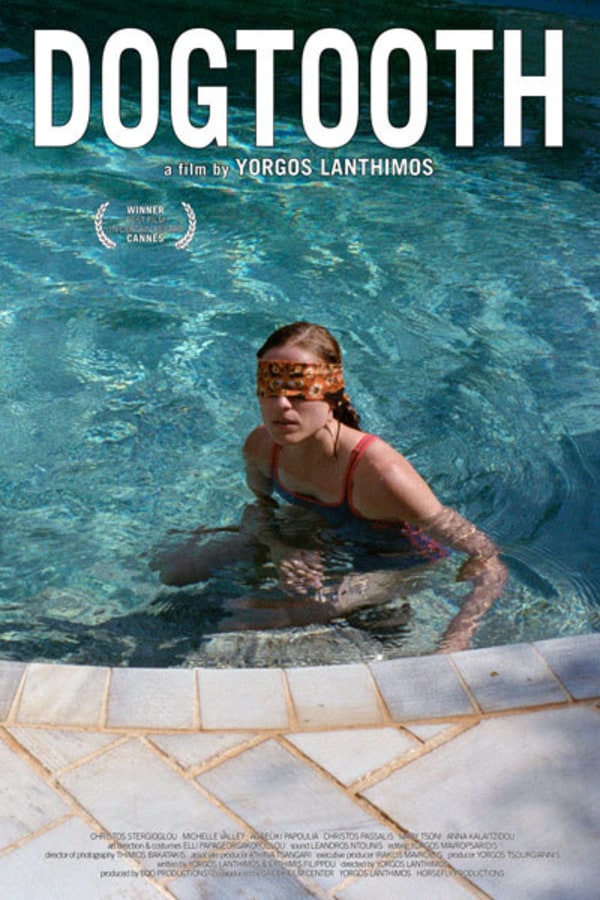 Dogtooth
Directed by Yorgos Lanthimos
The father, the mother and their three kids live at the outskirts of a city. There is a tall fence surrounding the house. The kids have never been outside that fence. They are being educated, entertained, bored and exercised in the manner that their parents deem appropriate, without any influence from the outside world. They believe that the airplanes flying over are toys and that zombies are small yellow flowers. The only person allowed to enter the house is Christina. She works as a security guard at the father's business. The father arranges her visits to the house in order to appease the sexual urges of the son. The whole family is fond of her, especially the eldest daughter. One day Christina gives her as a present a headband that has stones that glow in the dark and asks for something in return.
Three teenagers live isolated, without leaving their house, because their over-protective parents say they can only leave when their dogtooth falls out.
Cast: Christos Stergioglou, Michele Valley, Angeliki Papoulia, Hristos Passalis, Mary Tsoni
Member Reviews
Not bad, but not great. I usually love minimalist films but this is spectacle more than anything. It forsure made me uncomfortable
A great film for potential or expecting parents on the themes of control and consequence. A mind-bending, funny, gentle, yet existentially terrifying look into sheltering those you love. I enjoyed the film.
I don't know what the fuck I just watched, but I really liked it. It felt like a "Wes Anderson movie on acid" type of fever dream.
I made it to the end. Some parts were painfully slow. Who am I kidding - it was all slow decent concept.. that's all I got.