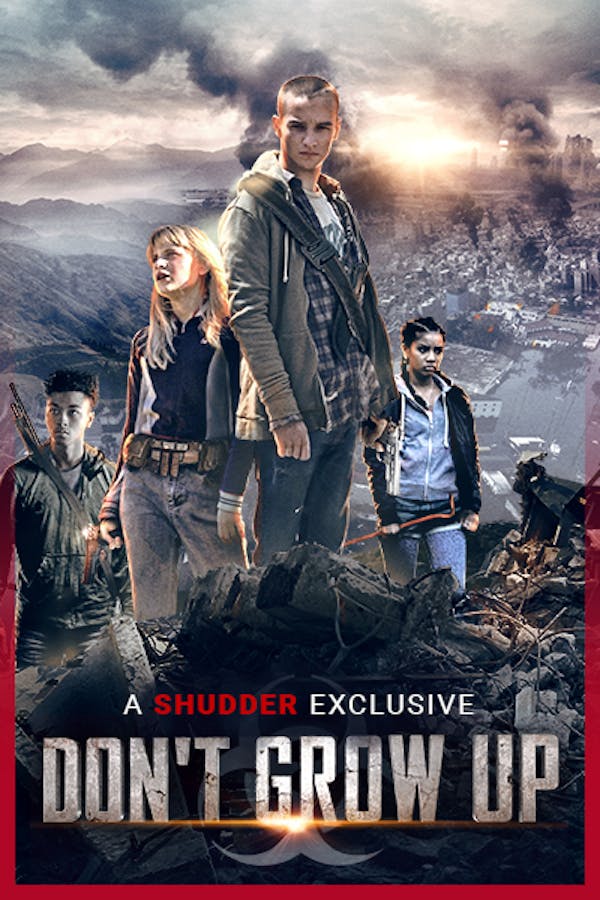 Don't Grow Up
Directed by Thierry Poiraud
In a youth center on an isolated island, a group of teens wake up to find no adults watching over them. After enjoying their newfound freedom and not really questioning why, the group suddenly discover a mysterious epidemic has turned all the grownups into violent, dangerous maniacs. If the teens try to escape their nightmarish circumstances, they will have to become the very things they don't want to: adults. After his debut soccer zombie flick GOAL OF THE DEAD scored, director Thierry Poiraud stayed in the same lane for this fearsome follow-up. A SHUDDER EXCLUSIVE
On an isolated island, a group of teenage delinquents living in a youth center wake up to find themselves alone with no one to watch over them.
Cast: Fergus Riordan, Madeleine Kelly, Natifa Mai, David Mckell
Member Reviews
Meh. Great cinematography, that's about it.
Wow. I wasnt expecting this to be so good! A refreshing fresh take
Such a sad ending. Great story though with a twist on the zombie theme.
I've never seen kids talk so much garbage in a show and then not know how to do a single bloody thing. Good enough for a one time watch. -----------------------------------------Slight Spoiler--------------------------------------- Not using the lighter that you're playing with to heat metal and close your friend's profusely bleeding wound - okay, fine, perhaps they've never seen a movie/television show in their life. But not checking houses for computers and electronic devices so that you can see/read any news available about what's going on? Even the little 7 year old boy they found was somehow smarter than all the teens, combined. This had to be the easiest apocalypse to survive and they still failed.
Well acted apocalyptic drama