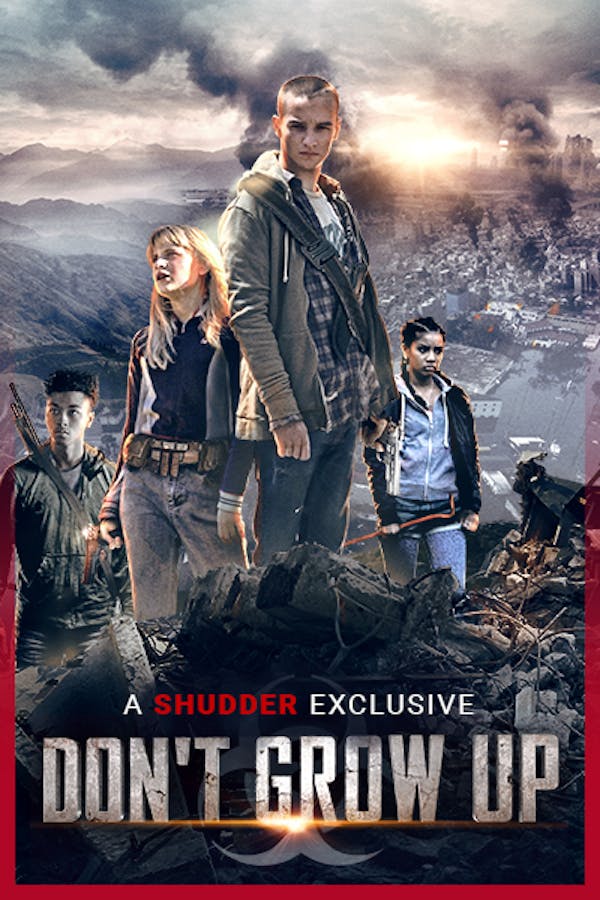 Don't Grow Up
Directed by Thierry Poiraud
In a youth center on an isolated island, a group of teens wake up to find no adults watching over them. After enjoying their newfound freedom and not really questioning why, the group suddenly discover a mysterious epidemic has turned all the grownups into violent, dangerous maniacs. If the teens try to escape their nightmarish circumstances, they will have to become the very things they don't want to: adults. After his debut soccer zombie flick GOAL OF THE DEAD scored, director Thierry Poiraud stayed in the same lane for this fearsome follow-up. A SHUDDER EXCLUSIVE
On an isolated island, a group of teenage delinquents living in a youth center wake up to find themselves alone with no one to watch over them.
Cast: Fergus Riordan, Madeleine Kelly, Natifa Mai, David Mckell
Member Reviews
The cinematography for the movie was done well and I appreciated the quality of sets/locations and fully utilizing them. As for the movie itself, it felt more like a drama than a horror, and very slow paced.
I liked this a lot more than I thought I would. It was a bit predictable but that's ok. The scary pieces were kind of jumpy but not overly and there wasn't a lot of blaring music jumps, if any. Very well done. Acting is great. Cinematography was great. Atmosphere great. Story great. 5/5 would recommend.
A more realistic, if nihilistic, perspective on the deadly-epidemic genre. Confining the outbreak to an island provides some solace to the viewer (the whole world isn't affected). Chronological age doesn't seem to be the deciding factor on who gets sick, as Pearl notes in her discussion with Bastien in the camper-trailer. So is life experience that factor, and if so, what sorts of experiences count? I like movies that make me think, so I gave this one five skulls.
Very entertaining but could've done better at the end
not bad but there could have beenasee