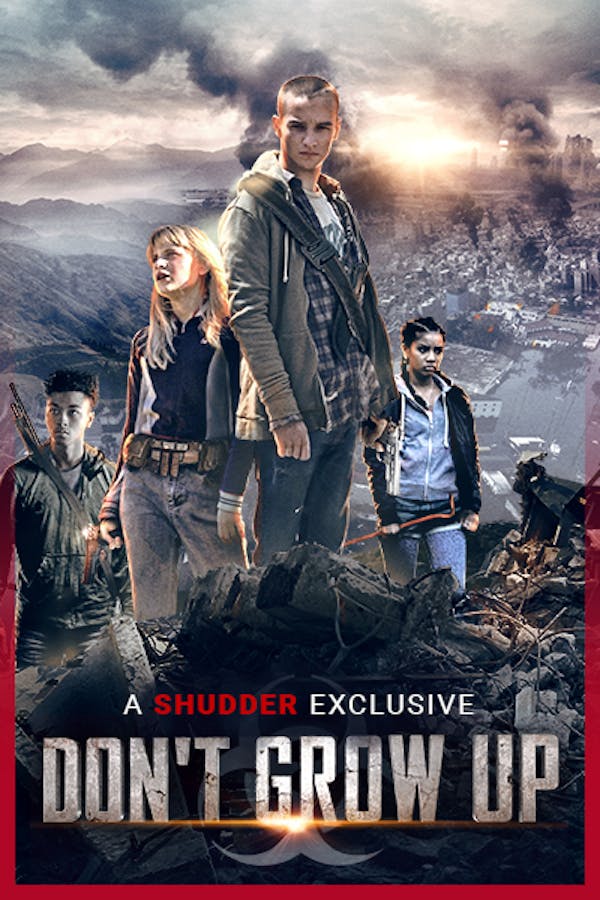 Don't Grow Up
Directed by Thierry Poiraud
In a youth center on an isolated island, a group of teens wake up to find no adults watching over them. After enjoying their newfound freedom and not really questioning why, the group suddenly discover a mysterious epidemic has turned all the grownups into violent, dangerous maniacs. If the teens try to escape their nightmarish circumstances, they will have to become the very things they don't want to: adults. After his debut soccer zombie flick GOAL OF THE DEAD scored, director Thierry Poiraud stayed in the same lane for this fearsome follow-up. A SHUDDER EXCLUSIVE
On an isolated island, a group of teenage delinquents living in a youth center wake up to find themselves alone with no one to watch over them.
Cast: Fergus Riordan, Madeleine Kelly, Natifa Mai, David Mckell
Member Reviews
Cute but very sad & I was hoping for more action scenes ..
As others have said, very 'lord of the flies'. Ok movie, plenty of tension but rarely scary. Lots left unexplained, which dampened the plot somewhat.
i wasted battery usage on my phone.
Holy shit(should I say HOLLY shit-watch and you will understand this reference)! This was a very dark movie about a group of kids trying to make it in unbelievable circumstances. Maybe I am reading more into it than is necessary, but I took this movie at a much deeper meaning. The kids face a society of adults who have become violent towards the youth, much like these teens would probably visualize adults having been abused, neglected, and forgotten by them in the course of their lives. This is a thought-provoking slow burner of a film meant to invoke emotions and conversations.
Omg, WOW! I honestly wasn't expecting it to be as good as it was; I could easily say it's as good as 28 Days Later! Also gets you right in the feelz, as the relationships between the characters & the feelings they share are touching. Quite sad, so be prepared for that. Might even watch again someday!