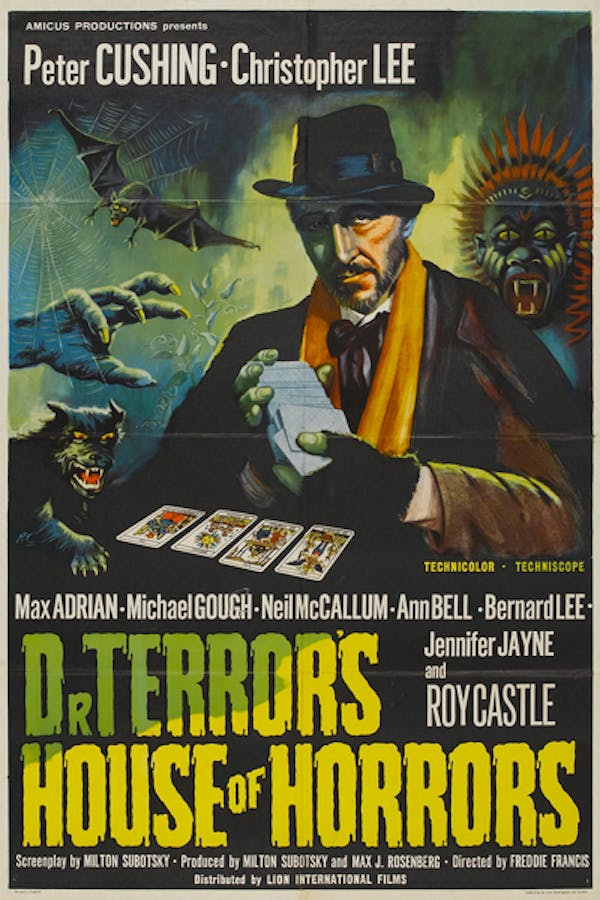 Dr Terror's House of Horrors
Directed by Freddie Francis
Dr Terror is a mysterious fortune teller who boards a train and offers to tell fellow passengers their fortune with tarot cards. Five possible futures unfold: an architect returns to his ancestral home to find a werewolf out for revenge; a huge flesh-eating vine takes over a house; a musician gets involved with voodoo; an art critic is pursued by a disembodied hand and a doctor discovers his new wife is a vampire. But they all end in the same result…
One of the best anthologies from Britain's Amicus Productions headlined by Cushing as a tarot card-reading Dr. Schreck, whose stacked deck spells doom for five train travelers.
Cast: Peter Cushing, Christopher Lee, Donald Sutherland
Member Reviews
Classic! Love the musical score.
Stone cold classic. More like this on Shudder please!
Brilliant ! Good old fashioned horror, simple and innocent in its charm, no CGI, you can see everything ( even when the scene is supposed to be dark) only Donald Sutherland alive now ( bet they didn't see that in the cards) 😂😂😂
I love Peter Cushing. This film is completely fabulous :)