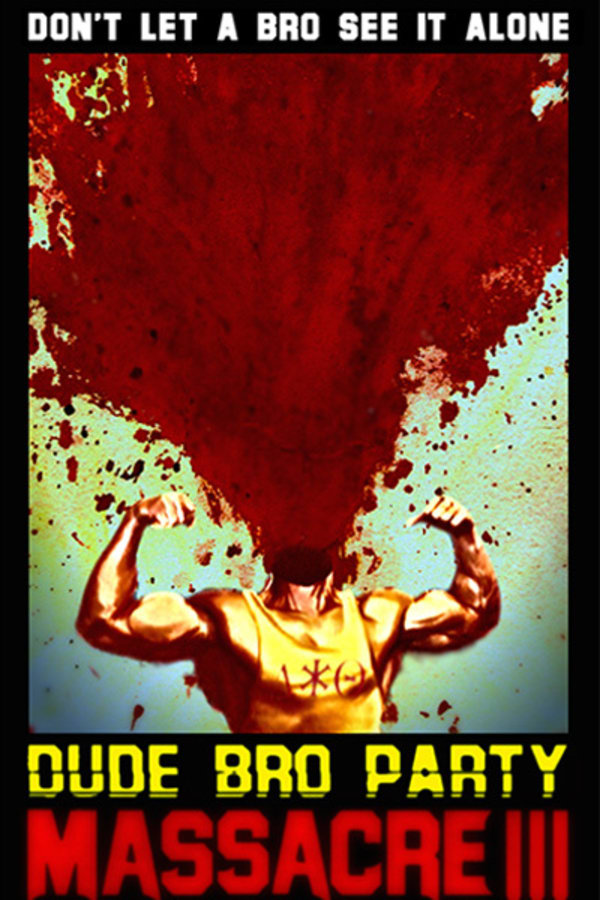 Dude Bro Party Massacre 3
Directed by Tomm Jacobsen, Michael Rousselet, Jon Salmon
DUDE BRO PARTY MASSACRE III follows BRENT CHIRINO as he enters the oil-misted halls of the DELTA BI THETA fraternity. Brent isn't just any pledge... he's a legacy. And it's a legacy of death. See, Brent is here to solve the mystery of his identical twin brother BROCK's murder, and he'll do anything to crack the case... even attempt the frat's most daring prank of all time. But he's not the only ones there... a mysterious killer named MOTHERFACE lurks nearby. It's a race against time for Brent to discover the mysteries of his brother's death before Motherface butchers them all!
A young bro infiltrates a fraternity after the serial killer Motherface murders his twin brother.
Cast: Alec Owen, Ben Gigli, Olivia Taylor Dudley, Patton Oswalt
Member Reviews
You'll love it or hate it. Give it a chance.
This movie is hilarious...and then goes completely off the rails. Brilliant
I enjoyed this very much. I will definitely be rewatching this one and have to recommend this to friends of mine.
It was weird. I don't kno how this movie is considered horror...
A lunatic slapstick anything-goes comedy whose style will be familiar to Adult Swim watchers. To say DBPMIII parodies slasher movies is selling it short -- better to say it uses the slasher movie as a framework to hang all kinds of unexpected, tangential gags about everything from toxic masculinity to sentient bags of oranges. Minor roles from Greg Sestero and Patton Oswalt point to an expected midnight-movie cult audience, which would read as cynical if the movie weren't confident about its concept and slick in its gags. But it is. Even as it's a bit overlong for its manic pace, DBPMIII is one of the funniest things I've seen in years.