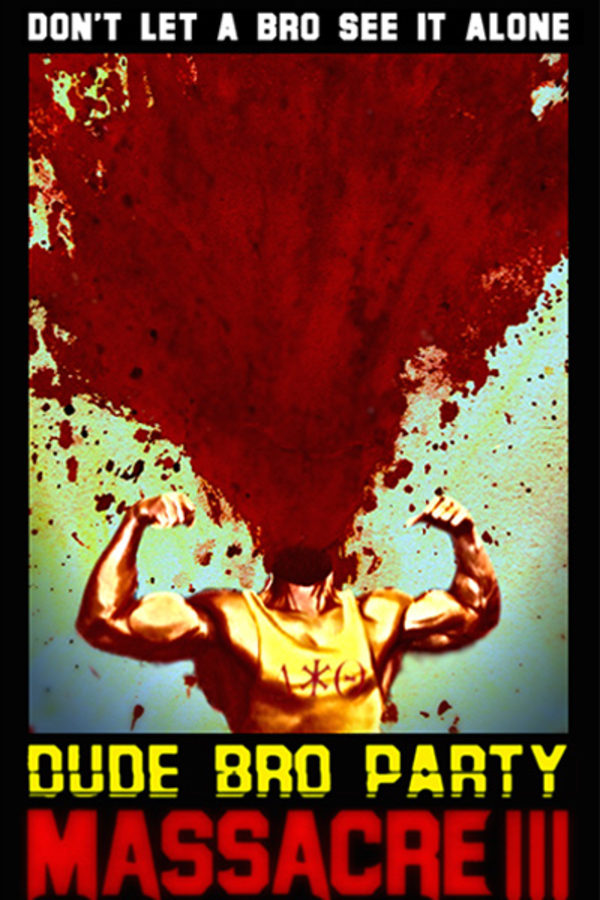 Dude Bro Party Massacre 3
Directed by Tomm Jacobsen, Michael Rousselet, Jon Salmon
DUDE BRO PARTY MASSACRE III follows BRENT CHIRINO as he enters the oil-misted halls of the DELTA BI THETA fraternity. Brent isn't just any pledge... he's a legacy. And it's a legacy of death. See, Brent is here to solve the mystery of his identical twin brother BROCK's murder, and he'll do anything to crack the case... even attempt the frat's most daring prank of all time. But he's not the only ones there... a mysterious killer named MOTHERFACE lurks nearby. It's a race against time for Brent to discover the mysteries of his brother's death before Motherface butchers them all!
A young bro infiltrates a fraternity after the serial killer Motherface murders his twin brother.
Cast: Alec Owen, Ben Gigli, Olivia Taylor Dudley, Patton Oswalt
Member Reviews
I went in with low expectations like it was going to be Seth Rogen style comedy where people just throw around buzz words, and instead it's so much better, it's relentlessly nuts. Not only does it parody eighties slashers well, it also throws party movies into the mix like Revenge of the Nerds. It has a no holds barred absurdity that I haven't seen in a movie in a long time. This reminded me of seeing Top Secret! for the first time, just one crazy thing after another, and taking a premise to absurd extremes. There are also lots of small gags that pay off on repeated viewings. Nice to see Nina Hartley who has always displayed a gift for comedy.
Just ridiculous insanity, and even aside from the gags the kills were pretty awesome. I'm going to watch it again and again and force my friends to watch it until I have no friends left! ps cool to see Nina Hartley in a cameo, even though I have no idea who she is, I don't even know what I'm saying!
Think Scary Movie done with funnier writers, and a much lower budget. Not one part disappointed.
Hilarious, fun, and gruesome. Loved the surprise cameos. Gotta watch more from these guys.