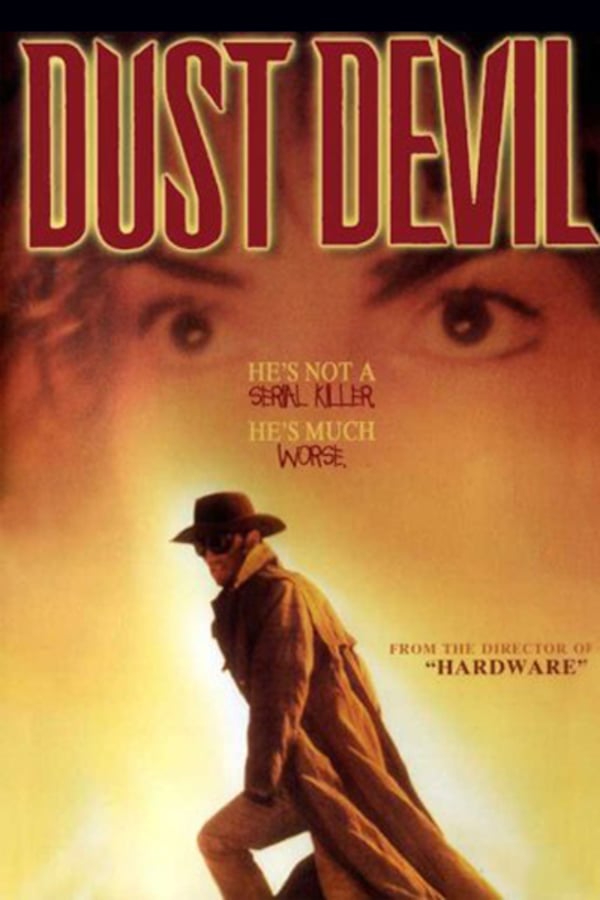 Dust Devil
Directed by Richard Stanley
After Wendy leaves her overbearing husband, she takes off to Africa where she picks up a hitchhiker, unaware her companion is not only a serial killer, but also a demon who steals his victim's souls. Witness the singular vision of Richard Stanley (HARDWARE) in this underrated nightmare.
When Wendy picks up a hitchhiker, she is unaware her companion is a serial killer who steals souls.
Cast: Robert John Burke, Chelsea Field, Zakes Mokae, John Matshikiza
Member Reviews
saw this when i was a kid. bbc 2 late night on a boxy black-and-white tv. so glad to see it again in colour!. thanks shudder. any chance for razorback?
Glad to see my favorite film on Shudder. An underrated gem. Not particularly scary, but has some great imagery, atmosphere, and an intriguing villian.
Not great dragged out and not enough romance for me, not that scary, weird plot I could have wrote a better movie than this sorry. At least let her husband be saved and turned into a dust devil boring.
Great movie, lots of nemorable scenes and a very compelling setting. Its cool shudder put this on the site, it deserves to be seen by more people.
Guess I watched a different movie. No scares, tedious plot and wooden acting. My cat is a better actor and she's an idiot. P.S. I am so sick of screaming, "Pick up the knife, bitch! Get out! What--why did you drop it??" We need more heroines like the chick in You're Next.