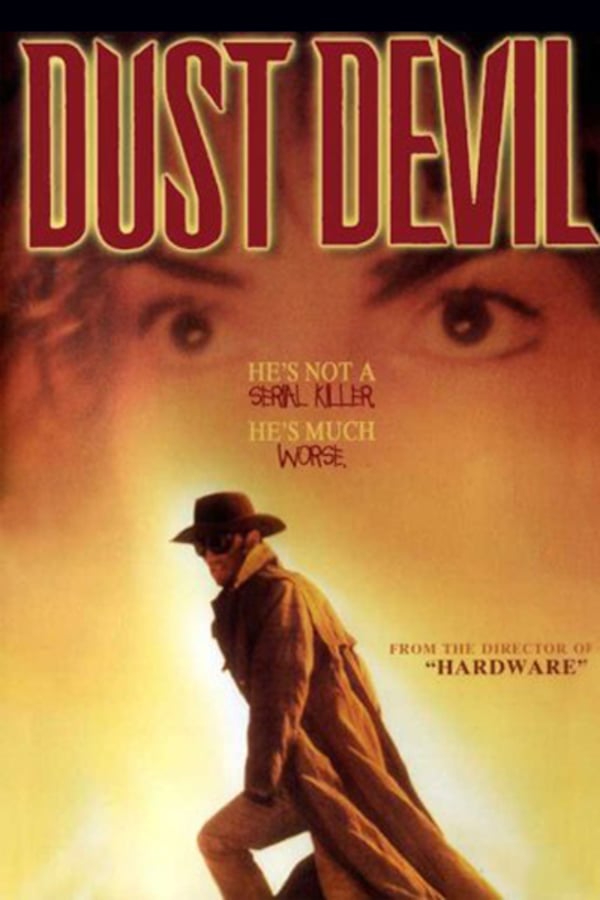 Dust Devil
Directed by Richard Stanley
After Wendy leaves her overbearing husband, she takes off to Africa where she picks up a hitchhiker, unaware her companion is not only a serial killer, but also a demon who steals his victim's souls. Witness the singular vision of Richard Stanley (HARDWARE) in this underrated nightmare.
When Wendy picks up a hitchhiker, she is unaware her companion is a serial killer who steals souls.
Cast: Robert John Burke, Chelsea Field, Zakes Mokae, John Matshikiza
Member Reviews
Ehhh this was my second time trying this one and I guess it doesn't work for me, a bit too much of a mess and hollow. Stanley's other movie 'Hardware' is a classic however and hopefully Shudder can get that one into the mix on here.
not worth watching but u can roll the dice
This one "lays it on pretty thick", you could say. B movie gold.
Richard Stanley is an alchemical madman of a filmmaker and this movie rules. Hopefully, now that he's returning to the camera directing Cage in a Lovecraft adaptation, he'll get his rightful due and this underrated slice of impressionistic dark fantasy will get a directors cut and restoration. Watch it now. Cherish that killer finale.
I felt that there was some interesting cinematography in this movie and the locations used were very effective. It is a slow-burn type of movie and yet it has a unique atmosphere and some disturbing gory scenes. There is also a western feel to this story via the imagery and locales used to convey this harrowing tale. This movie is most definitely worth a watch!