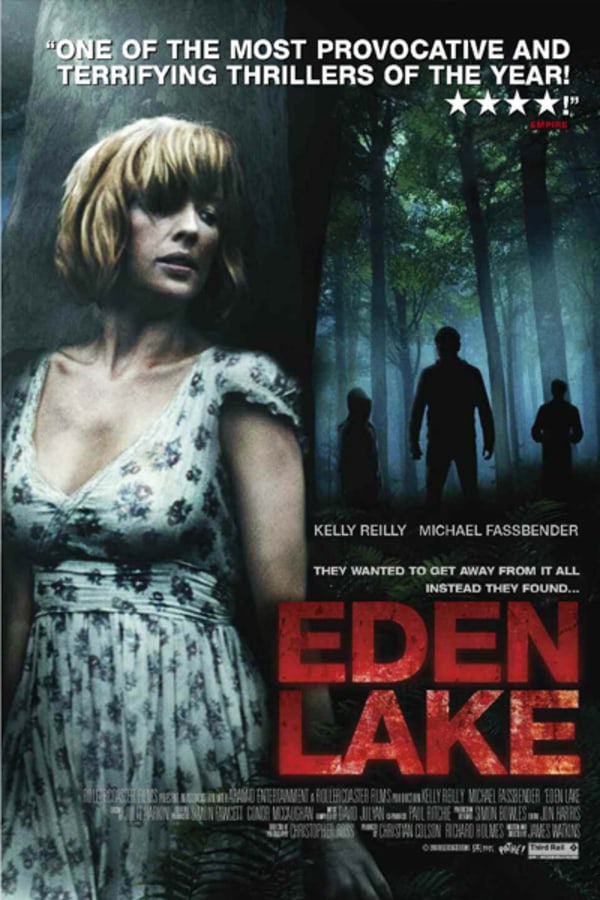 Eden Lake
Directed by James Watkins
Nursery teacher Jenny and her boyfriend Steve (a pre-stardom Michael Fassbender), escape for a romantic weekend away. Steve, planning to propose, has found an idyllic setting: a remote lake enclosed by woodlands and seemingly deserted. The couple's peace is shattered when a gang of obnoxious kids encircles their campsite. Reveling in provoking the adults, the gang steals the couple's belongings and vandalizes their car leaving them completely stranded. When Steve confronts them, tempers flare and he suffers a shocking and violent attack. Fleeing for help, Jenny is subject to a brutal and relentless game of cat-and-mouse as she desperately tries to evade her young pursuers and find her way out of the woods. Exhausted and distraught, she finally arrives back to the safety of the town. And meets the parents...
A couple's romantic getaway is shattered when a gang of obnoxious kids encircles their campsite.
Cast: Michael Fassbender, Kelly Reilly, Jack O'Connell, Shaun Dooley, Bronson Webb
Member Reviews
Mean little movie. Mean AF. Very effective. Kelly Reilly's best work besides Flight.
Holy shit this is an upsetting movie
Good chemistry between few leads. This movie gets dark fast. I really enjoyed it. Worth a watch.
This is an awesome edge of your seat thriller/horror flic.
Not sure why people are saying its too much, its not half as bad as hostel. Its a chase and torture film. I really liked it, was on the edge of my seat.