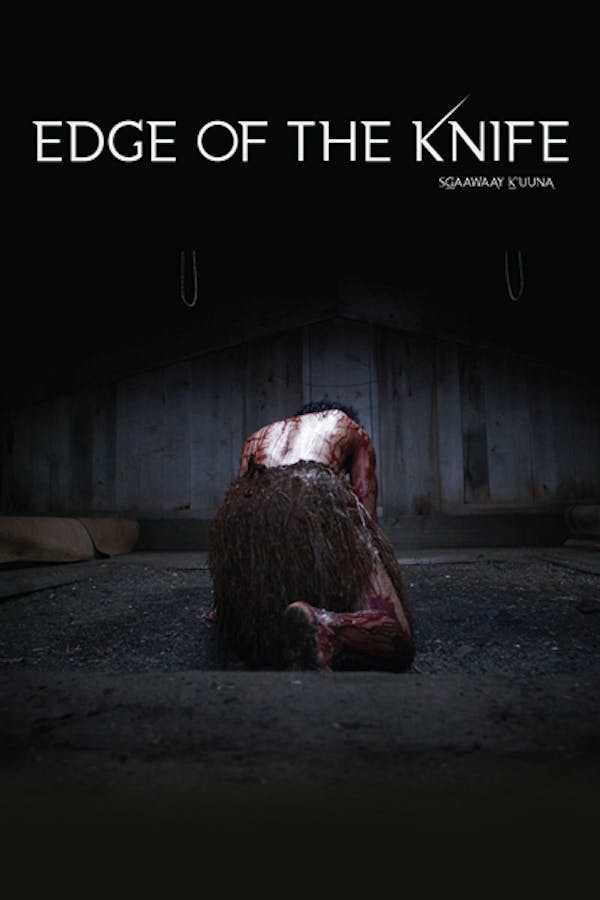 Edge of the Knife
Directed by Gwaai Edenshaw, Helen Haig-Brown
Haida Gwaii, 1800's. At a seasonal fishing camp two families endure conflict between the nobleman Adiits'ii and his best friend Kwa. After Adiits'ii causes the accidental death of Kwa's son, he flees into the rainforest, descending into madness and transforming into Gaagiixid – "the Wildman." When the families return in the spring, they discover Adiits'ii has survived the winter. Can he be rescued and returned to his humanity? Meanwhile, Kwa wrestles with his deepest desire – revenge.
Haida Gwaii, 1800's, after causing the accidental death of a child, a man flees into the rainforest, descending into madness and transforming into Gaagiixid – "the Wildman."
Cast: Tyler York, William Russ, Adeana Young
Member Reviews
Fascinating film if you're looking for the concept of horror from a native culture. In most Western films, the horror is the "monstrous" individual against society; here the horror is the separation of the individual from society. Catharsis comes not from the killing of the individual, but the reintegration of them into society. Highly recommended if you're looking for other perspectives on what constitutes the horrific.
i wouldn't call it a horror but the moive was very close to home people have very many beliefs on cutrals i found the moive very moving and more based on true advents it comes down to what u believe u either like the moive or not just because there is alot of bad reviews doesn't mean the movie is boring or not worth watching thats judging yes the movie was slow but it had alot belifs for people that have curtal beleifs u either have a open mind or u dont its not a movie for everyone to watch i liked the movie
Close to nonsensical, progressed very slowly as well …Interesting subject matter and enjoyed seeing the artifacts such as the canoes and masks but not a horror movie
Despite what some viewers think, (as a person of Native Amerivan descent), i thought this definitely belongs on the shudder app. It did have horror, it was raw, tragic, intense physical and emotional suffering by the antagonist. I love that as time goes by group gets touched furthur and furthur by colonialism. Their clothing changes. Its a powerful testament to their loss of culture thru time. You can interpret the ending how youd like, the burning of the mask could have many meanings as antagonists wears European clothing. Its a great slow burn that touches on legends but also modern issues. Would watch again. Great representation. Wish Shudder would show more great indigenous films.
An epic dark fantasy based on Native American legend, in which the monster is more of a threat to himself than anyone else. It's rather deliberate in spots, so watch while you are wide awake - but this one's got a deep soul to it. From the dirt and grit to the actual cultural artifacts (no flimsy props here), it all feels very authentic.