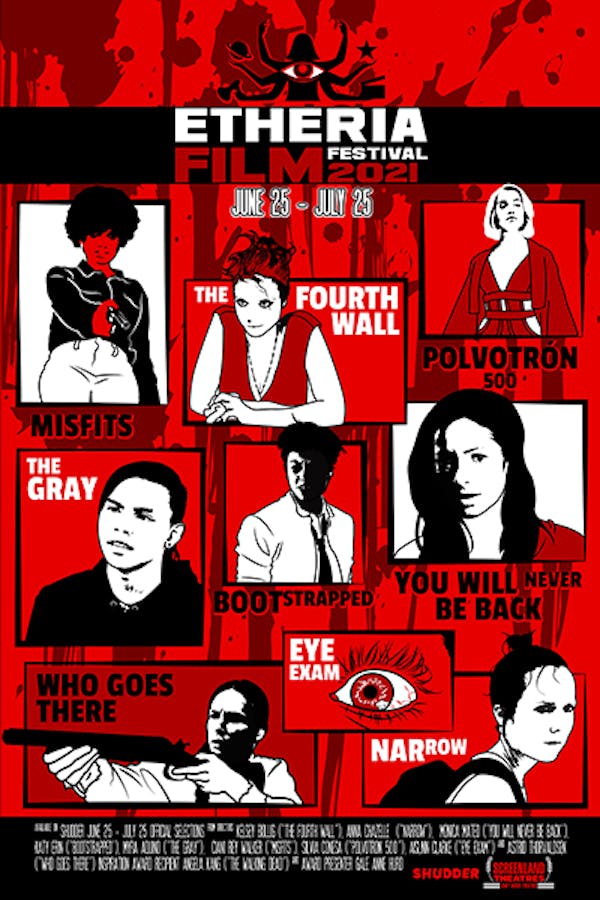 Etheria Film Night 2021
Directed by Various
Returning to Shudder for the second year in a row, the 2021 Etheria Film Festival short film lineup includes the frenetic grand-Guignol horror THE FOURTH WALL from director Kelsey Bollig; the nail-biting sci-fi thriller NARROW directed by Anna Chazelle; the sci-fi time-travel comedy BOOTSTRAPPED from director Katy Erin; the deeply unsettling Spanish cosmic horror YOU WILL NEVER RETURN by Mónica Mateo; the perfectly-paced comedy/fantasy THE GRAY from Myra Aquino; the new period thriller MISFITS from director Ciani Rey Walker; the Philip K. Dick-style A.I. encounter POLVOTRON 500 from Spanish director Silvia Conesa; the creepy, Gilliam-esque EYE EXAM from acclaimed Irish director Aislinn Clarke; and the shockingly bleak and terrifying period horror western WHO GOES THERE from Norwegian/U.K. director Astrid Thorvaldson. The 2021 Inspiration Award goes to Angela Kang, showrunner of THE WALKING DEAD, presented to her by GALE ANNE HURD (TERMINATOR).
The Etheria 2021 showcase returns to Shudder with nine of the best new genre shorts directed by women.
Cast: Lizzie Brocheré, Roby Schinasi, Victoria Lacoste, Jacqueline Bell, Anna Chazelle
Member Reviews
Great anthology. 5 skulls
Last years was way better. Last two were the best.
A few of the stories were decent, others not so much. Overall this was pretty ok.