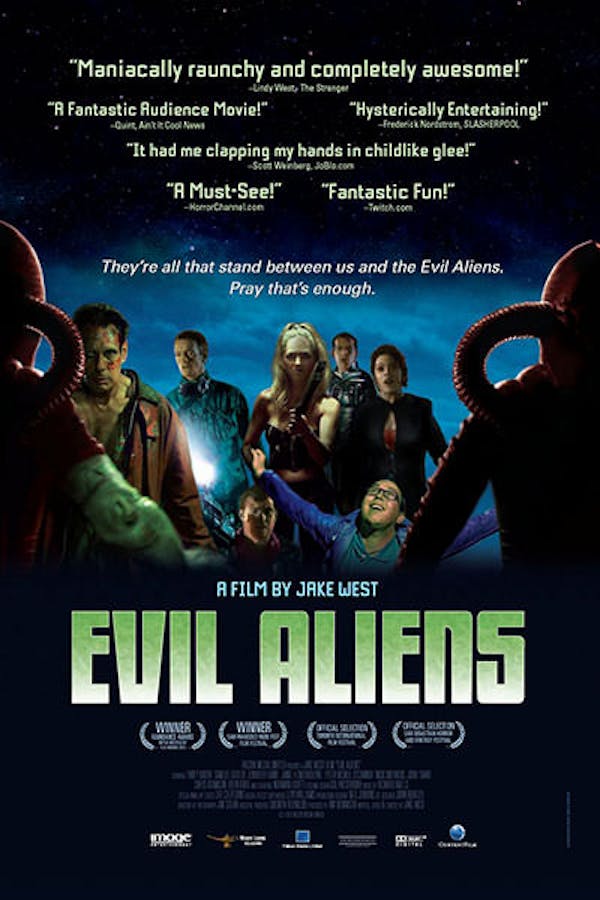 Evil Aliens
Directed by Jake West
A TV crew investigating an alien abduction must fight off some very nasty ET's in this raucous horror comedy in the vein of THE EVIL DEAD and BAD TASTE. Struggling Weird Worlde TV reporter Michelle Fox totes her crew to Wales where residents of a small farming town are reporting alien abductions and impregnations. Unfortunately, their dramatic recreation of the suspicious event turns downright nasty when the real interstellar visitors arrive, and they're hungry for more than a close-up! A jaw-dropping slice of sci-fi horror lunacy from DOGHOUSE director Jake West. Contains strong language, violence and gore.
In this raucous horror-comedy, a TV news crew must fight off some very nasty aliens.
Cast: Emily Booth, Jamie Honeybourne, Sam Butler
Member Reviews
Hammy, dumb, entertaining for a bit. Emily booth though.
Lots of gore, yes. Funny, no
Hater's gonna hate but they just miss the point. This is a fun movie. Brit Humour. Gaelic Humour. Evil Alien Humour. Plenty of gore. Always something going on. Fun movie.