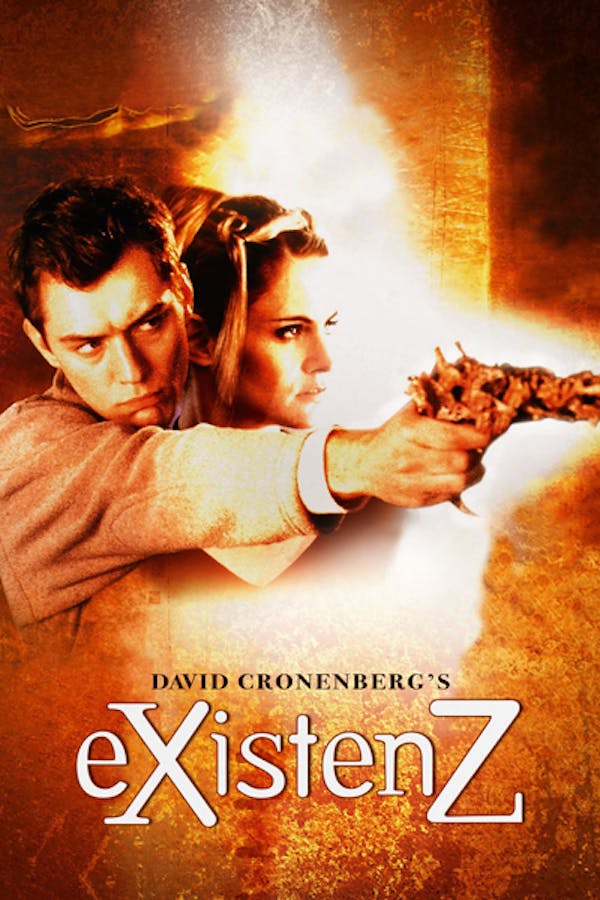 eXistenZ
Directed by David Cronenberg
During the first closed-door demonstration of an amazing new virtual reality game - called eXistenZ - the system's brilliant designer, Allegra Geller, is violently attacked by a crazed assassin intent on killing her and destroying her creation! Forced to flee into hiding, Allegra enlists a young assistant to help her in testing the damaged system...by convincing him to join her inside eXistenZ! The action then explodes as their world's real-life dangers begin to merge with the fantasy of the game!
While demonstrating her new virtual reality game, designer Allegra Geller is attacked by an assassin bent on killing her and destroying her creation.
Cast: Jennifer Jason Leigh, Jude Law, Ian Holm, Willem Dafoe, Don McKellar
Member Reviews
In addition to the monstrous masterpieces of practical fx typical of Cronenberg, this film is full of twists and turns that keep you untied from reality. I really loved it. brilliant and thrilling.
One of Cronenberg's best. It's so weird and twisty. As you go deeper into the film, you don't know what or who you can trust. And what is so ingenious about it is that any flaws in the film can convincingly be brushed-off as flaws in the game's design. Just a great great little gem.
A deeply under appreciated film (possibly because of its tragically 90s sensibilities). If you're willing to accept a certain level of cheese, this is a worthy successor to Videodrome and other early Cronenberg classics!
About as 'fun' a film as Cronenberg ever made.
I really like this movie. Anyone do the BodyMindChange ARG a few years ago that used this film? Good times.