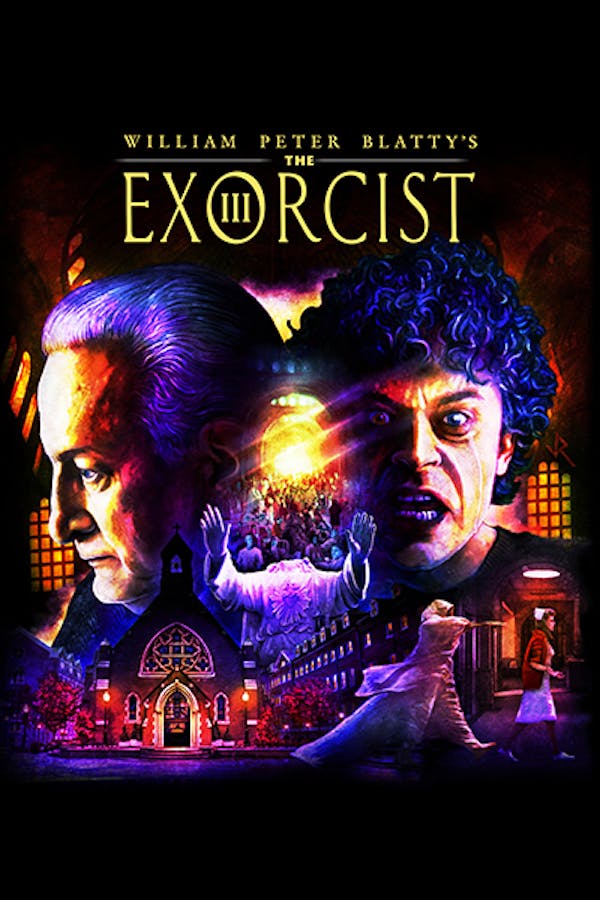 Exorcist III
Directed by William Peter Blatty
A cop (George C. Scott) investigates brutal murders similar to ones committed by a long-dead serial killer. But the decapitations and crucifixions couldn't be the work of the "Gemini Killer" - or could they? After his priest is butchered in a hospital, Lt. Kinderman traces the clues to the psych ward, where a patient claims to be Damian Karras (Jason Miller), the priest who died during the final moments in THE EXORCIST. William Peter Blatty's complex adaptation of his sequel novel, "Legion", contains a hallway scare scene that belongs in the horror history books.
A cop investigates brutal murders similar to ones committed by a long-dead serial killer.
Cast: George C Scott, Ed Flanders, Brad Dourif, Jason Miller
Member Reviews
I love this movie. I consider it a perfect, flawless movie. Everything about it is perfect.
I've never really understood the hype around the original Exorcist. Maybe it's my lack of a proper Catholic upbringing, but all the head-spinning and cross-masturbating felt more like an extended Aristocrats bit than a work of seminal horror. So despite hearing some decent things about this film, I had low expectations going in, which were deceptively met during the first few reels. Yes, there are some surprisingly original moments of weirdness early on (as Paul F. Tompkins once said, "You are NEVER ready to see Fabio"), but the story is fairly slow-moving and the world-weariness of George C. Scott's lieutenant feels less like it's coming from years on the job and more from the actor's awareness that he's in a sequel to a truly terrible sequel. But like any successful demonic possession, "The Exorcist III" slowly creeps up on you before unleashing its full might. The minute Brad Dourif shows up - delivering one of the best depictions of evil in all of cinema - everything snaps into place and it becomes clear that you've been in capable hands the entire time. William Peter Blatty's direction is fantastic and serves up some truly great scares (one of which might be the best I've ever seen). The restrained way Blatty withholds money shots and downplays entire plot points is really impressive (Lynne Ramsay's work in "We Need to Talk About Kevin" is the only thing I can compare it to), though at times it feels like he's giving the audience almost too much credit (there were at least two major moments when my understanding of what just happened only came about as aftertaste). With exception to the exorcism scene that's promised in the title (apparently Morgan Creek execs forced them to add it in reshoots and it, this sequel doesn't repeat any of the beats of the original and just feels like a great conversation with the ideas put forward in the original. I am probably alone in this (and almost certainly very wrong), but I like that conversation better.
This is a good movie if you don't try to relate it to the other two movies. Very good actors. Script could have been better.
Classic! Probably one of my favorite horror films from the 90's!