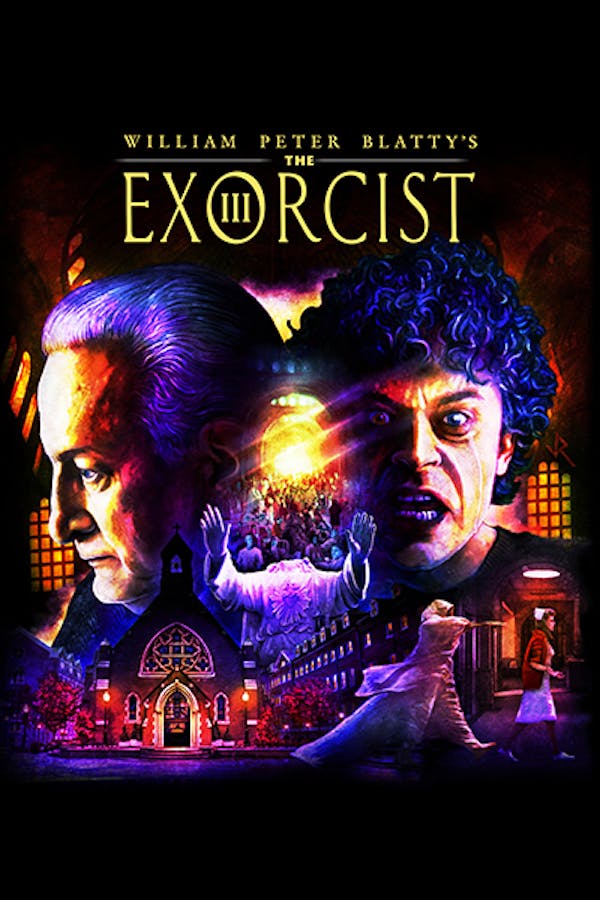 Exorcist III
Directed by William Peter Blatty
A cop (George C. Scott) investigates brutal murders similar to ones committed by a long-dead serial killer. But the decapitations and crucifixions couldn't be the work of the "Gemini Killer" - or could they? After his priest is butchered in a hospital, Lt. Kinderman traces the clues to the psych ward, where a patient claims to be Damian Karras (Jason Miller), the priest who died during the final moments in THE EXORCIST. William Peter Blatty's complex adaptation of his sequel novel, "Legion", contains a hallway scare scene that belongs in the horror history books.
A cop investigates brutal murders similar to ones committed by a long-dead serial killer.
Cast: George C Scott, Ed Flanders, Brad Dourif, Jason Miller
Member Reviews
Really great movie and a new personal favorite alongside the first Exorcist. Watched this for the first time about a month ago and decided to watch again for Brad Dourif, and it was much better the second time around. Great performances, beautiful visuals, and the use of sound is top-notch. I haven't seen the second movie for obvious reasons, but this is more than satisfactory for a sequel to the first.
It doesn't quite touch the original, but it is a fantastic movie. The only aspect that could be considered less than stellar is the way the priest and exorcism are forced into the third act. I wish the title had stayed as "Legion", as WP Blatty intended. Still, it's a fantastic story. The performances, direction, sound, and editing are top notch. There are 2 scenes in this movie that are the most effective jump scares I've ever seen: one in a hospital at night and another at a kitchen table during the day. Overall, I highly recommend this to any horror fan.
It doesn't get better than this. Brad Dourif is second-to-none.
Ive watched this dozens of times since its Australian theatrical release back in 91 and it still holds up fantastically today, all actors did a fine job on this especially Brad Dourif who is chilling in his role, its well worth your time to give this a watch
A horribly underrated sequel directed by the author of The Exorcist and based off of his novel "Legions". Stand out performances by George C Scott and Brad Dourif.