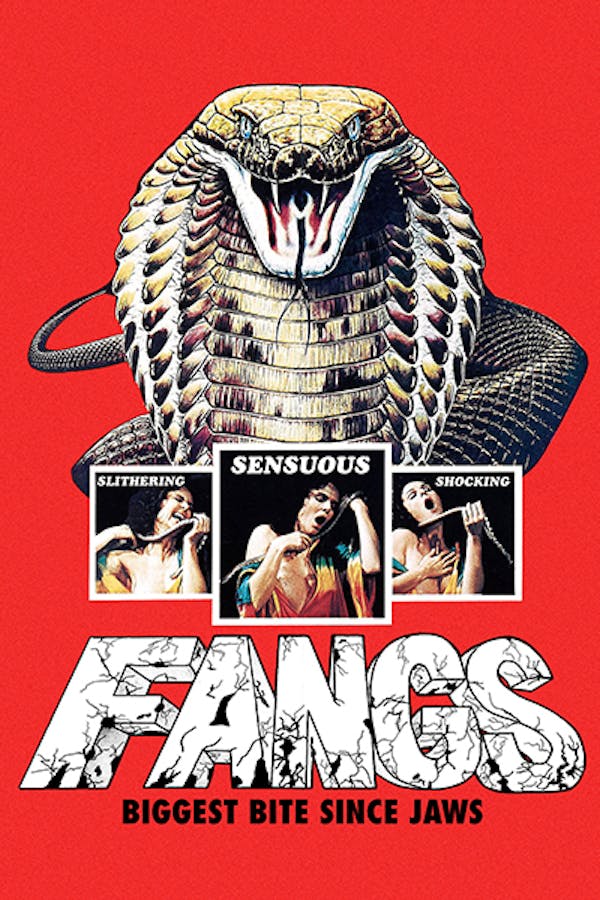 Fangs
Directed by Art Names
A deranged snake lover begins shipping venomous snakes and reptiles to his enemies.
A deranged snake lover begins shipping venomous snakes and reptiles to his enemies.
Cast: Les Tremayne, Janet Wood
Member Reviews
gotta love cheesy 70s thrillers. although dated, and voice/sound was off, it was a pretty good story. I enjoyed it in a lazy cold afternoon. 4 skulls for unique deaths and storyline.
If this movie were modernized then I think it'd be pretty cool. Not what I expected from the description. Slow building plot, bad fx, obvious fake snakes. Would I watch it again? Probably not. Am I glad I watched it? Yes, sort of. It's like an accidental campy movie. And whoever said the best part was Snakey's voice, is correct
A kooky snake lover living in a rural town with nothing but one-note bullies for neighbors gets fed up and starts taking revenge... supposedly. While the plot in most films (even in other horror films) usually takes about 12-15 minutes to start moving, the plot of "Fangs" doesn't start moving until halfway through and even then it drags its feet around. Everyone that gets killed does so in increasingly contrived manners and when the movie runs out of people to kill, it doesn't end but rather stops on the shambling rotting corpse of a joke. It doesn't help that the film's idea of humor is Snakey repeatedly pushing a vehicle off a cliff and then marching home triumphantly to band music. It was obnoxious the first time, it was unbearable the fourth. Oh, and what causes Snakey to snap? It wasn't being prevented from rallying the town's children to gather food for his snakes. It wasn't him being treated like crap by everyone, even people he considered friends. It wasn't even one of his snakes being killed. Snakey snaps because his friend gets married and no longer wants to act like a drunken lunatic every Wednesday night. Seriously. This is unequivocally the worst horror film I've ever seen.
best part of this movie was Snakey's voice.