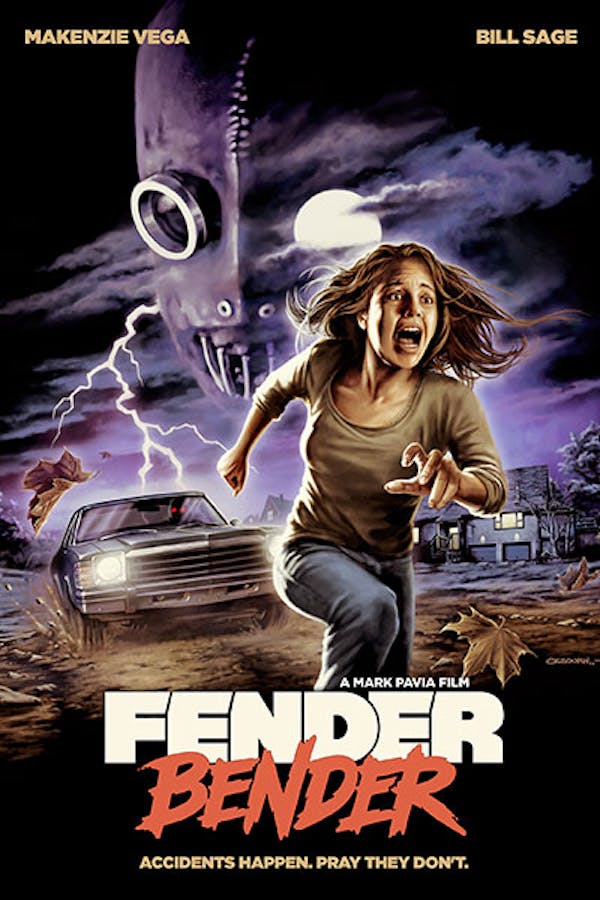 Fender Bender
Directed by Mark Pavia
In a small New Mexico town, a 17-year-old high school girl who just got her driver's license gets into her first fender bender, innocently exchanging her personal information with an apologetic stranger. Later that stormy night, she is joined in her desolate suburban home by a couple of her school friends who try their best to make a night out of it, only to be visited by the stranger she so willingly handed all of her information to -- a terrifying and bizarre serial killer who stalks the country's endless miles of roads and streets with his old rusty car, hungrily searching for his next unsuspecting victim.
A girl is stalked by a serial killer who takes personal information from car accidents.
Cast: Makenzie Vega, Bill Sage, Lora Martinez-Cunningham
Member Reviews
Always good to see a fun, creative slasher film. There were a few moments where I felt like the plot fell flat but hey, it's a campy horror flick. You can tell it was made by some people who care about the genre.
good time! creativity of the killer was awesome.
Really enjoyed this movie. Good old fashioned slasher which is what I was hoping for. Lot of people on here seemed to hate the ending but I really liked it.
SUPER underrated neo slasher.
Fun while it is happening, but an ending like this would be easier to swallow with a more coherent build-up to that ending, a bigger revelation of some kind, or in a film that wasn't supposed to be grounded in the real world. There's great music here, a real well done build up and denouement, but doing a down ending just to do a down ending does not sit well with me. Kind of a big anticlimax that makes you feel like they didn't have a good idea for a real ending so they just decided to gutpunch the audience. Still worth your time and attention under that proviso, though.