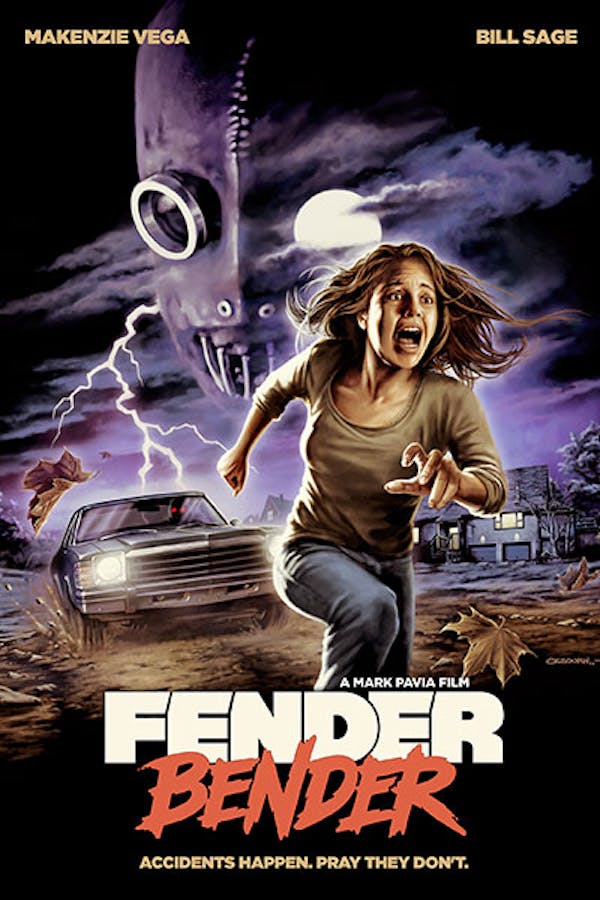 Fender Bender
Directed by Mark Pavia
In a small New Mexico town, a 17-year-old high school girl who just got her driver's license gets into her first fender bender, innocently exchanging her personal information with an apologetic stranger. Later that stormy night, she is joined in her desolate suburban home by a couple of her school friends who try their best to make a night out of it, only to be visited by the stranger she so willingly handed all of her information to -- a terrifying and bizarre serial killer who stalks the country's endless miles of roads and streets with his old rusty car, hungrily searching for his next unsuspecting victim.
A girl is stalked by a serial killer who takes personal information from car accidents.
Cast: Makenzie Vega, Bill Sage, Lora Martinez-Cunningham
Member Reviews
While not breaking any new ground Fender Bender is a solid slasher flick with some great camera work and good build up of tension. Worth a watch.
(Spoilers). Mildly entertaining, except for the absolute IDIOCY of the main character. I didn't mind so much that she got herself killed because of: serving what she knows is a suspicious cake, not locking the door every single time this guy is chasing her in the house, not locking any doors in the house, running straight on a road instead of veering off into the woods, not making sure he's dead every time she has the upper hand, like 3 or 4 times, she doesn't run, but just leaves him every time so he can chase after her, he drops his knife a couple of times and she just doesn't pick it up or get it away from him, slowly jogging away instead of running for her life...etc. She also shows a meh performance, I had a hard time believing she was scared because she really didn't show it. The other actors were pretty good. Would not recommend if you're a fan of smart horror.
This was a solid entertaining thriller with good characters, tension, and pace. Give it a whirl if you're in the mood for a modern slasher!
An altogether good thriller slasher movie. While not the best of the best it is a decent one and isn't a waste of time to watch and with an awesome soundtrack.
It's solid. I especially like the way they build up the relationship between the protagonist and her parents, who are really going to be questioning their authoritarian parenting choices later. For what it is, it's a good film.