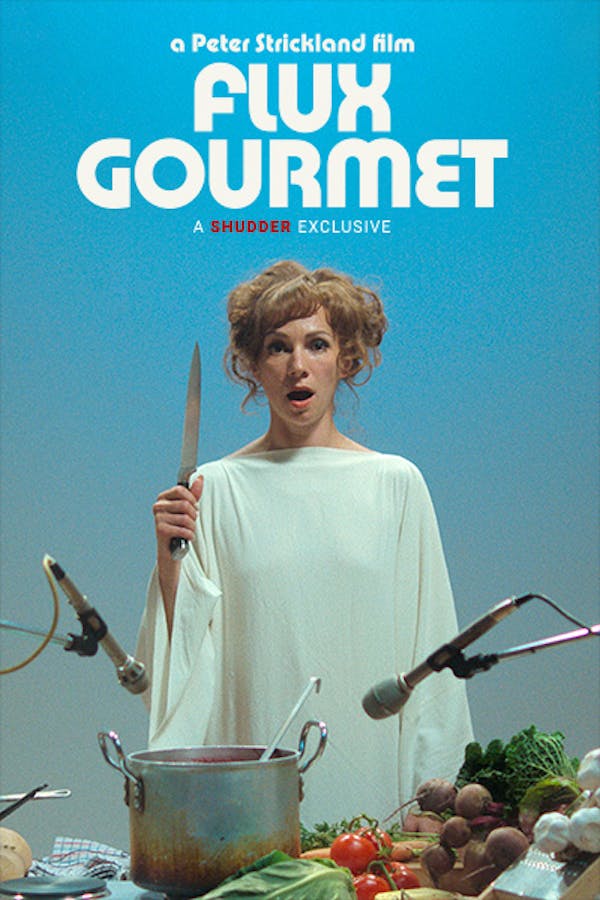 Flux Gourmet
Directed by Peter Strickland
A dysfunctional sonic collective – a band devoted to the sounds of the culinary arts – navigates rivalries internal and external in this absurdly original feast for the senses. A SHUDDER EXCLUSIVE
A dysfunctional sonic collective – a band devoted to the sounds of the culinary arts – navigates rivalries internal and external in this absurdly original feast for the senses.
Cast: Asa Butterfield, Gwendoline Christie, Ariane Labed, Fatma Mohamed, Makis Papadimitrou
Member Reviews
A great dark comedy about pretentiousness vs. sincerity among other things. You'll enjoy it if you're into weird art & experimental art. The characters and scenarios are ridiculous and bizarre, and while not really horror, it is twisted enough to overlap with the genre. Totally artfully done but doesn't take itself or its premises too seriously to enjoy.
Pretty much agree with what ByMark said… this is a dark comedy and a send-up of a particular type of art scene and foodie culture in the modern era. It's not even horror-adjacent in my book, but it's quirky uncomfortable enough that a certain type of horror fan might appreciate it. I did!
I give it five skulls for being beautifully unique and , at the same time, uncomfortable to watch. A total compliment. It made me queasy and unable to stop watching at the same time. Not for the sensitive stomach! I feel like true horror fans of the vastness of the genre will get it… and love it.
really unique; quite funny in places; dark, but not horror imo; worth a watch; memorable and visually striking.