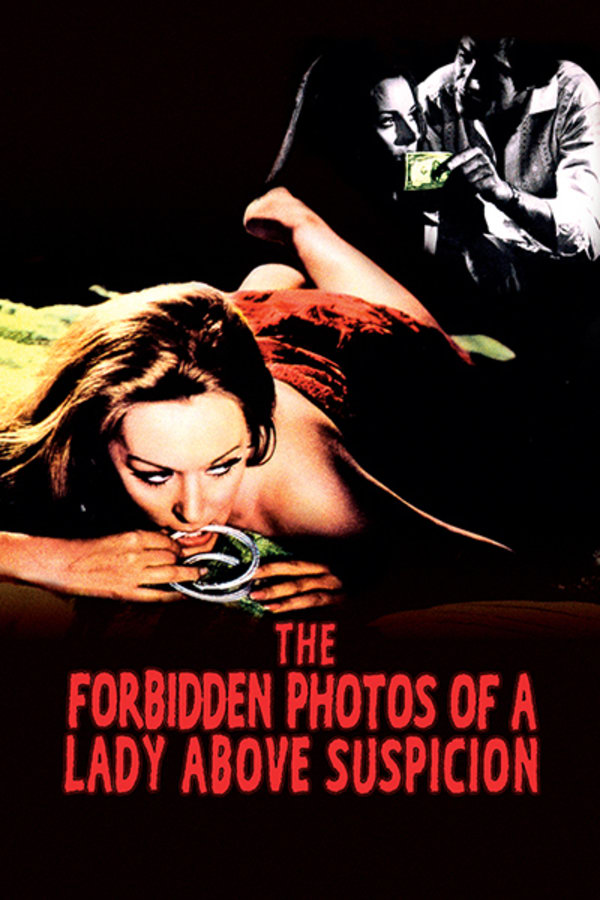 Forbidden Photos of a Lady Above Suspicion
Directed by Luciano Ercoli
A psychotic pornographer blackmails a married woman into becoming his sex slave by threatening to reveal that her husband is a killer. Desperate to protect the man she loves, poor Minou is forced to endure kinky bondage games until threats of murder force her to go to the police. But when she brings the cops to the madman's house, it's empty, and soon, Minou's sanity is called into question. Luciano Ercoli's stellar giallo references classic Hollywood suspense thrillers, aided by a clever script from Ernesto Gastaldi (TORSO) and a superb score by Ennio Morricone.
A psychotic pornographer blackmails a married woman into becoming his sex slave.
Cast: Dagmar Lassander, Pier Paolo Capponi, Simón Andreu
Member Reviews
You could make this a drinking game, every time they drink, you drink. Fun movie; love the decor.
Not a bad film. More of a sleeper movie for me.
The plot is familiar and it drags, but it's beautifully shot. Pretty solid example of the subgenre.
I agree that this movie dragged on a bit. It took me a few stop and go sessions to finish it. But, from a time-machine point of view - it was fun to watch a movie from this time period. The clothes, the furniture, the styles, people's manner of speaking - worth watching for reasons aside from the plot itself.
Pretty good giallo. Visuals are amazing; the scenes at the blackmailer's house are beautifully shot with interesting decor and color contrast. In general, the film looks classy and that accentuates the film's hedonistic vibe. Also, the extreme zooms and quick camera pans during tense moments were effective. There's some neat subtext in how Minou interacts with different types of love (from the blackmailer's perversion to the husband's stalwart-ness) and how that affects her emotionally as a materialistic person. The biggest flaw of the film was its scant plot and how I couldn't tell the difference between Minou and Dominique. That messed up the plot for me a lot, actually.