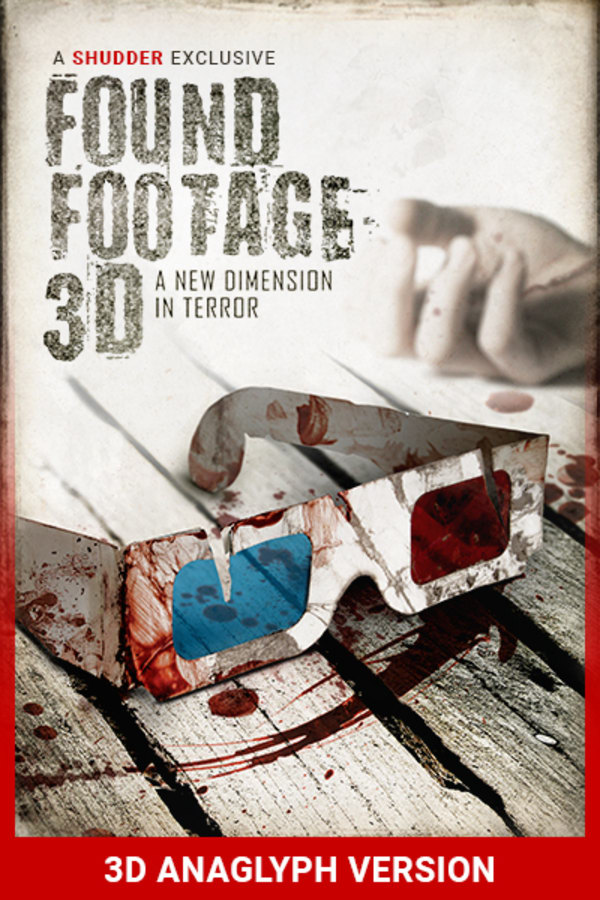 Found Footage 3D (3D VERSION)
Directed by Steven DeGennaro
When he's hired to document the behind-the-scenes action of the "the first 3D found-footage horror film," an aspiring filmmaker packs up his camera and travels with the film's crew to a creepy cabin in the woods. But when the fictional evil presence from their film begins appearing in his behind-the-scenes footage, he has to figure out how to stop it, or it just may find its way into the real world. Like Scream did for slashers, FF3D takes a found-footage horror movie and populates it with people who are aware of all of the rules, tricks, and clichés of the genre. *To be watched with Red/Blue 3D Glasses A SHUDDER EXCLUSIVE. Contains strong language, sexual scenes, violence and gore.
Six filmmakers set out to make "the first 3D found-footage horror movie", but find themselves IN a found-footage horror movie when the evil entity from their film escapes into their behind-the-scenes footage.
Cast: Carter Roy, Alena von Stroheim, Chris O'Brien, Tom Saporito, Scott Allen Perry, Jessica Perrin
Member Reviews
clever idea that takes a while to build but really gets great towards the end! Luckily I had some old 3d glasses around to check it out...gave me a slight headache but well worth it.
Found some old 3D glasses and watched it. Great experience. Totally original and entertaining.
For a found footage movie I thought was pretty cool. I'm a huge fan of #D so that did it for me big. I definitely think that there could have been some edits and some more cohesive dialogue. But for the most part it was good. I actually really like the ending. So for the 3D aspect of it and some the more intense supernatural scenes, I gave it or skulls.
I'm a fan of found footage films, so am biased from the start, but overall I enjoyed this film, although it wasn't as good as I thought it would be. Some minor spoilers are in this review. The characters are ok, although fairly standard for this sort of film. I enjoyed the idea of the ex husband and wife working on it together, it added an extra dimension/tension. The overall premise was very clever, a found footage film about a found footage film, excellent idea. I felt the execution could have been a little better though, and the script a little smarter (it got close with the references and the 'rules', like scream did with slashers, but didn't do it with as much wit. However, we are in defferent times now, where everything's been done to death, so always going to be hard to be a true trailblazer. To be honest, the 3D didn't add anything and was pretty pointless I felt. It was one of the better red/blue glasses 3D effects, but it was quite wasted in my view. If you're going to use 3D, then add some 3D gimmicks (ie things poking out the camera at you). The fact this was a film about making a film could have added a few opportunities for some cheesy 3D effects, which are always fun. Otherwise, why bother. There were some clever filmaking ideas though, such as the camera filming the webcam when he was editing a film, and the two camera scene. It did drag a little in the middle, but not too bad, just felt a bit more could have happened. The end was good though. I felt it was pretty tense at the end, and well done. Apart from the acting/lines for the cameraman. I don't know, he just sounded a little wooden (think Hayden Christensens love scenes in Attack of the Clones). Anyway, all in all, an enjoyable found footage film, but won't convert anyone who doesn't like them. It almost feels like a curtain call for the found footage genre, whether it is or not, time will tell.