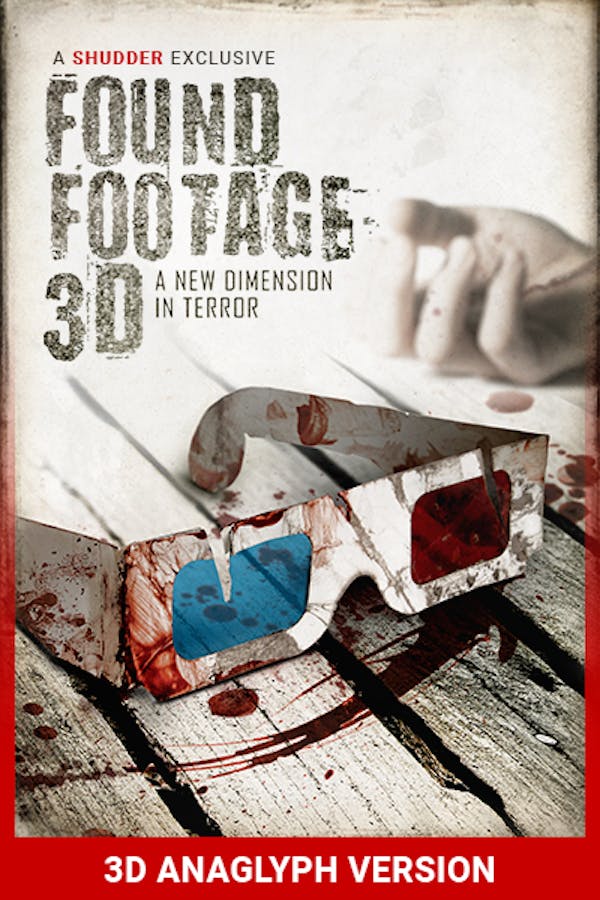 Found Footage 3D (3D VERSION)
Directed by Steven DeGennaro
When he's hired to document the behind-the-scenes action of the "the first 3D found-footage horror film," an aspiring filmmaker packs up his camera and travels with the film's crew to a creepy cabin in the woods. But when the fictional evil presence from their film begins appearing in his behind-the-scenes footage, he has to figure out how to stop it, or it just may find its way into the real world. Like Scream did for slashers, FF3D takes a found-footage horror movie and populates it with people who are aware of all of the rules, tricks, and clichés of the genre. *To be watched with Red/Blue 3D Glasses A SHUDDER EXCLUSIVE. Contains strong language, sexual scenes, violence and gore.
Six filmmakers set out to make "the first 3D found-footage horror movie", but find themselves IN a found-footage horror movie when the evil entity from their film escapes into their behind-the-scenes footage.
Cast: Carter Roy, Alena von Stroheim, Chris O'Brien, Tom Saporito, Scott Allen Perry, Jessica Perrin
Member Reviews
pretty smart ff horror - avoids being annoying and strained in its "meta"-ness - believable characters well-acted - the non-horror situations ring true especially as it gets going past the initial set-up - a bit drama-heavy but played well and the horror moments are actually scary and exciting - 2 "big ones" being especially well-executed and nerve-wracking.. and I thought the 3-D was great - lots of layers and depth and unexpected weirdness - not just the "comin' at ya" variety.. glad I found some 3-D glasses lying around for it..
I was drawn to this by the 3D gimmick and I enjoyed this movie a lot more than I thought I would. I think it was a nice take on the found-footage genre and the actors were pretty good. Some reviewers said they were disappointed that they didn't do more with the 3D, but I think that was the point, since the characters say in the beginning that it makes no sense for found-footage to be shot in 3D. Overall, I'm glad I watched it. I hope Shudder does more 3D content.
This is the most boring movie ever, I did not even make it to the end.
I don't even know why I watched this, because if there's one firm rule I have about horror movies, it's that I absolutely DO NOT watch found footage horror movies, because I can't stand them. Oh, wait, yes I do know: it's because this one was shot in 3D. That, and the fact that I was just at the end of my rope and couldn't stand another minute of browsing through movies to watch. I could spend a fair amount of time dissecting this film and all it's flaws, but the main problem with it was simply that I felt like I was spending at least 80% of the running time wondering why the hell I spent 30 minutes digging around for my 3D glasses and suffered through wearing them for this movie. There is simply not one single scene in this movie that really justifies the fact that it was shot in 3D. A few little trick shots near the beginning got me thinking that this might actually be leading up to something worthwhile, but after that, I basically sat through the rest of the film simply because I started it. No big payoff, no single scene that stands out, nothing at all to speak of that makes the film worth watching, in my opinion. 2 stars for decent acting performances, but that's it. Not recommended.